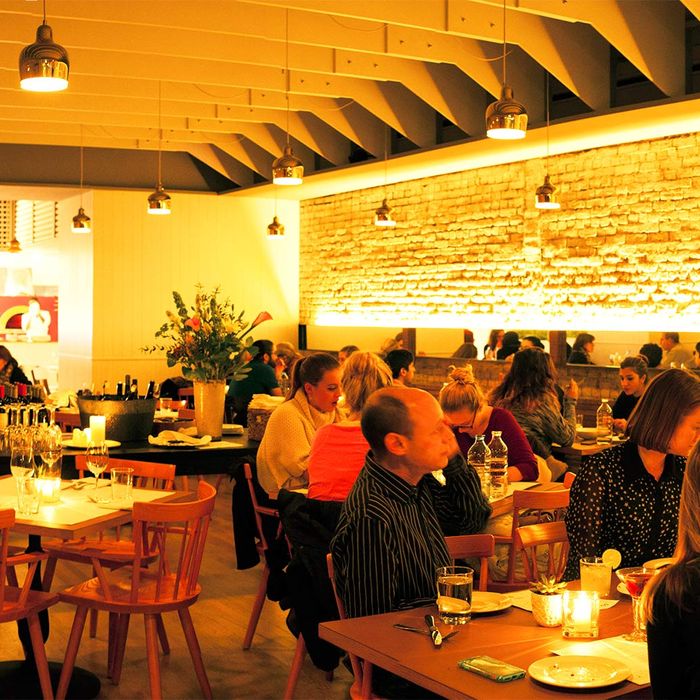 Photo: Carolyn Griffin/New York Magazine
One of the hands-down best dishes the Underground Gourmet has tucked into this year is Hillary Sterling's "crispy eggplant, dried tomato, Parmigiano-Reggiano" at Vic's. It consists of inchwide strips of eggplant sliced paper-thin, soaked in buttermilk, dredged in rice flour, then fried before being blasted seemingly by paint gun with Parmesan and a crumbly powder made from oven-dried tomatoes, chiles, orange, and marjoram. Essentially, it's eggplant parm that's been alchemized into a crunchy snack food. Doritos, by comparison, are practically bland. The only problem is you'll have to wait until next summer to get your fix: Sterling, a stickler of the local-seasonal old school, has banished eggplant from the menu until the upstate Japanese variety she favors returns to market.
The good news is that the onion version of this dish that's replaced the original eggplant model is almost as delicious, and so is nearly everything else on Sterling's antipasti-­pasta-pizza-secondi menu. Of course, uncompromising fealty to the market gods is nothing new in the New York restaurant world, or even on the very premises that Vic's inhabits. This space was, until recently, Five Points, a neighborhood pioneer that set up shop 15 years ago, before Noho was Noho, and which its owners (who include Vicki Freeman and her executive-chef husband, Marc Meyer) decided to transform into an entirely new enterprise this fall. A gut renovation by the designers of Blue Hill at Stone Barns did away with Five Points' tree-trunk fountain and light boxes and exposed the original brick (as all restaurateurs are required by law to do at some point in their careers), providing — in addition to a new chef and menu — a bit of an airy country-kitchen vibe with whitewashed wainscoting, spare furnishings, and wooden booths. Another addition: a jaunty, cherry-red pizza oven.
It's true pizza is as ubiquitous in New York these days as farm-to-table menus, but Vic's manages to excel in both departments. Sterling does four or five pies, enough to make Vic's a pizza destination but not enough to classify it as a pizzeria. Hers are distinguished by featherlight crusts with credible cornicione and significant blistering; on the textural scale, they fall somewhere between a cracker crust and la vera pizza napoletana, minus the soggy center. She does a classic margherita of bright and vivid flavor and a unique prosciutto and ricotta, speckled with poppy seeds and spiked with horseradish. But the best is the burrata with anchovy and bagnet vert, a parsley-and-bread-crumb sauce that makes a piquant foil for the creamy cheese.
That Sterling came of age at Bobby Flay's Mesa Grill and Bolo, worked the pasta station at Mario Batali's Lupa, then ran the kitchen at Missy Robbins's A Voce doesn't come as a surprise. Her flavors are big, bold, and brightly acidic — reminiscent of these chefs' styles, and also of trendsetters like April Bloomfield and Dan Kluger, late of ABC Kitchen. Chiles are lavishly applied. Garlic is not a mere accent. When the menu says a dish contains anchovy, trust that you will taste it, as in that burrata pizza and a romaine-heart salad garnished with walnuts and watermelon radish. A big bowl of exotic mixed radicchio, sourced from Greenmarket's new Campo Rosso stand, is dressed with balsamic and strewn with chickpeas in both cracker and legume form. Carrots (last year's "It" root vegetable) are roasted till tender and seasoned with shallots and briny capers, and marinated cabbage with Calabrian chiles eats like Italian kimchee — cool, crunchy, and hotter than you'd expect. A bowl of minestrone, by comparison, is pure comfort: a fennel-tomato broth populated with kale, chickpeas, carrots, and dill.
If the antipasti invite grazing, so do the pastas, which are available in half- and full-size portions. These are not your run-of-the-mill penne and ravioli, but odder, more intriguing shapes. The sheep's-milk-ricotta-stuffed borsa ("purse" in Italian) resemble little old-fashioned doctors' bags sprinkled with hazelnuts and slicked in a mellifluous butter-lemon sauce. Creste di gallo, which means "cockscomb," are made in-house with a pasta extruder, yielding a texture that's firm and springy with a good bite that stands up to a sauce of soft-cooked broccoli brightened with lemon. Potato-filled tortellini are suffused with a thoroughly porcine flavor, both from their pork broth and the crisp bits of guanciale that float on its surface. Rye rigatoni is tasty but limp, and between the two dried pastas, a perfectly al dente bucatini in a chile-amped tomato sauce edges out a slightly gluey linguine cacio e pepe.
By the time you've worked your way through all the enticing snacks, salads, and antipasti, plus a pizza and a half-order or two of pasta, secondi might seem superfluous. But keep them in mind for a return visit. The grilled flank steak is strikingly set off by its accompanying red-wine-braised treviso, black olives, and caramelized onions. Moist roasted chicken with potatoes and Brussels sprouts gets a big flavor boost from a zingy mustard-seed sauce. And the oxtail — three sizable hunks of tender, fatty meat — is enlivened by a vibrant chile agrodolce sauce. These are fully accessorized main courses, not the increasingly standard stripped-down protein (meant to be supplemented with check-padding contorni), which almost makes Vic's a bargain establishment nowadays. There's no must-have dessert, which, by the time you've made it that far, comes as something of a relief.
Even in its youth, Vic's has preserved the neighborly spirit that infused Five Points. The service is attentive and friendly, the crowd is young and largely female, the tables are wide and well spaced, and the room is deliriously loud — made more so, perhaps, by the drinks list. It, like Vic's itself, is a sign of the times, reflecting every current trend, from barrel-aged cocktails and big ice to wines from such exotic locales as Red Hook and Georgia (the country, not the state).


Vic's
31 Great Jones St., nr. Lafayette St.; 212-253-5700, vicsnyc.com
Hours: Monday through Friday noon to 11 p.m.; dinner Saturday 5:30 to 11 p.m., till 10 p.m. on Sunday; weekend brunch, 10:30 a.m. to 3 p.m.
Prices: $4 to $28.
Ideal Meal (For two): Marinated cabbage, crispy onions or bitter greens, burrata pizza or creste di gallo pasta, flank steak.
Note: Go halfsies: There are good local beer by the half-pint, half-orders of pasta, and half-bottles of Bereche NV Brut Reserve Champagne.
Scratchpad: Three stars for the food and drink, and one for the redo.
*This article appears in the December 2, 2014 issue of New York Magazine.
Related: What to Eat at Vic's, the Five Points Team's Fresh New Restaurant