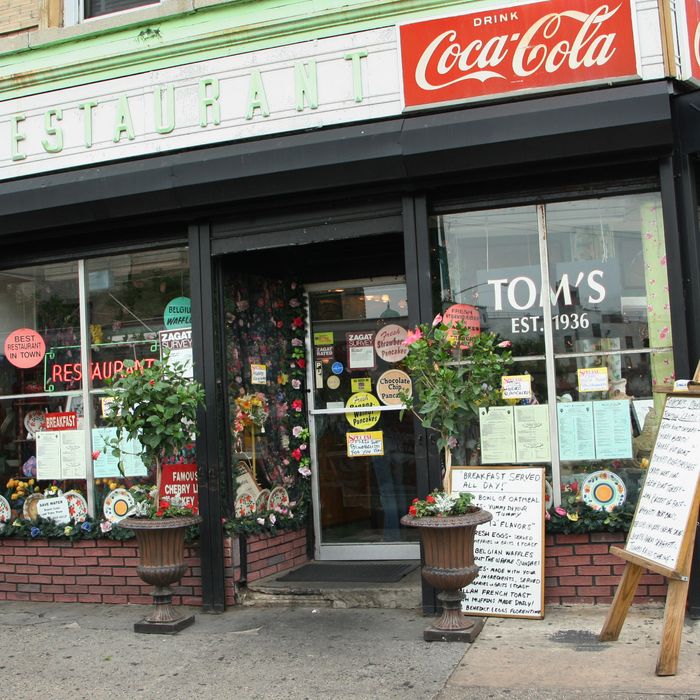 Since 1936.
Photo: Robert K. Chin
Yesterday, we learned that Gus Vlahavas, the former owner of Tom's Restaurant in Prospect Heights, died at the age of 76. Vlahavas ran the breakfast- and lunch-only restaurant for several decades before passing it along to his nephews in 2009. Three years later, they opened a second Tom's on the Coney Island boardwalk imbued with much of the same spirit, despite its beachy setting.
But it's the original location that has quite the history. The Dodgers had been playing at nearby Ebbets Field for six years, after all, when Tom's debuted in 1936. Over the years, the world changed and Brooklyn shifted around Washington Avenue. Tom's thrived. Neighbors even formed a human chain around the restaurant in 1968 after unrest broke out following the assassination of Reverend Dr. Martin Luther King Jr., Vlahavas told the Times in 1990. By the '90s, Vlahavas appeared as Mr. January in a calendar depicting "Brooklyn icons."
A letter to New York written in response to the magazine's "Treasures of New York" issue in 1991 chastised the editors for not including Vlahavas. Jeffrey Eugenides worked on Middlesex at a table and figured the place into the novel's pages.
One point of clarification: Even though some still think Suzanne Vega's 1982 song "Tom's Diner" refers to the Brooklyn establishment, it's actually about the famed greasy spoon at West 112th Street and Broadway near Columbia. Years later, the belief nevertheless persists, no doubt thanks to the unwavering stream of writers and musicians who've depended on Tom's breakfast and coffee for decades.
In fact the place is legendary for its blueberry-and-ricotta pancakes. There are egg creams and "famous" cherry-lime rickeys, delivered without the slightest twinge of irony or supplementary nostalgia. Meatloaf is a star attraction, improbably.
Of course, all that means the line on weekends is equally legendary — but it has the unique distinction of being a line that's actually fun to wait on, thanks to the neighborly vibe and free coffee and snacks that the staff hands out. Eventually landing a seat at one of the formica tables inside is the goal, though, and a meal in the dining room still feels like a throwback.Tom's is the kind of endangered place New Yorkers need to protect, starting with a basic visit for buttered toast, coffee, and good will.