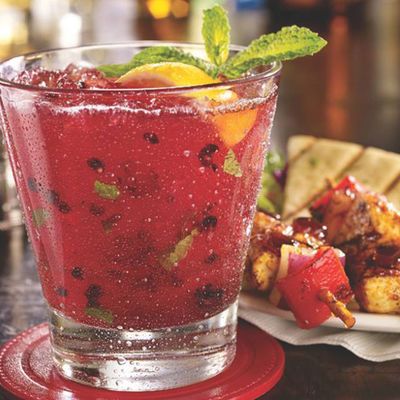 No one knows how much this costs.
Photo: TGI Friday's/Facebook
Some New Jerseyans untroubled by the prospect of looking like monumental cheapskates are really giving it to TGI Fridays for its "grossly excessive" drink prices. A trio of lawsuits filed in the Garden State accuse the chain, where on Thursdays the $3 margaritas flow freely from their patented margarita machines, of straight-up manipulating customers into buying overpriced drinks. They say the chain's deliberate omission of printed prices on its menu qualifies as a deliberate attempt to mess around with "customer perceptions."
The suits claim that the masterminds at the fast-casual restaurant "exploit consumer psychology" in other ways, too, such as varying the price of drinks "depending on where in the restaurant the beverage is ordered."
One plaintiff, Michael Grace, explains he innocently patronized a Fridays and then learned "only after consuming it" that his cocktail had cost — drum roll — "a staggering $10.39." The plaintiffs now want $100 for every beer, soda, and mixed drink they ordered "without a disclosed price." Justice for everyone who's ever downed an $8 Diet Coke could rapidly escalate to more than $5 million, the Courier-Post reports. The chain says the claims are "without merit," but will nonetheless have to respond to three lawsuits in court. Let's hope they wrap up before the Endless Appetizers run out.