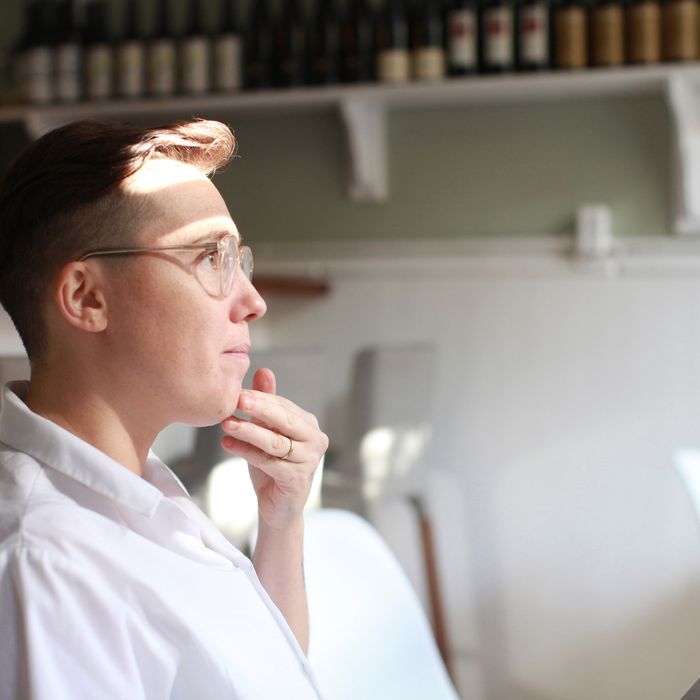 "There's no real way to be open any more than we are."
Photo: Melissa Hom
Take Root, a 12-seat restaurant inside a converted yoga studio in Carroll Gardens, is having a moment: It recently won its first Michelin star, Bloomberg's Tejal Rao gave it a glowing review, and Esquire named it one of the best new restaurants in America. This is even more impressive considering Take Root is only open three nights a week, with one seating per night, and chef Elise Kornack and her wife, Anna Hieronimus, oversee literally every detail of the restaurant. (There are no other employees — no servers, janitors, sommeliers, investors, nothing.) So Grub wondered, what does Kornack do the other four days of the week? We sent a photographer to follow her around, and asked her to tell us about her time "off."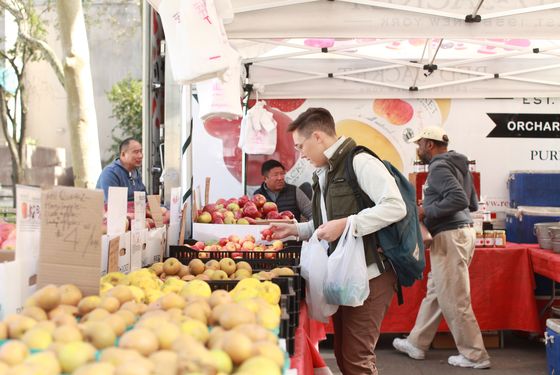 Typically, Sunday is my only day off, but I still go to the markets on Sunday because it's the Carroll Gardens market, and it's right around the corner from Take Root and my house. I usually get up around ten o'clock in the morning, have my coffee with Anna, and then I go to the market and get whatever cool things I see for the week, or for the month, that I want to use.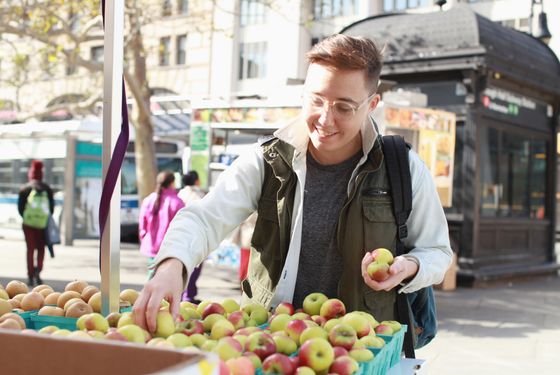 We have no storage, no dry storage, no office, and not even one closet in the entire space, so every single thing is brought in every single week. So there's no real way to be open any more than we are. And that decision was made for us in the beginning, and we figured we'd do it for a little while and see how it went, and it kind of took off. We're really happy with the schedule and how often we're open.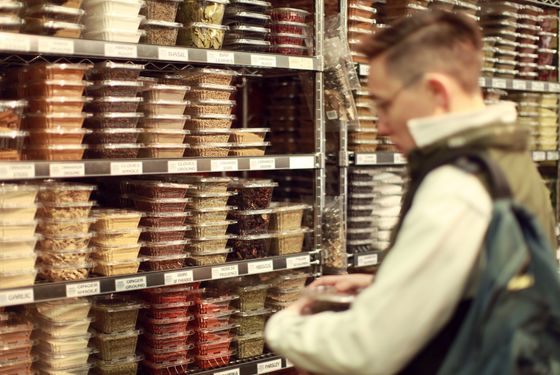 The menu doesn't change weekly. It changes seasonally. But every once in a while, little things will pop up here and there.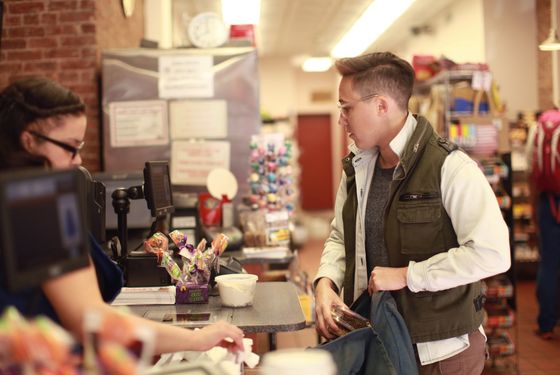 Usually, I try to get everything ready by the first day of the week so Anna can try it, and we can talk about it, so at least one new dish I have ready in the beginning of the week.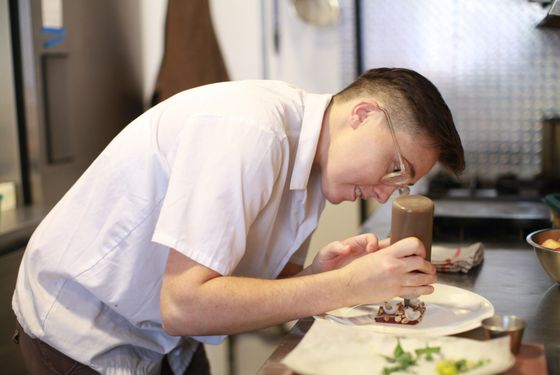 The restaurant is closed on Mondays, but we come in to hold meetings. We talk about the dishes coming up for that week — if anything has changed. It's a lot more of the business side of things: We pay bills, clean the space — every single thing that you can imagine a restaurant porter would do or a janitor or an accountant or all those things, we do those on Monday.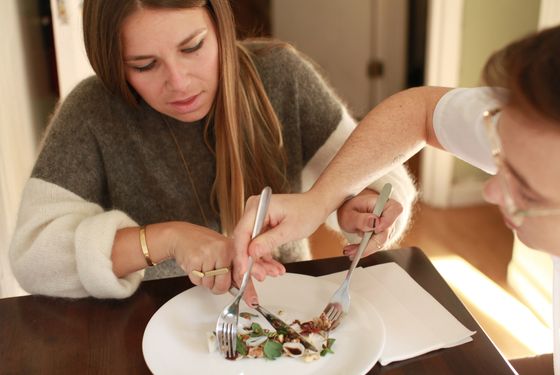 We try and make sure that work never comes home and vice versa — that way, you'll have harmony in both places. We never bring any work home, and we try not to talk about work or menus or customers or anything when we're in our actual apartment. Obviously, the streets are kind of fair game, when we're walking our dog. But if we have any issues at home when we're having coffee, we try not to bring them to work. That way, we have these two separate relationships that we're monitoring.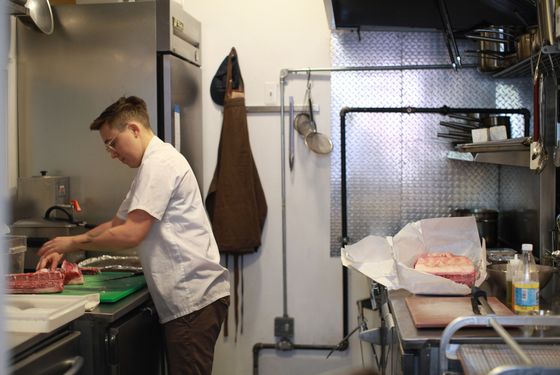 We usually have stocks going in the kitchen, or I'm butchering meat and talking through the window with Anna. But it's really about building up things in the kitchen and in the space, but it's not as minute — not about specific things that people will be eating that weekend.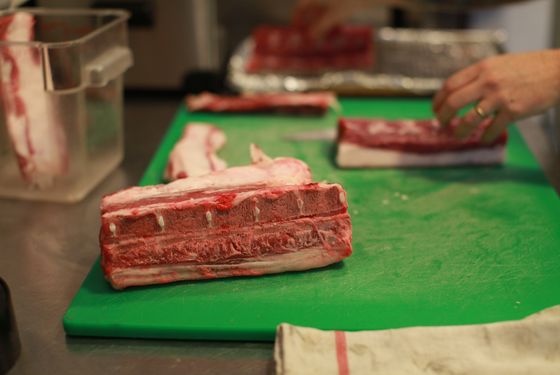 Anna goes to Fleischer's on Monday or Tuesday, depending on what day they process their lamb. Part of the reason we do that is because I like her to look at the stuff before she gets it, and also because they don't deliver the smallest quantity that we take. She gets the lamb, brings it back, and it's processed in the very beginning of the week because I dry-age it throughout the rest of the week, and I also have to make the stock from the bones and process the belly meat as well.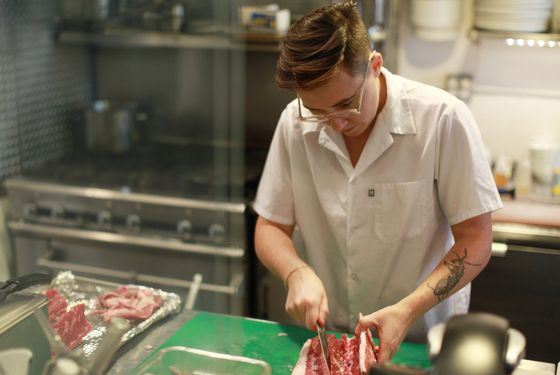 Imagine every single thing that has to be done in a restaurant — think of basically just two people doing that … from cleaning silverware all the way to prepping the food, all the way to conceptualizing it, all the way to changing the menus.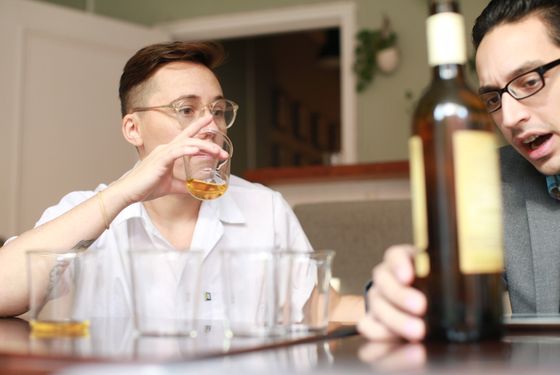 That's one of our wine reps. Anna manages the list completely on her own. I definitely taste stuff with her, but for the most part she gets to veto any decision, or make any decision. We're starting a whole new section of our list that'll be dessert wines and aperitifs, so he was bringing a variety for us to try. Usually, I have to cut myself off halfway through because I have to get back to work, but he and Anna can usually shoot the shit for a couple hours doing that.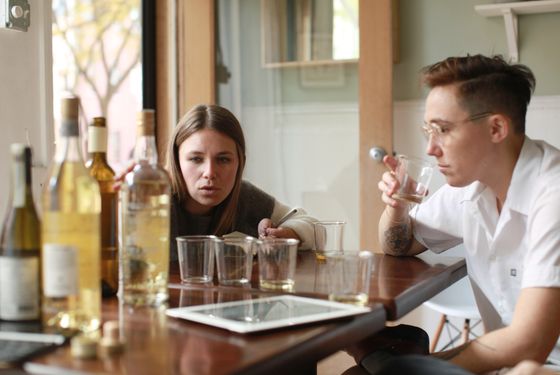 I'm looking around for other people, but there are a lot of variables that are at play in terms of what's up next for us — landlords and whatnot. We're toying with all the options and taking our time and moving very organically, as we have in the past … Every single night, we're filled up. So every single week, 36 people are eating here. And we know it's hard to get into, but we never really intended to be inaccessible, or for it to seem pretentious. It's really just because that's all we can do. But we're loving it, and we love the enthusiasm that people have when they do come in, and the amount of people we serve allows us to make everything really personal. So, right now, we don't really have any interest in leaving in the next, at least, foreseeable year. And then, I don't know.