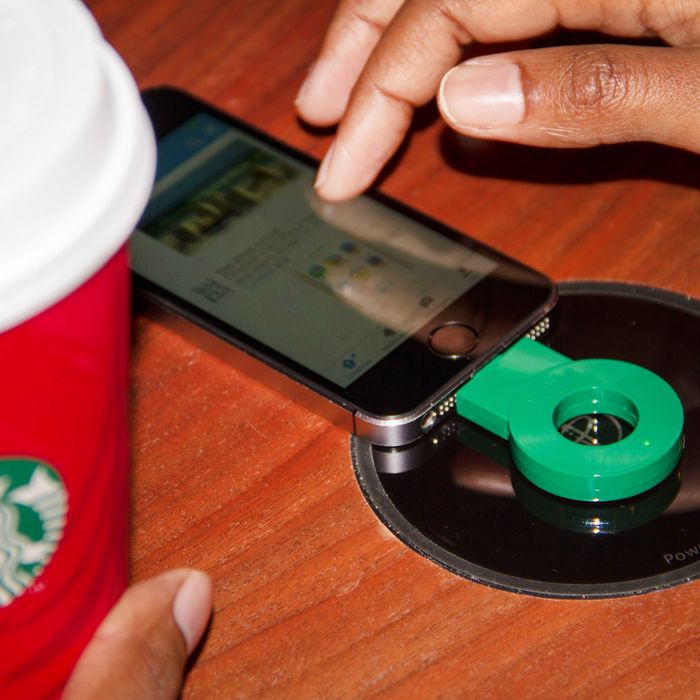 That seat's going to be a while.
Photo: Starbucks
Taking the first step toward ensuring you'll never beat the seasoned laptop worker to any seat ever again, 200 Bay Area Starbucks locations have installed the first 1,500 of many, many more Starbucks Duracell Powermats to come. The company describes it as a "strategic plan" to get the coasterlike contraptions, which shoot juice into the phone by magnetic induction, all over the country. That way, "the nearest charge is only as far away as the nearest Starbucks."
The phone-recharging plan is part of the chain's broader strategy of being everywhere and everything for its broadening customer base — you'll be able to order ahead on your phone, then juice it up on your way out. It's inevitable that the other chains will add the service as a perk, settling on one platform or another, and it looks like Starbucks won't abide reticent customers' excuse-making: If you don't have a wireless-charging-capable phone — you're one of the 500 million iPhone owners, in other words — you can borrow a "Ring" adapter or just purchase one from the store, should you feel that's necessary, for $9.99. They'll be right up front by the Putumayo World Music samplers and Norah Jones holiday CDs.