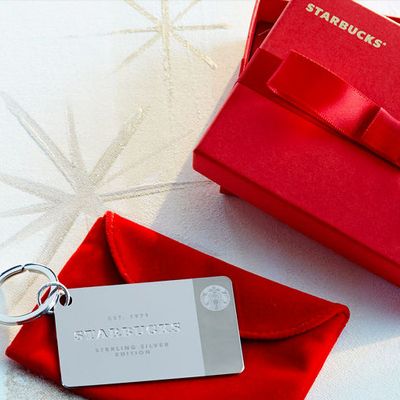 Definitely going to come in handy when the Starbucksapocalypse hits, though.
Photo: Courtesy of Starbucks
Last year the coffee chain's $450 metallic gift card came with four Benjamins preloaded and automatic Starbucks Rewards gold status. This year's $200 version confers no such status and only has a mere 50 bucks of potential no-whip, triple-caramel green tea macchiato purchase power going for it. But the sterling silver version, which is really just a glorified keychain, will no doubt sell out within nanoseconds, as these things tend to, come November 12.
Why? The chain long ago figured out how to crack open its own collectibles market — an unswiped, all-metal 2012 $50 gift card recently sold for $739 on eBay — and so its holiday gift cards are more about limited edition, not so much their face value. This time around, Starbucks isn't saying up front exactly how many will be available, but at least you can melt this one down and sell it for market value. That may come in handy if you're a survivalist with a soft spot for Frappuccinos, or at least if the chain's mobile payment and delivery app ever stops working and you suddenly need coffee money. Go get 'em here.
Related: Is This All-Metal Starbucks Card Worth $450?
[BE]