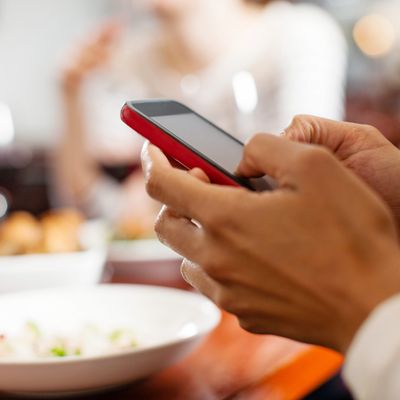 Shouldn't be seen or heard.
Photo: Zave Smith/Corbis
A restaurant in Sioux City, Iowa, is sick of customers plugging away furiously at their phones. Owner Dave Ferris doesn't want the devices cluttering tabletops like horribly ineffective utensils either, which is why at Sneaky's Chicken, servers make the rounds with shoeboxes on Wednesday evenings. Drop your phone in one, and you get 10 percent off your meal.
Management hatched the plan a few weeks ago after noticing, like the rest of the world has noticed, "a decline in conversation among customers who seemed preoccupied with their cell phones." And their Shoebox Plan has already got fans: Ferris's daughter says "99 percent" of customers participate, with some forgetting, believe it or not, to remove the phone from the box before they leave.