The ritzy, recently opened Brighton Beach grocery store Gourmanoff made our list of New Wave grocery stores for its ample caviar selection, and perhaps predictably, its regular egg selection is also somewhat posh. In addition to offerings of tiny, mottled quail eggs and jumbo, bone-white duck eggs, there are several grades and sizes of chicken eggs by the dozen, including an organic and free-range variety strangely labeled "vegetarian." Perhaps driven by the booming business of full-fat things, now the place is also selling Pennsylvania eggs that each have two yolks.
For decades, breakfast has been beset by a mania for protein-rich egg whites in all forms: Scrambles, omelettes, and so on — an unprecedented shortage rankled the supply chains of the McMuffin makers earlier this year. Though yolk consumption has long been pegged to atherosclerotic issues, the bad news and grimmest medical findings are off and on again. The latest shift is a result of the boom in diets like Paleo that prize cholesterol outright. There's been a slight shift in the balance of egg culture.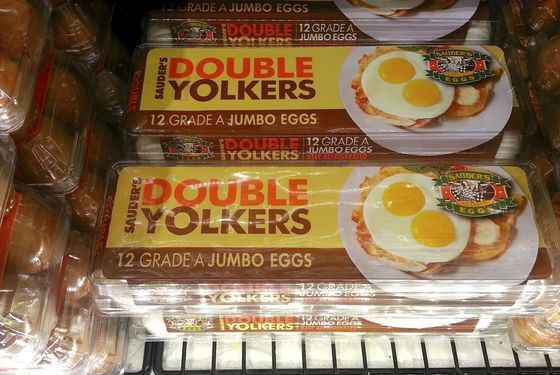 Lititz-based Sauder's, which sells the so-called "Double Yolkers," is an enormous operation. Every egg is candled in a processing facility to begin with; inspectors look for cracks, blood spots, and miniscule fissures from which albumin leaks. Getting two yolks in one egg is not unusual. "Chickens that are first put into a chicken house are more likely to lay double-yolkers," a quality-control rep told us, adding that they tend to be slightly larger eggs. Other hens around 22 to 23 weeks old produce a slightly higher number, too; in all, it's roughly one in 1,000 eggs.
These are set aside when discovered, then candled by hand, the rep said. The eggs are put up to a bright light and spun. Cartons of Double Yolkers have been sold locally in Pennsylvania Dutchland for years, but they're only now being sold in grocery stores farther away. Demand has recently spiked, so they eggs are being shipped out to specialty stores and generic chains beyond state lines. "I guess we just had a market," he said.
Related: The New Guard of Grocers: 44 Specialty Food Shops That You Need to Know