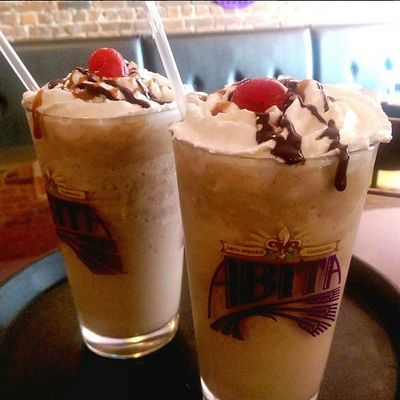 That's a mudslide at best.
Photo: phunkyelephant/Twitter
A well-regarded gastropub in the Rosebank neighborhood of Staten Island called the Phunky Elephant thought it'd be cute to take a cue from Family Guy and put a "Roofie Colada" on its drink menu. The name is obviously offensive, but so is the ingredient list: coffee ice cream, fried doughnuts, Kahlua, vanilla-flavored vodka, caramel, and chocolate syrup, all served in a pint glass. When a customer pointed out that it wasn't great to feature a drink that touts an association with rape, the staff reportedly responded with nothing more than a laugh. Now, though, the Phunky Elephant is sorry, sort of.
"For the record, you know there aren't any date rape drugs in the dessert right?" the restaurant wrote on Facebook, before posting a more detailed note explaining the "desert [sic] name was simply a homage to an adult cartoon and there was no malice."After that, it turned to Seth MacFarlane to see if the Family Guy creator might be of any assistance.
Who knew a dessert named #roofiecolada would cause such an uproar? Thanks @SethMacFarlane pic.twitter.com/fsXVSP9dgf— The Phunky Elephant (@phunkyelephant) November 26, 2014

Needless to say, if you're seeking out MacFarlane's help to make yourself look better, you messed up.