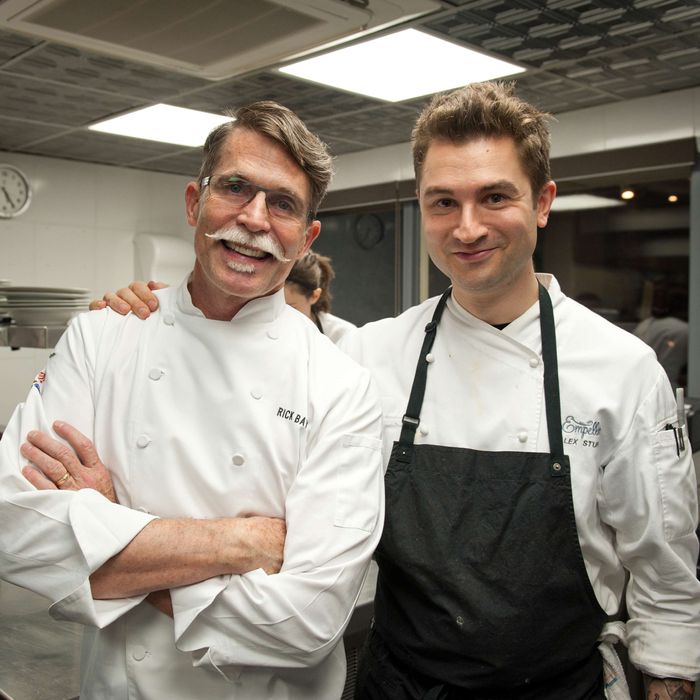 "Mexican food doesn't have to be covered with melted cheese, or all one texture or one color."
Photo: Liz Clayman
Alex Stupak and Rick Bayless share at least one common goal: They're two of the most vocal American chefs in the move to get Americans to understand Mexican food the same way they do, say, Italian or French. Despite great strides, they still see an opportunity for a stronger understanding among diners about the breadth of the cuisine. Why shouldn't there be casual taquerias — or Tortas Frontera — as well as serious and, yes, more expensive concepts where chefs can show off the complexities of Mexican cooking? Stupak and Bayless (who oversees Chicago's Frontera Grill and XOCO, among other concepts) have similar sensibilities — and last week, they cooked together for the first time ever, as part of Stupak's "Push Project" series at Empellón Cocina. We sat down with them to discuss the importance of masa, the cheap-taco fixation, and Stupak's next project.
How did you two first meet?
Rick Bayless: When you were at wd~50, right? And then we just sort of kept in touch. And then he decided to jump off the deep end and go into the Mexican world, and we started becoming even closer friends.
And Alex, you've cited Rick as a major influence on your work.
Alex Stupak: Oh, a huge influence … First and foremost, everyone on both sides right now in New York City complains about Mexican food. The New Yorkers complain there's no great Mexican food, and the Mexican restaurateurs complain like,"Oh, people won't pay the price." I always refer back to Chef [Bayless] because, at the end of the day … when did Frontera open?
RB: 1987 — a long time ago.
AS: I don't want to speak for you, but I can only imagine what you were up against, just trying to get people to accept it. What was the state of Mexican food in 1987 in the Midwest?
RB: Well, the cool thing about being in Chicago is that we didn't have big chain Mexican restaurants. I had moved from L.A., which is dominated by chain Mexican restaurants, and so everybody thinks that's what Mexican food is. But in Chicago there were mom-and-pop places, where even though the food is really simple, at least there was some diversity. People were aware that there was a little bit more to Mexican food, and that's one of the reasons that I wanted to settle in Chicago. The availability of ingredients is second to none for Mexican food, because we have this enormous Mexican population — second largest in the country. And because people didn't think that all Mexican food was what they sell at On the Border, or places like that.
AS: In terms of trying to gain ground or see Mexican cooking run the gamut, I still think there's a lot of work to do. But I'll always refer back to his work.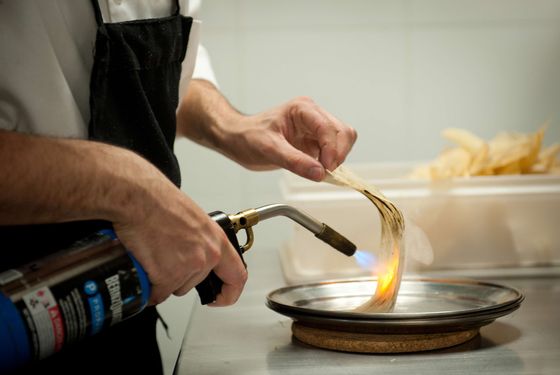 What still needs to be accomplished?
RB: Now people are willing to understand that there are regions to Mexico. They don't know what they are, but they at least recognize now that there may be regions. Like, you'll hear the food people talk food from the Yucatan Peninsula. And if there's diversity within Mexico, then there can be diversity in what you find in the United States. I think that that's a really cool thing — that we're starting to see that the population is catching up.
AS: I also think that people are starting to value freshness and how much work it takes to deliver that.
RB: Absolutely.
AS: You have to value this cuisine at some point for us to even be able to produce it.
RB: It's really hard. Most people think — because they've only had the most dumbed-down version of it — that Americanized Mexican food has to be simple and cheap. But then, when you start making the real cuisine, it's incredibly labor-intensive stuff. And a lot of people don't realize that at all, but I agree with you that they're starting to understand it and starting to know that it's got some value and some worth.
What's interesting is that now you both have Mexican concepts that are fast-casual, as well as high-end. Is that a reaction to customers saying that this food shouldn't cost so much?
AS: When I think of high-end places in New York City, it's restaurants like Per Se and Le Bernardin. For a minute, I had the most expensive Mexican restaurant in New York City, and now we're probably the second most expensive. Cosme might be a little bit more. But we have a $60 check average. So that's on the line with Lupa and places like that, which I consider great restaurants but not that high-end. But like, what's your favorite place for Mexican seafood in New York City?
I don't have one.
AS: Right. It doesn't exist. Whereas that does exist for Italian food. And it exists for French food. And at different price points. So that, to me, is bringing the whole thing full circle. Creativity is about trying to figure out something that truly can't be done. In 2014, that's a reason to sign a lease: to see what's going to happen in 20 years. What's it going to be like in 2034? Because, I mean, Italian food wasn't always this way. There wasn't always a need for Eataly in New York City. Now there is. So the equivalent of that for Mexican food is hugely exciting.
RB: Yes, but I still think that we have a ways to go. I always point at the Italian development, because when I was a kid, all Italian restaurants were just the spaghetti-and-meatballs kind of thing — maybe eggplant Parmesan, if it was a fancy restaurant. And then we had that explosion, but it took 20 or 30 years for that to become the norm. And now you get the Torrisi guys doing a red-sauce restaurant because it's cool and retro.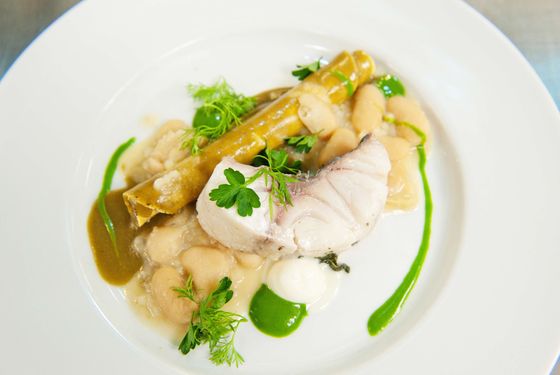 But people will still insist that a taco should cost no more than a few dollars, if that.
RB: Mexican food doesn't have to be covered with melted cheese, or all one texture or one color. People are beginning to understand that it can be fresh. But when you get all of that beautiful freshness, it's not a cheap cuisine anymore. And yet you're trying to compete with the cheap versions of it, because people go, "A taco's a taco." Well, as Alex has pointed out to people here, [that's] not true. When you get something with a beautiful, fresh-made tortilla, that's a completely different experience.
AS: I thought I'd cracked the code with the new place. I was like, "Oh, I got this. Everything on Al Pastor's menu costs $4 bucks. And I'm still, from certain channels, hearing, "Oh, I can get that for $2.50." I failed! I thought this was the one where we were going to open and it wouldn't be a headache.
But the criticism you get after an opening hopefully dies down …
AS: There's no escape. I think when I opened the first Empellon I asked you, "Did you get through this?" And you were like, "Kind of, but not really."
RB: I still get it. I still get it.
AS: I've acquiesced to it. It is what it is.
Rick, you just opened a Tortas Frontera outpost in Philadelphia. Any other plans to expand?
RB: Well, I want to see us be able to do more of those at airports. The crazy thing was that we made that into a regional restaurant, meaning that all the ingredients are sourced locally, and we have a big sign that says where all of our food comes from. So if we take that and we open, say, in LAX, then where does the food come from? We can't put up a sign like that and say it all comes from Chicago. That's weird. So the reason we did that Philadelphia thing is because Bon Appétit Management was willing to go in and work for almost nine months sourcing ingredients for us. So I don't know how fast we're going to be able to tackle all of that.
And Alex, it seems like Al Pastor's a concept that you could feasibly replicate. Do you see yourself opening additional locations?
AS: Not right now. What we're facing right now is that you call everything Empéllon. So you have problems both internally and externally with the customers. So if it's called Empéllon, they expect the same seven salsas that hit the table at Taqueria. When we opened Al Pastor, I said, "Well, here are three salsas." They're spicy, and they're built to blast through a tortilla. And they're not meant to sit on a chip, even though an American will do that, no matter what you tell them. So we have a problem where when you have a brand and everything's called Empéllon, the consumer expects everything to be the same. Other than the fact that we are outsiders fascinated with Mexican cooking, there should be no constant.
… So when someone sees Al Pastor, it's like, "Whoa, your labor cost is that low and your food cost is that low and the margin's that big, so now we should do 50 of these, right?" Like, why are we even wasting our time with the other restaurants because this one's more profitable? We opened Al Pastor because I decided it was my favorite taco. And now it forces me to get it right. Would we do another one someday? Maybe. But not anytime soon. I think we're much closer to opening another Empéllon Taqueria. I approached that as "let's build this restaurant for as little money as humanly possible." Because God forbid this takes a nosedive.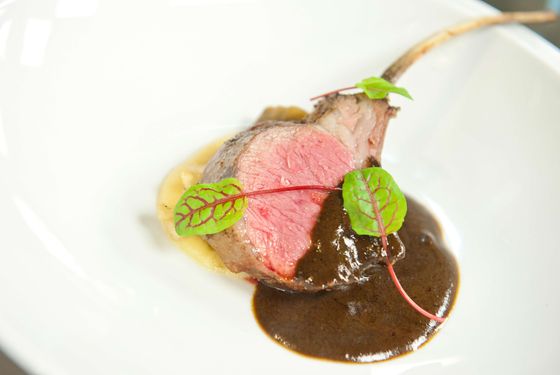 Empéllon Taqueria is consistently packed — it's tough to even get one bar seat.
AS: We were really fortunate that it was a tremendous success, but four and a half years later, we have a $600,000 restaurant that's being held together with duct tape. And beyond just the general repair, we now have four and a half years of data. So we know how to do that restaurant better, and we have to prove that elsewhere. Because if the business isn't broken, why would you fix it? I know this sounds counterintuitive, but my goal next year is that I'm going to build a better version of the existing restaurant to force change on the original one. I'm going to do a better version of Empéllon Taqueria.
… I feel like we have triumphed in a certain way — it's not the money, but it's the fact that we do get people to order three tacos for $39. That's important to us, because now we can buy the same one-and-a-half-pound lobster that any restaurant could. The long answer to your question is Al Pastor: not yet. We're four weeks deep. Let's just take some time. Let's just learn and enjoy it. Life is long. We opened three restaurants now in four and a half years. That's stupid.
And you did four Push Projects last year!
AS: Yeah. I did it. It was my fault. Part of you wants to just leave everything alone and enjoy it for a minute. And then the other part of you goes, "Well, that guy opened a restaurant." And your staff is leaving you. Or how do you get big enough to get insurance for every one of your employees? How do you get big enough to take your staff to Mexico? That's the thing that compels you to grow, even if it's at an irresponsible rate.
It's a tricky balance to strike.
AS: At Cocina, I want to rip out this dining room next year. I'm looking at a list of things I set out to do with this restaurant. We said we were never going to serve a taco here. We failed at that. We said we were going to launch a tasting menu. We haven't yet. So that's a list of things I want to clean up next year.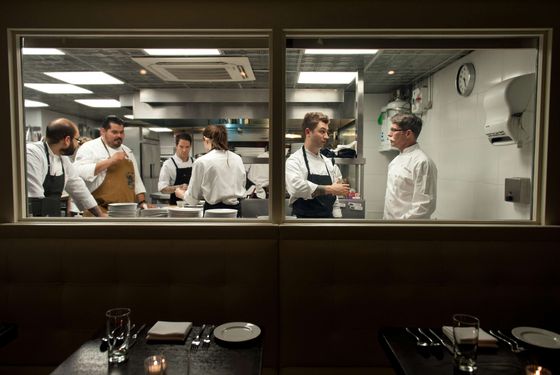 So the theme of tonight's Push Project dinner is masa. I feel like many Americans, especially, don't understand the complexities of this ingredient.
RB: It's getting good masa that's hard, because the whole country is just blanketed in this powdered masa mix, which is designed for a uniformity of flavor. So what I think that we're going to see in this country is a resurgence — as is happening in Mexico — of interest in heirloom varieties of grain corn … There's an old-fashioned method of grinding corn with stone plates, and you have to boil and wash the corn just right. If you're raised doing it, then it's not a big deal. But if you have no idea about it, it feels like making bread for the first time. People think flour is flour for making bread, but no, you realize that there are all different kinds of flours, and the bread will all turn out different depending on what kind of flour you're using.
AS: And then chilaquiles make more sense, and enchiladas make more sense. It's not something that's buried in cheese. It's a plate of tortillas. That's the focus. We serve tortillas at Al Pastor that are almost exclusively with the original heat from cooking. No reheating. Our next step is trying to figure out how we make them, keep them thermalized, and start shipping them to our other restaurants. And then we'll be an all-corn company.
RS: With Alex starting his new project, we were very excited because I've been a huge proponent of talking about masa all the time. The reason we settled in Chicago was because of the fresh-ground masa we could get there. It's the canvas on which you paint all Mexican flavors.