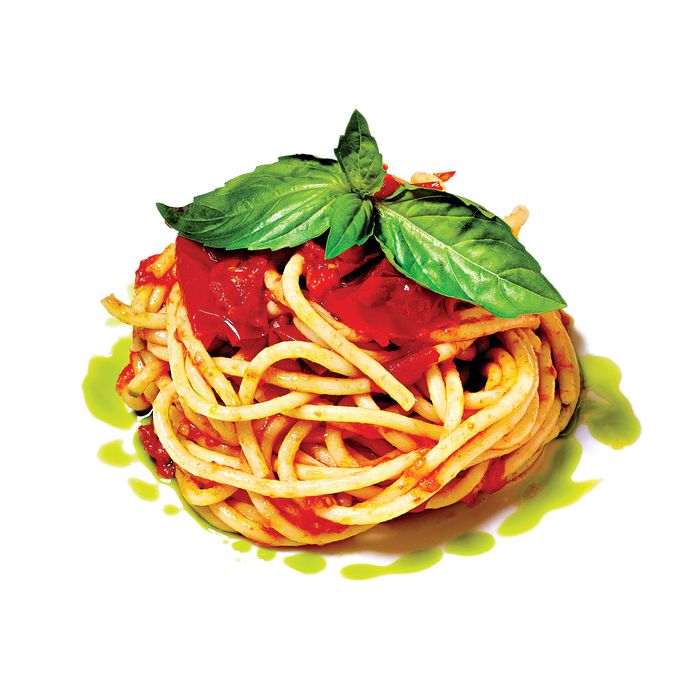 Photo: Bobby Doherty/New York Magazine
Despite its apparent simplicity, Italy's No. 1 pasta dish, spaghetti al pomodoro, isn't so simple. According to native Neapolitans Rosario Procino and chef Pasquale Cozzolino, who run the Union Square pizzeria Ribalta, practically no one in this town knows how to make it. "When I think that the most famous spaghetti al pomodoro in New York is made with butter in the sauce, I get goose bombs," says Procino, by which he presumably means (a) the version that Scott Conant popularized at L'Impero, and later Scarpetta, and (b) bumps, not bombs. To right this wrong, the duo has come up with what may be the city's ultimate interpretation—one that hews to the Italian ideal of cooking's being approximately 98 percent shopping and 2 percent technique. It's the kind of simple dish that so handily transcends its simplicity it may give you goose bombs.
Mouse over or tap the image to read more.
On the menu at Ribalta, $22; 48 E. 12th St., nr. Broadway; 212-777-7781.
Photo: Bobby Doherty/New York Magazine
*This article appears in the November 3, 2014 issue of New York Magazine.
Related: Ribalta Introduces a New Neapolitan-Pizza Tradition