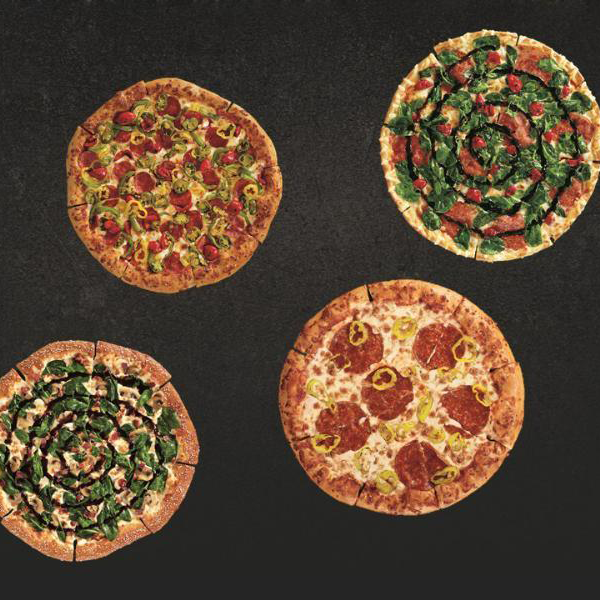 Approximately one five-hundred-millionths of your dining options.
Photo: PRNewsFoto/Yum! Brands, Inc
While other food-industry suckers out there keep paring menus down dozens of items by dozens of items, Pizza Hut is churning full-speed ahead in the complete opposite direction. Today the chain unveiled an "unprecedented" plan for a total revamp at all 6,300 locations that includes, as this might suggest, new stuff, and particularly a lot more of it.
Beginning November 19, you can order 16 new artisan-ish pizzas (here's the full list). These dream pizzas will feature a variety of ten new crusts that include honey sriracha, a "skinny" line, and a Little Caesar's pretzel copycat. There are six sauces, including honey sriracha; five new toppings that are mostly peppers and meats that are Italian in origin; and there are also four finishing drizzles, with — you guessed it — honey sriracha.
If this weren't enough, the chain is also jettisoning the roof logo for one that's a circular sauce swirl, relaxing the look of its company uniforms, and dressing up old toppings with silver-dollar adjectives like "Mediterranean black olives," "fresh red onion," "slow-cooked ham," and "Peruvian cherry peppers," even though, as the Associated Press points out, the ingredients themselves "are the same." If you add these to older menu item carryovers and do the math like chief marketing officer Carrie Walsh did, this comes to a mind-numbing "over 2 billion combinations of pizzas that [customers will] be able to access." Let's just hope that the extravagant age of honey sriracha, barbecue sauce, and balsamic sauce drizzles doesn't come at the expense of a plain cheese pie.
[AP, Dallas News]