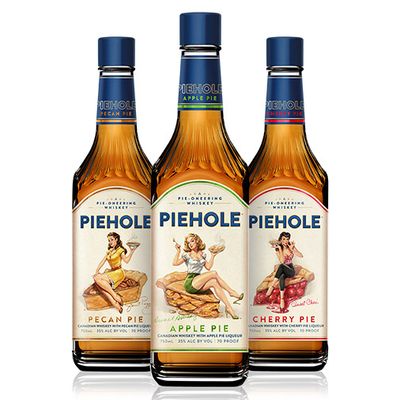 This is what pumpkin-spice mania begat.
Photo: Diageo
The holidays are approaching, and despite all odds, the flavored-whiskey trend is exploding, so Diageo decided to get all synergistic and cash in on a drink meant to evoke your very first taste of "Grandma's pies fresh from the oven," but in 70-proof form.
The liquor behemoth presumably hit up the Cake Boss's overstocked pantry of obscure baking extracts in coming up with its new Piehole line, which launches with three flavors and is being described by qualified professionals as "frat-boy liqueur" and the spirit that "has nothing whatsoever to do with whiskey," no matter what it says on the bottle. In other words, this stuff is ideal for that slot on your bar cart between the Pinnacle Pumpkin Pie and Cinnabon. Labels depict leggy, pinup-type ladies juxtaposed with pie.
As for tasting notes, Piehole Apple Pie has the "sweetness of apple pie filling and baked crust with a hint of cinnamon and clove spice," while Cherry Pie is all about the "sweet baked cherries with notes of buttery pastry," and Pecan Pie has "bourbon vanilla extract, dark brown sugar," and some kind of nut extract, natural or maybe unnatural, all of which is to say there's a very good chance you'll eventually regret the very moment you turned the twist-off cap. There's some Canadian whisky in there, too, and, predictably, bottles cost around $15. The liquor category has been around for centuries and was just finally coming into its own; it seemingly took just a few fruit flavors and some labels that objectify women to turn it all into a complete joke. Chin chin, dudes.