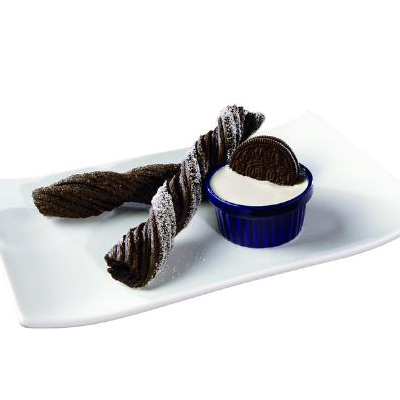 Talk about "Double Stuf."
Photo: J&J Snack Foods
It's getting increasingly difficult to tell real Oreos from the fake ones these days. Sherbet and candy cane are genuine; red velvet and fried chicken, not so much. There's an active Oreo fan community that loves making mock-up packaging for unreal Oreos, and compounding the problem of sussing out the truth is Mondelez International's habit of changing the conversation to its miniatures line, or just issuing blanket denials, like how Tom Cruise's spy bosses in Mission Impossible disavow any knowledge of his existence whenever he blows up the wrong people. Anyhow, all of that is to say that soft Oreo churros are real.
J&J; Snack Foods, makers of everything from food-service funnel cakes to giant lumps of sugar-free cookie dough. The Oreo churro, produced with the blessings of the famous cookie's corporate honchos, is actually three churros — regular, "double twisted," and bite-size. Shipments are already headed out, apparently, anywhere your standard jalapeño-ranch-topped soft pretzels are served, meaning, stadiums, fast-casual restaurants, and other institutional settings, such as particularly festive DMV offices. Best of all, the manufacturer notes they can be served with a "cookie creme dip," conveniently made by the same folks. Here are some spotted in the wild:
The Oreo churro is a lot smaller than regular churros. Taste wise it's okay, nothing spectacular. pic.twitter.com/AZFV4Nw1NO— Inside Universal (@insideuniversal) October 18, 2014

Churro/cookie people: Send any reports our way.