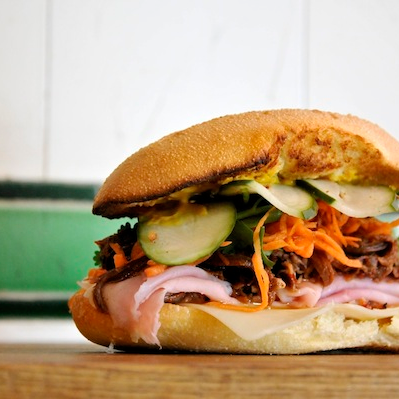 The Num Cubano, available starting tomorrow.
Photo: Courtesy of Num Pamg
The good news: Num Pang reopens in Union Square tomorrow, right across the street from its original location. (That building, of course, is being converted into luxury condos.) The new outpost, at 28 East 12th Street, is Ben Daitz and Ratha Chaupoly's sixth sandwich shop in New York, and there are more locations on the way.
And now the great news: In honor of the opening, there's a special new "Num Cubano" sandwich, with slow-cooked pulled pork, ham, Swiss cheese, spicy pickled kirby cucumbers, yellow mustard, and the signature toppings of pickled carrots, cilantro, chili mayo, and toasted semolina bread. (Num Pang's Cambodian-style sandwiches aren't technically bánh mì, but they're similar.) It's only available at the Union Square outpost for one month — so you have until December 18 to try the hybrid sandwich of your dreams.
Related: How Num Pang Became New York's Quietest Restaurant Empire