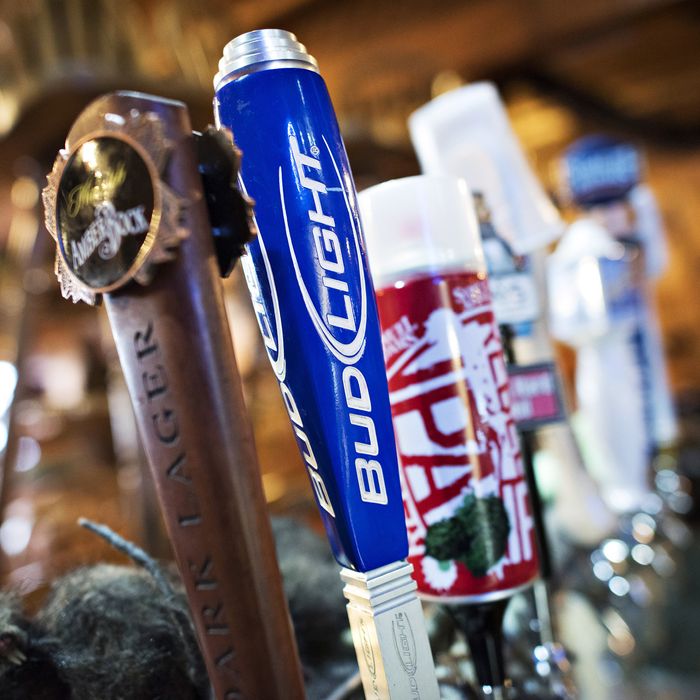 In some hot water.
Photo: Daniel Acker/Bloomberg via Getty Images
Stadium beer is already grotesquely overpriced, so it's all the more troubling that Seattle Seahawks concessionaire Delaware North Sports Service has allegedly been selling some watered-down stuff. An investigation by Seattle's KOMO News found that the alcohol content for six of six draft beers on offer lab-tested at a lower ABV than what the breweries advertise. In some cases, alcohol content was off by more than half a percent, a violation of a federal law, which says plus-or-minus 0.3 percent is the acceptable limit.
KOMO says it obtained and transported samples according to strict lab instructions (small vials kept cool inside bags packed with ice) and still got the depressing results: Bud Light was the lowest, no surprise, basically a hops-flavored club soda containing 3.9 percent ABV instead of the 4.2 advertised. Budweiser clocked in at 4.4 instead of 5.0, Stella Artois was 4.8 percent instead of 5.0, Redhook's No Equal was 4.8 percent instead of 5.2, Shocktop was 4.7 percent rather than 5.2, and Bass Pale Ale was 4.5 percent and not 5.1.
A statement from Anheuser-Busch, which has been down this waterlogged road before and owns five of those six brands, says, "We sell only full-strength beer in the state of Washington," the same product consumers "purchase at bars, restaurants, convenience stores, and other retail locations," and then goes on to question "the lab and testing method."
While the lab grants the numbers could miss the mark by a little, "the results are off enough to absolutely merit more testing and investigation." Other stadiums have been known to get special so-called "stadium kegs" from Anheuser-Busch, meant to be, in the words of San Diego Padres officials, part of an "alcohol management plan" for stadium drunks.
Related: Judge Rules Budweiser's Watery Beer Isn't Diluted on Purpose
[KOMO]