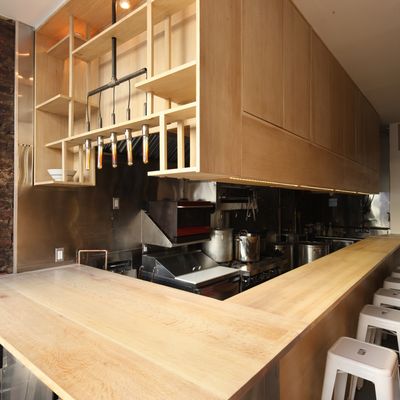 Ramen Lab is ready to go; it just needs some firepower.
Photo: Melissa Hom
Earlier this year, Ivan Orkin waited for what seemed like an eternity to get the final clearance to open his newly renovated kitchen at 25 Clinton Street. "We're just waiting on Con Ed to turn on the gas," the chef told Grub in March, after no change in the situation for months. Ivan Ramen finally opened in May, but now it turns out that Ramen Lab and Mu Ramen, two other awaited noodle-oriented projects, are also waiting on the utility company.
Sun Noodle, the Los Angeles– and Jersey-based manufacturer, has been ready to open its tiny Kenmare Street operation for a little more than a month.
And Joshua Smookler, whose tonkotsu bowls and foie gras–syrup-topped okonomiyaki at Mu Ramen are very much anticipated in Long Island City, is also waiting for the utility company.
I wanna make #ramen and serve ramen on this #rainyday. 😩 Maybe Con Ed will come today to turn on the gas?? #food #cooking #lic #nyc— Mu Ramen (@Mu_Ramen) November 12, 2014

As Eater highlighted, Smookler has singled out his frustration with no-show inspectors and missed appointments. This has been going on for months, apparently, and it's not just ramen shops that have to contend with utility-company woes — small businesses get crushed by the waiting game. Xi'an Famous Foods' Jason Wang may have been perpetually expanding his mini-empire, but all that matters a whole lot less, for example, when he's paying rent and not serving food in Greenpoint.
@EaterNY @mu_ramen welcome to the waiting for con ed club :)! Greenpoint location has been waiting for 5 months!— Xi'an Famous Foods (@xianfoods) November 14, 2014

Shouldn't there be a city-run program to genuinely expedite this process for restaurateurs and enrich the small-business community in general? After all, getting the gas turned on is never the final step: These places can't hire staff or order food or even be inspected by the Health Department until everything is up and running. Also, New York is a sadder place without these noodles.
Related: Ramen Lab Is Headed to Kenmare Street — and Noodle Lovers Should Start Getting Psyched
Related: Long Island's Other Jewish Ramen Savant Explains How Mu Ramen Came To Be