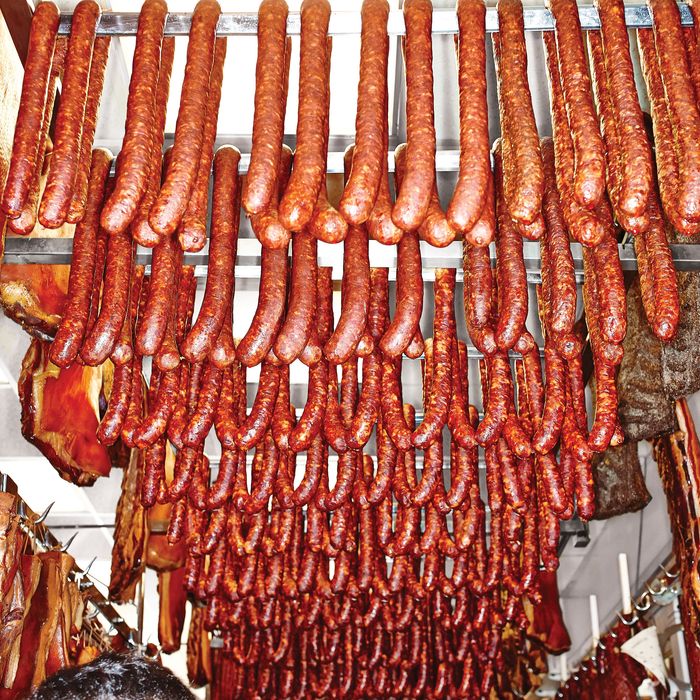 Meaty, cheesy, sweet, and savory places you won't want to visit on an empty stomach.
Photo: Bobby Doherty/New York Magazine
Twenty-five years ago, New York was a very different sort of food-shopping town. There was one Dean & DeLuca, one Fairway, one Balducci's—each seemingly irreproducible, if you can imagine that. Today, those once-unique landmarks have either expanded exponentially or closed. But even as national chains like Whole Foods and Trader Joe's have infiltrated the foodscape, a handful of historic mom-and-pops have not only endured but thrived: Russ & Daughters and Di Palo's are equal parts museum and marketplace, temple of culinary worship and crux of daily neighborhood life. As the pendulum has swung back from one-stop-shopping megamart to more-focused specialty store, the current crop of food shop has modeled itself after these venerable forebears. This generation's best new provisioners tend to be smaller and meticulously curated, with a distinct point of view and an often sustainable approach to sourcing. Many host classes (a necessity in this DIY age) and embrace digital commerce, aspiring to something fresher than FreshDirect. Here, a look at the new guard of food shops in New York—a cornucopia of nose-to-tail butchers, vegan bakers, rooftop gardeners, regional cheesemongers, ecofriendly fishmongers, and more.
Category I: Breads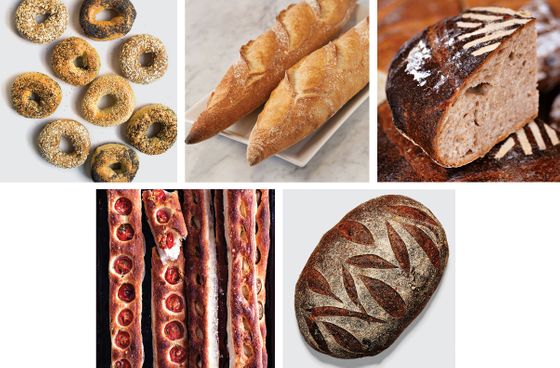 Black Seed Bagels
170 Elizabeth St., nr. Kenmare St.; 212-730-1950
These are bagels made the old-fashioned way: shaped by hand from stiff dough, kettle-boiled, and baked. They're perfectly dense and chewy with just a hint of surface crispness. By comparison, the modern soft-dough bagel churned out by machine (the curse of the true bagel lover) and cooked in a steam-injection oven (another curse) seems sad and misguided, like the demon love child of the kaiser roll and the doughnut. Not everything about Black Seed, however, would be familiar to your bagel-maven grandfather. There's the good Stumptown coffee, for one. And for another, a design that incorporates reclaimed sycamore, beveled walnut, and Carrara marble to pleasing effect. There's even a late-night pizza-bagel operation from 10 p.m. to 4 a.m. Thursday to Saturday.
Maison Kayser
Multiple locations; maison-­kayser.com
It's true, Eric Kayser's original Paris bakery is a global juggernaut with three Manhattan branches and outposts from Tangier to Taipei. And the problem with global juggernauts, as everyone knows, is that they do not reliably produce world-class breads. Not so Maison Kayser. Its bafflingly good baguette Monge, named for the Parisian street where Kayser opened his first shop, is a perfect marriage of crisp crust to springy crumb with a depth of flavor that's unusual for a baguette. What baffles even more: They chalk this witchcraft up to a technical innovation of their own invention called a Fermentolevain machine that sounds straight out of Dr. Seuss.
Runner & Stone
285 Third Ave., nr. Carroll St., Gowanus; 718-576-3360
It's perfectly acceptable—inspired, even—to treat this friendly Brooklyn bistro as your local boulangerie. The back bar is stocked with the handiwork of partner Peter Endriss, a former Per Se head baker and fervent champion of alternative flours, many of them whole grain and local. So although his classic, long-­fermented baguette is un­impeachable, you might try something a bit more offbeat—a beautifully textured brioche scented with orange-flower water, for instance; the nutty buckwheat baguette; a moist and airy rye ciabatta; or the Bolzano miche, a rye sourdough bolstered with spelt and seasoned with cumin, coriander, and fennel. It's the size of a hubcap and sold by the quarter.
Sullivan St Bakery
sullivanstreetbakery.com
How can we consider a 20-year-old bakery part of New York's new guard? Easy: Owner Jim Lahey is an eternal innovator, the kind whose restless spirit and impeccable taste make his rustic, characteristically burnished loaves look and taste somehow new. He is the man, after all, who simplified home baking with the no-knead method, and who gave New York not only addictive square Roman-style pizza but superb Neapolitanesque round pies at Co. And there's always something compelling at both locations of his retail bakery, be it a multigrain Pullman, oil-slicked batons Lahey calls strecci, the part-whole-wheat sourdough country loaf named truccione saré, or even, of late, a potato roll—Lahey's artisanal answer to Martin's, perhaps.
Arcade Bakery
220 Church St., nr. Worth St.; 212-227-7895
Roger Gural has baked bread for David Bouley, Almondine's Hervé Poussot, and Thomas Keller. Now he's making a name for himself in this ­brilliantly retrofitted lobby of a downtown office building. Classic French loaves are Gural's passion, but his viennoiserie (not to mention his pizza) are equally impressive. The key to his success is a strategy to keep production low and turnover high so that ­customers never suffer the ­indignity of being served a croissant or signature pear-vanilla baguette that is less than exceedingly fresh.
Bien Cuit
120 Smith St., nr. Dean St., Boerum Hill; 718-852-0200
Zachary Golper's trademark loaves are unashamedly dark and crusty—his three-year-old bakery's name, after all, means "well-done." Inspired by France and molded by artisanal baking traditions of the west coast, where he learned his craft, Golper has devised several signature breads that have already become New York classics. Foremost among them is his miche, as much an ordeal as a recipe. It involves an intricate blend of wheat and rye flours, a wild yeast starter, and a nearly three-day-long fermentation period. (Extended fermentation and elaborate flour mixtures are kind of Golper's thing.) Sample the complexly-flavored results in his rye sunflower, his raisin-walnut campagne, his rustic potato-studded Pugliese, and even his standard baguette, equally famous for its taste and texture as for its unusually long shelf life.
Saraghina Bakery
433 Halsey St., nr. Lewis Ave., Bedford-Stuyvesant; 718-574-5500
Aficionados already know Edoardo Mantelli, who runs the terrific Saraghina in Bed-Stuy, as a pizza obsessive whose Neapolitanesque pies rank among Brooklyn's best. Now, Mantelli has taken on bread baking with an equal passion, the result of which is a rustic retail shop adjacent to the restaurant. His naturally leavened breads, as you'd expect from someone who grew up in Milan, are classic Italian, and made with organic flours. Of particluar note are a toasty, chewy ciabatta, and a springy, open-crumbed focaccia. The standout pane, though, is Mantelli's micca. It's baked extra dark with a creamy crumb, and it's loaded with nutty, sour, complex flavors that linger on your palate.
Category II: Seafood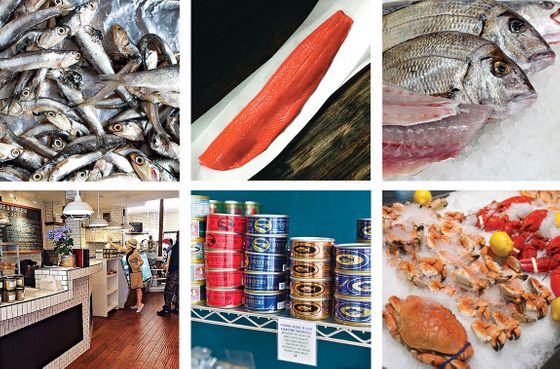 Greenpoint Fish & Lobster Co.
114 Nassau Ave., at Eckford St., Greenpoint; 718-349-0400
Adam Geringer-Dunn and fishmonger Vinny Milburn's Brooklyn venue has an attached raw bar and restaurant, but you may find yourself so mesmerized by the ultra-fresh wild squid from Point Judith, Rhode Island, in one of the expertly stocked iced-down displays up front that you ditch your lobster-roll plans altogether. The focus is on underrated fish caught mostly in the waters between Long Island and the coast of Maine, like sustainable redfish, but there are also anchovies from Monterrey, Cape Hatteras Spanish mackerel steaks and fillets, and even off-cuts like sockeye collar.
Iliamna Fish Company
redsalmon.com
Subscribers to this community-supported fishery tend to sound like fanatics when discussing its lone offering: sashimi-grade, wild, omega-3-loaded salmon from the Kvichak district of Bristol Bay, Alaska. The sockeyes are caught by set net in early June through the end of July and are immediately bled, chilled, eviscerated, filleted, vacuum-packed, and finally chilled to minus-40 Fahrenheit. The frozen belly-on sides are shipped by steamship to a barge to a truck to a Volvo, and finally make it to New York in August. Sign-up starts at the end of April, and Iliamna typically has a longish wait list by mid-May. The cost is $198 for 12 pounds of fillets; the traditional drop for shares is the Brooklyn Kitchen, and fisherman Christopher Nicolson is planning a Manhattan pickup location for 2015.
Gabe the Fish Babe
gabethefishbabe.com
There's a reason why all the seafood sourced by Point Judith-based fishmonger Gabrielle Stommel have become so prized by chefs and restaurateurs like Francine Stephens and Andrew Feinberg, who roast Gabe's orata on the wood-fired grill at Marco's. Stommel buys directly from fishermen on the dock, and the company's $99 "fish club" lands customers six pounds of fillets that are cleaned and frozen at the source. Sample drops include striper, bluefish, cod, hake, scup, monkfish, and fluke. Unlike other fish subscriptions, Gabe allows for shellfish add-ons like clams, scallops, mussels, and lobster. There are three pickup locations in Manhattan and Brooklyn, but the three-year-old company offers home delivery on Wednesdays for $15 and has plans to expand the convenience in 2015.
Shelsky's of Brooklyn
141 Court St., nr. Pacific St., Cobble Hill; 718-855-8817
Peter Shelsky's namesake shop moved from a closet-size Smith Street space to larger, airier, subway-tiled digs on Court Street this year. Now located across from the perpetually frenetic Trader Joe's, the salmon emporium is an oasis of paper-thin kung pao and dill-cured versions. The basics—salty belly lox, hot-smoked lake sturgeon, pickled herring—are well represented; smoked or peppered Rhode Island bluefish and wild Bering cisco (a frigid-water cousin to whitefish) are available in season. In a departure from the appetizing canon, Shelsky's also sells lobster salad.
Mermaid's Garden
644 Vanderbilt Ave., nr. Park Pl., Prospect Heights; 718-638-1910
Sustainable-seafood acolytes Bianca Piccillo and Mark Usewicz source a panoply of mostly East Coast fish and shellfish. In addition to live lobster by the pound, there are half-pints of lump crabmeat, sweet Woodbury littlenecks, South Carolina head-on shrimp, and wild striped bass caught off Montauk. Before you get to the pristine line-caught swordfish steaks, however, check out the refrigerated case stocked with chowder and packs of hot-smoked rainbow trout from North Carolina's Sunburst Trout Farms. Other provisions and pantry items include flaky sea salt dried in Wellfleet, jumbo cans of wild Alaskan salmon, and tiny Louisiana dried shrimp, made by a third-generation drier based in Grand Isle.
Gourmanoff
1029 Brighton Beach Ave., nr. Oceana Ter., Brighton Beach; 718-517-2297
Past the organic leeks and curved glass cases of Technicolor macarons is probably the single most impressive assortment of caviar in the city outside of strongholds Petrossian and Caviar Russe. This includes 500-gram jars of "malossol" salmon roe, plenty of American paddlefish caviar, mini-kegs of osetra, and diminutive jars of kaluga. Elsewhere at the market are frozen Long Island sea clams, fresh rope-cultured mussels, lake trout by the chunk, vacuum-packed sushi-grade smoked eel, and a variety of hot-smoked fish, much of it sold by the slice.
Category III: Meats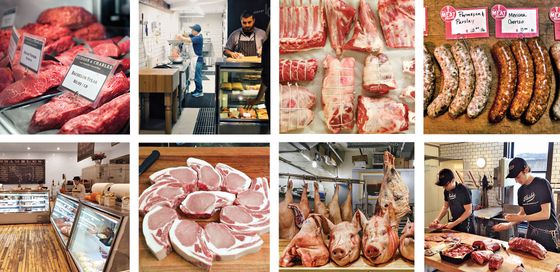 Hudson & Charles
524 Hudson St., nr. 10th St.; 212-675-7075
This attractive shop's not yet a year old, but the owners have endeared themselves to the neighborhood by embracing today's holy trinity of butcher tenets (ethical, sustainable, grass-fed). Knowledgeable meat cutters man the counter to carve Delmonicos and vend lamb sausages alongside jars of whipped lardo and a handful of cheeses. Plus: There's delivery, and growlers to fill with Two Roads' Double IPA or Naked Flock Cider, among other brews.
Honest Chops
319 E. 9th St., nr. Second Ave.; 212-388-0762
Don't venture in looking for pork: While Honest Chops embraces local sourcing, like most of its new-guard peers, it's a halal establishment, one of the few sources in Manhattan for such meat. (Inside is a chalkboard with an "honest-to-God guarantee" promising to follow halal guidelines, and that there are no growth hormones.) In another welcome departure, the shop offers affordable prepped food, like $3 short-rib-brisket burger patties, along with chickens and bone-in New York strips.
Marlow & Daughters
95 Broadway, nr. Berry St., Williamsburg; 718-388-5700
Andrew Tarlow's butcher shop offers the works, with more of a grocer focus than most of the other butchers on this list. You can pick up fresh greens, eggs, honey, spices, and prepped cold salads (i.e., pretty much everything you'd need for a dinner party) while you're waiting for the butcher; if you can't wait, grab a sandwich on Tarlow-­company bakery She Wolf's bread.
The Meat Hook
100 Frost St., nr. Leonard St., Williamsburg; 718-349-5033
If butcher shops were high-school kids, the Meat Hook would certainly be most likely to have given you your first beer (and it probably would have been a good one, but they wouldn't have told you all about it). The cool-kid philosophy is prevalent here, but just because it's not in-your-face with the butchery philosophy doesn't mean the lamb and chicken aren't conscientiously sourced—and delicious. Try the "trashy sausages," like the buffalo chicken, with Frank's hot sauce and blue cheese.
Harlem Shambles
2141 Frederick Douglass Blvd., nr. 116th St.; 646-476-4650
Harlem Shambles was opened by two brothers in late 2011, when the ethical-butcher drill was already firmly in place downtown and in Brooklyn but hadn't quite crossed 110th Street. The neighborhood has since come to love the quaint, spacious shop with its weathered-wood floors; long displays showcasing $21-a-pound rib eye (from Autumn's Harvest Farm in Romulus, New York) and chorizo (made on-site with pork from upstate's Meili Farms); and grocer goods like Evan's Harvest milk. Swing by at lunch for takeout to try the pint containers of prepared chili or the made-daily Cornish pasties.
Heritage Meat Shop
120 Essex St., nr. Rivington St.; 212-539-1111
Heritage USA founder Patrick Martins (who was the first president of Slow Food USA and wrote a book this year called The Carnivore's Manifesto) opened this little Essex Street Market stall in 2011. All of its meats—pork, beef, and sometimes goat or other rarely seen animals—are, yes, heritage. That means the pork will be labeled with breed names that might be familiar to those who frequent the city's farm-to-table restaurants: Duroc and Red Wattle, for example. Also of note—Benton's bacon and to-order turkeys for Thanksgiving.
Dickson's Farmstand
75 Ninth Ave., nr. 16th St.; 212-242-2630
Like most of the city's butchers of the food-world future, five-year-old Dickson's is a whole-animal (i.e., use every part of the beast) shop that proudly advertises the organic farms from which it sources, like upstate's Wrighteous Organics, which supplies naturally raised beef. As one way to separate itself from the grass-fed pack, the Chelsea Market shop offers classes with titles like "Linked In: Sausage Making 101" and "In Depth Tour of the Steer"; at the one-day tutorials, instructors will usually give you wine and beer and enough knowledge to impress friends later at dinner.
Fleisher's
192 Fifth Ave., nr. Berkeley Pl., Park Slope; 718-398-6666
Fleisher's—originally founded by an erstwhile vegan-and-vegetarian couple—is a relative geezer on this list, and today its whole-animal practices (it often sells, alongside ground beef and steaks, items like tallow-made soap) may be commonplace. But when its first location opened in Kingston, New York, a decade ago, there was precious little competition. Perhaps its greatest contribution to the burgeoning field was its butcher-training course—a three-month full-time apprenticeship program (Tom Mylan of the Meat Hook is among its graduates).
Category IV: Pastry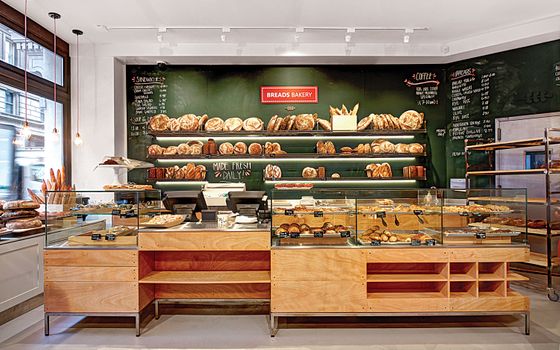 Four & Twenty Blackbirds
439 Third Ave., at 8th St., Gowanus; 718-499-2917
Sisters Melissa and Emily Elsen were born into a pie-making clan in Hecla, South Dakota, and their salted caramel-apple number is the clear inheritor of the throne once occupied by the Little Pie Company's sour-cream apple-walnut. In a town obsessed with all things pastry, the homey shop and its wares (salty honey pie, black-bottom-oat pie, rhubarb crumble come spring) have earned the ladies a passionate following, outposts at the Brooklyn Public Library and out in bucolic Orient, wholesale clients like Danny Meyer and Whole Foods, and lines that wrap around the block Thanksgiving week. (For whole-pie orders, call ahead.)
Dominique Ansel Bakery
189 Spring St., nr. Thompson St.; 212-219-2773
It would be easy for Monsieur Ansel to rest on his Cronut-inventing laurels. But no: This former Daniel pastry chef never stops innovating. There's his ice-cream s'more, speared on a willow branch and blow-torched à la minute; his piped-to-order madeleines; and his ingenious chocolate-chip-cookie shot, which molds an edible milk "glass" out of cookie batter. Even without his pastry that spawned a thousand copyCronuts, you'll always have another reason to come back. Our eternal favorite is a menu mainstay—the DKA, or Dominique's Kouign Amann, his take on a classic Breton sweet. It's like a denser, caramelized muffin-shaped croissant, sublime in its simplicity.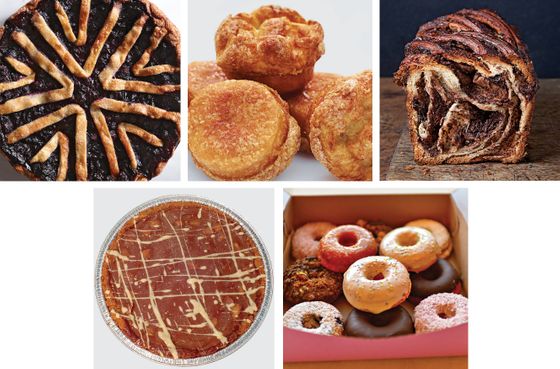 Breads Bakery
18 E. 16th St., nr. Union Sq.; 212-633-2253
As terrific as Danish-Israeli baker Uri Scheft's challah, baguettes, and 100 percent-rye loaves are, it's his chocolate babka, a.k.a. krantz cake, we can't resist. In just the year and a half since the bakery opened, this infernally good concoction larded with cultured butter, dark chocolate, and Nutella, has risen from neighborhood favorite to New York culinary icon. To his credit, Scheft runs Breads like an old-fashioned mom-and-pop shop, limiting his wholesale business so as to ensure freshness and quality control. And although he's got his hugely popular Lehamim Bakery to look after in Tel Aviv, he's seemingly omnipresent at his New York headquarters, as if he slept on a cot next to the oven.
Momofuku Milk Bar
milkbarstore.com
Cereal Milk. Crack Pie. Compost Cookie. These words were not part of the pastry-world lexicon before Christina Tosi translated her sugar lust into trademarked creations that are now shipped around the world. To say that a cult has grown up around the brand and its unabashedly childhood-inspired treats would not be an overstatement. But behind the corn cookies, the Thanksgiving-­turkey croissants, and the wildly inventive soft-serve, there's a pop palate honed by serious training, both classic and modernist. And the wedding cakes are worth marrying for.
BabyCakes
248 Broome St., nr. Orchard St.; 855-462-2292
Long before the current gluten-free craze, Erin McKenna taught herself how to bake as a way to reconcile her own dietary restrictions and insatiable craving for sweets. Her food sensitivities proved to be New York's gain: In 2005, McKenna opened a cozily retro Lower East Side bakery that took vegan, gluten-free desserts out of the musty health-food aisle. It's no cinch to turn ingredients like garbanzo-bean flour, fava-bean flour, and potato starch into moist, satisfying, not overly sweet cupcakes, fudgy brownies, and some of the best cake doughnuts around—whether vegan and gluten-free or not.
Category V: Cheese


Bedford Cheese Shop
bedfordcheeseshop.com
Bedford co-owner-monger Charlotte Kamin champions producers both renowned (Wisconsin's Upland Cheese, Co.) and not-so (a father-and-son team who make mozzarella in their Brooklyn garage). Which is not to say that Kamin doesn't carry everything in between, from Montgomery's Cheddar to an artisanal Limburger. The swanky new Irving Place shop (spun off from the Williamsburg branch) holds regular classes and "meet the maker" events. But you can learn a lot just by browsing the 15-foot display case and having one of the well-versed staffers ply you with exquisitely pungent samples.
Saxelby Cheesemongers
120 Essex St., at Delancey St.; 212-228-8204
Just as the American farmstead cheese movement was taking off, Anne Saxelby became its foremost spokeswoman, dedicating all 120 square feet of her Essex Street Market stall to primarily northeastern wheels, wedges, and tommes, many of which began appearing on local restaurants' cheese plates soon thereafter. Besides being well-tended and perfectly ripe, Saxelby's cheeses come with compelling backstories, most collected on the monger's many field trips to the farms. And if there's an exciting new American cheese in town—from the pioneering Cabot clothbound Cheddar, matured at Jasper Hill Farm, to Parish Hill Creamery's Asiago-style Vermont Herdsman, aged in the erstwhile lagering tunnels at Crown Heights's Crown Finish Caves—you're likely to find it here first, along with excellent butter, milk, and yogurt.
Murray's Cheese
254 Bleecker St., at Cornelia St.; 212-243-3289
Yes, Murray's has been around for a while. In fact, it might have been Murray himself who poured milk into a carrying pouch made from a sheep's stomach and accidentally discovered cheese. But Rob Kaufelt, who's owned the Greenwich Village shop since the '90s, has done more than function as the headmaster of a finishing school for smart young cheesemongers—many of whom, Anne Saxelby among them, have gone on to open their own shops. Besides continually expanding his premises and building aging facilities under the shop and in Queens, Kaufelt has gone from monger to affineur. His collaborations with producers like Vermont Creamery (the doughnut-shaped Torus wheels) and Jasper Hill Farm (the oozy, cider-washed Greensward) have become some of his best selections. With his series of classes, his "Murray's Melts" grilled cheese sandwiches, and his cheese bar up the block, Kaufelt might be New York's reigning dairy king.
Lucy's Whey
Multiple locations, lucyswhey.com
Lucy Kazickas, home entertainer turned cheesemonger, opened her first shop in East Hampton, but has since expanded to two Manhattan locations, each with its own distinct personality. The Chelsea Market cubbyhole has a strong domestic bent and famous grilled cheese sandwiches. Uptown, the selection is wider, if just as smartly curated, with European classics at the peak of ripeness displayed among the Wisconsin Goudas and Iowa Cheddars. There's also plenty of cured meats, specialty foods, and a space next door that morphs from morning café to evening wine bar, serving cheese plates, mac-and-cheese, and more.
Category VI: Produce


CSAs
Locations at justfood.org
Twenty years ago, in the early days of community-supported agriculture (CSA), members who bought "shares" in a farm would need to travel great distances—or at least crosstown—to collect their weekly harvest box. Nowadays, nearly every neighborhood has its own pickup spot, and growers like Norwich Meadows Farm and Sang Lee Farms supply several. If you're besotted with a particular farm, you can seek out its CSA. But in general, convenience trumps all. Find a program near you at justfood.org, which links eaters to farms.
Greenmarket
Locations at grownyc.org
It's a given, by now, that Greenmarket is New York's preeminent source of local, seasonal produce. We'll also posit that Union Square is the citywide network's premier location and Wednesday the best day to visit. Besides having an all-star farm lineup similar to Saturday's (Mountain Sweet Berry, Keith's, Eckerton Hill, Berried Treasures, Windfall, Cherry Lane, Paffenroth Gardens), it's got additional heavy hitters like Bodhitree and Blue Moon Fish—and half the crowd.
Rooftop Farms
rooftopfarms.org, brooklyn​grangefarm.com
There is something subversive about urban agriculture, as if nature were creeping in through cracks in the concrete, greening the perpetual gray. This is especially true of rooftops farms like Greenpoint's Eagle Street Rooftop Farm and Brooklyn Grange, with locations in Long Island City and at the Brooklyn Navy Yard. They sell most of their harvest to city restaurants, but welcome the public, too, at weekly farmstands during the growing season. It's hard to get more locavore than that.
Category VII: Generalists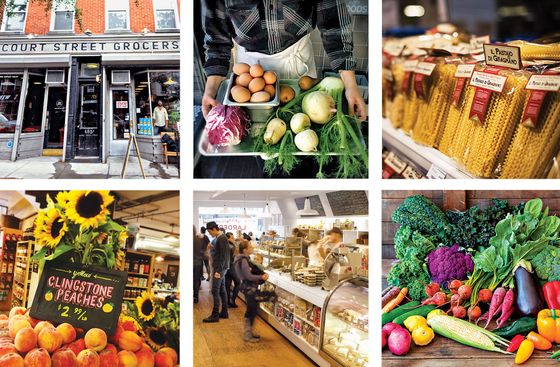 Court Street Grocers
485 Court St., nr. Nelson St., Carroll Gardens; 718-722-7229
Just crossing the threshold of Matt Ross and Eric Finkelstein's Carroll Gardens shop can lift a nostalgist's spirits. Is that an entire shelf devoted to Quisp cereal over there? And who knew you could get (Cleveland) Stadium Mustard outside of Cleveland? Or Micucci Grocery puttanesca sauce outside of Portland, Maine? In short, you won't find a better collection of oddball regional-American and certified-gourmet pantry items anywhere. Still, this isn't quirk for quirk's sake. Finkelstein and Ross have finely honed palates, and nothing we've ever purchased here, from Grandma Utz's lard-fried kettle chips to Baker Mills' Kodiak Cakes, has disappointed. Another feather in their caps: They always seem to get the best new stuff first. A recent browse turned up Dogfish Head clam chowder, Mother in Law's Kimchi's new line of gochuajang, and Sun Ramen's new quasi-instant fresh-ramen kits.
R&D; Foods
602 Vanderbilt Ave., nr. St. Marks Ave., Prospect Heights; 347-915-1196
Ilene Rosen, chef-partner at the neighboring 606 R&D;, imbues this general-store offshoot with a personalized sense of whimsy that's often lacking in today's pickle-and-jerky emporiums. Rosen has a soft spot for Brooklyn old and new, hence the juxtaposition of Gold's horseradish shares shelf space with Brooklyn Delhi's Indian pickle, but beyond condiments (the bread and butter of the new Brooklyn market), there's penny candy and fresh cake doughnuts, Iowa-made speck and Rancho Gordo beans. Prepared foods excel, too, as you'd expect from the former force behind City Bakery's stellar salad bar.
Eataly
200 Fifth Ave., at 23rd St.; 212-229-2560
Eataly picks up where the late, great Balducci's left off. Shopping here is shockingly fun. Where else, after all, can you roam the aisles with a glass of Barbera in hand? Every one of its departments (meat, fish, cheese, bread, produce, etc.) is better than it needs to be and could easily make it in the retail-foods world as its own shop. And the ancillary stuff—the dairy and pantry items, especially the fresh pastas and the dried ones from the Campanian town of Gragnano—is top-notch. That the wait for a table at the on-premise restaurants is usually longer than the checkout line is a testament to the fact that they're terrific, too.
The Brooklyn Kitchen
100 Frost St., at Meeker Ave., Williamsburg; 718-389-2982
What began as a modest kitchenware store has become a destination for all the necessities of 21st-century culinary life: seasonal produce, DIY kimchee kits, non-GMO citric acid. The classes, events, and competitions foster a kind of festive, small-town community vibe. Thanks to the ever-popular knife-skills tutorial alone, we'd wager that New York's amateur cooks are among the most confident and successful in the nation. Or at least they chop, dice, and mince vegetables more uniformly than anywhere else.

Bklyn Larder
228 Flatbush Ave., nr. Bergen St., Park Slope; 718-783-1250
Outside of its chief attractions (impeccable cheeses; destination sandwiches and prepared foods), the gourmet-grocery little sister of Franny's and Marco's casts a wide if discriminating net for its pantry staples. Good oil and vinegar are a given, but cocktail-hour-ready fried fava nuts? Dried pastas are well represented, but not to the exclusion of grits from a Georgia grist mill. There's Brooklyn-rooftop honey, fancy Danish licorice, and real buffalo mozzarella. New to the roster: Bark relishes, made by the upscale-hot-dog joint around the corner.
Good Eggs
goodeggs.com
Good Eggs is a web retailer that combines the convenience of online shopping with the local and seasonal charms of the Greenmarket. To simplify life further, it culls its inventory directly from farms and some of the city's best bakers, butchers, fishmongers, and coffee roasters. What this means is that you can point-and-click your way to irreproachable regional produce, sourced largely between Pennsylvania and Vermont, plus miscellanea like Bushwick switchel, Hudson Valley leaf lard, and dog food from Dickson's Farmstand Meats. For now, though, Brooklyn's the only borough where the service offers delivery and has pickup locations.
Category VIII: Super-Specialists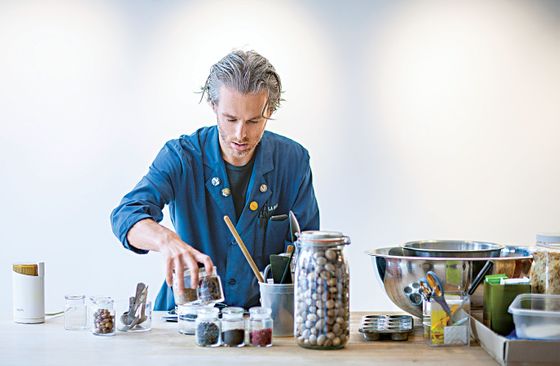 Olive Oil: O Live
60 Broadway, nr. Wythe Ave., Williamsburg; 718-384-0304
Olive oil can seem like an impenetrable food: How to know what's good? What's worth spending money on? What's the best budget brand? If it feels that way to you, sign up for a short Olive Oil 101 class at O Live. You'll go home with a bottle, having tasted several other oils, and you'll have learned a little about the business. In the shop, fill bottles with oils like the super-­aggressive Chilean Koroneiki from spigoted fusti ($35 for a 750-ml. bottle). There are also balsamic vinegars and the Spice Lab's salts and peppers.
Salt: The Meadow
523 Hudson St., nr. 10th St. 212-645-4633
This narrow outpost of a Portland favorite opened in 2010—before that, where did one get lemon-flake sea salt of this quality? There are plenty of varieties to try at the store—from El Salvador, Italy, and Japan, plus Himalayan salt blocks—and shop clerks who can teach you to use them. In the back is the city's best selection of cocktail bitters (including hard-to-finds like Miracle Mile Toasted Pecan bitters); the chocolate choices aren't bad either.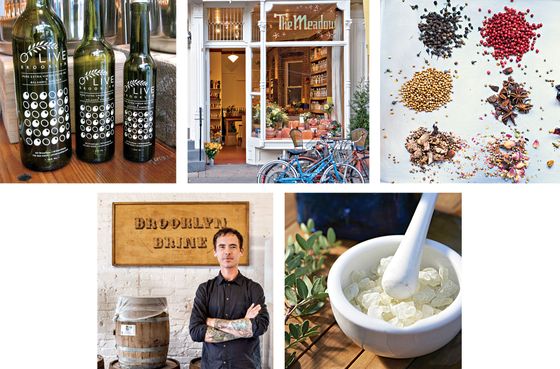 Spices: La Boîte
724 11th Ave., at 51st St.; 212-247-4407
Pricey it may be, but the quality of the spice blends (from chef Lior Lev Sercarz) is unparalleled. The packaging is gorgeous and detailed—not the plastic bags of Kalustyan's and Dual Specialty—so the numbered spice jars make great gifts for home cooks and come in blends like No. 28, the Vadouvan ($15 for two ounces), with fenugreek, cumin, and onion, and O.M.G., with onion, mustard, and garlic. Also for sale are artist-designed tins of French biscuits.
Pickles: Brooklyn Brine
574 President St., nr. Fourth Ave., Gowanus; 347-223-4345
The brown-label pickle jars produced here could almost be called ubiquitous at the finer food shops in the city—though at Whole Foods or Murray's you'll typically find only one or two varieties, like the Whiskey Sour pickles (in a brine that uses Finger Lakes Distilling's McKenzie rye). The brinery offers a chance to try out the less frequently seen jars: Herbed Cauliflower, for example, or Spicy Maple Bourbon Bread & Butter.
Mastic: mastihashop
145 Orchard St., nr. Rivington St.; 212-253-0895
Philhellenes will be overwhelmed by the selection of imported mastiha (or mastic) products on offer here. Mastiha is resin from the mastic tree with a barklike flavor. It's frequently used in gum that you'll find all over Astoria
but is also believed to have medicinal qualities. In addition to gum and raw resin, the shop sells mastiha waters, olive oil with mastiha, and mastiha-sour-cherry taffy.
Additional reporting by Concepcion de Leon, Katy Schneider, and Cassandra Rose Tannenbaum.
*This article appears in the November 10, 2014 issue of New York Magazine.
Related: Around the World in 25 Shops: Where to Buy International Food in New York