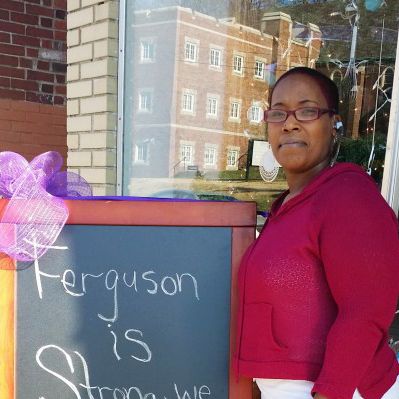 From DuBose's crowd-funding page.
Photo: GoFundMe
Last week, Natalie Dubose, a small-business owner, said she worried her Natalie's Cakes and More, which is two blocks from the police station, might become a target after the grand jury ruling. "Just don't burn my shop down; don't destroy it," she told CNN. Someone put a chair through the shop's front windows on Monday night, however, damaging the interior of the shop and leaving her wondering how she'll still get Thanksgiving orders out in time.
Dubose's shop only opened in June, two months before Darren Wilson shot and killed Michael Brown. It was vandalized over the summer. Any business is particularly vulnerable in its first few months, but after Monday, Dubose realized she was in an untenable position. A friend suggested that she set up a GoFundMe page to fix the damages. It's been live for 17 hours but has raised $80,000 — another campaign started by a fan has raised another $10,000. The community is pitching in, too: Dubose said an elderly woman made her cry by offering part of her Social Security check. Celebrities like Real Housewives of Beverly Hills cast member Brandi Glanville are now even tweeting support.