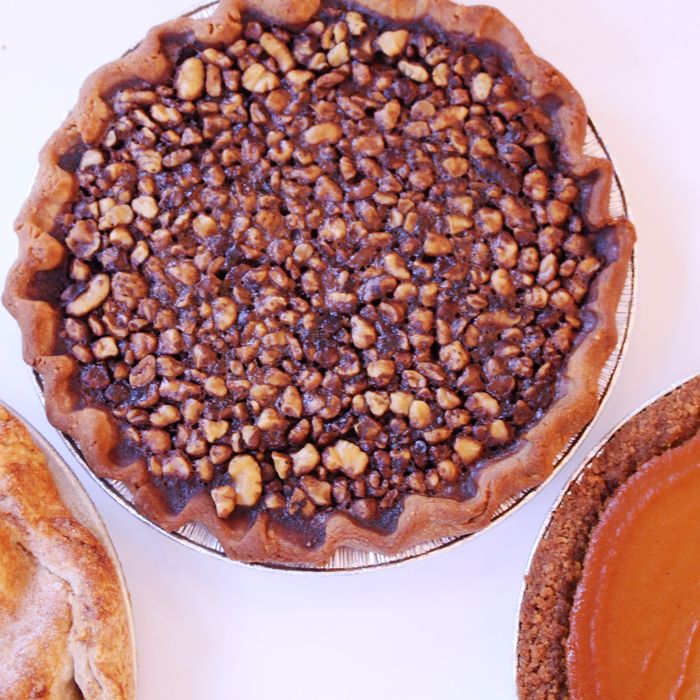 And you should add a half-gallon of ice cream, of course.
Photo: Courtesy of Morgenstern's
Sure, you could bake a pie for your family this Thanksgiving, and your parents will pretend that it's the best dessert ever. It'll probably taste fine. Or you could save yourself the hassle and pick up sweets from Morgenstern's Finest Ice Cream: The parlor, which created legendary lines for its namesake product this summer, is about to unleash a batch of autumn-appropriate pies.
Here's the deal: They're currently available for preorder on the Morgenstern's website through Monday, November 24. Or you can take your chances and buy them in person on Wednesday, November 26. The flavors and prices are as follows:
Salted-caramel custard pie with pretzel crust, $36
Parsnip sweet-potato pie with graham cracker crust, $38
Aleppo pecan pie with butter crust, $40
Pumpkin pie with sugar-cone crust, $36
Morgenstern's apple-cinnamon pie, $36
Chocolate Fernet black walnut, $52
You'll also need ice cream, of course: A half-gallon container is available for the discounted price of $40, with the purchase of any pie. You can't go wrong with burnt honey vanilla or salted pretzel caramel, but there are also three limited-edition flavors for the holiday: Vietnamese cinnamon caramel, apple brandy vanilla, and crème fraiche.