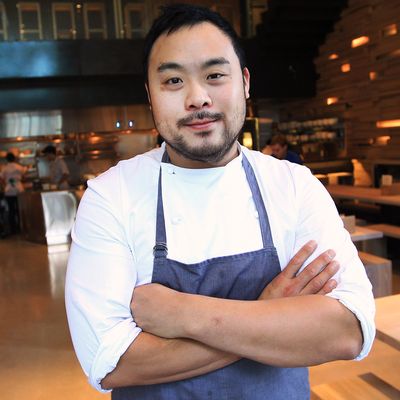 David Chang is ready to cook for you now.
Photo: Rene Johnston/Toronto Star
The tiny, cramped first iteration of David Chang's pioneering chef's counter closed down last month in advance of relocation to roomier digs at 8 Extra Place, and now we know that the brand-spanking-new Momofuku Ko will debut this Friday, November 28. Practically every other nugget covering the basics of what to expect has now also arrived, thanks to executive chef Sean Gray's Q&A; with Lucky Peach online.
• For the time being, Ko will be open from Wednesdays through Sundays, dinner only.
• Ko 2.0 has 40 seats, with 22 at the counter and others spread out at two tables and the bar.
• There's a private dining room.
• The kitchen will do its best to accommodate special diets, including vegetarian and gluten-free.
• Each meal is about 17 courses, or "servings."
• Gray promises a "more interactive style of service" that entails cooks cooking courses start to finish directly in front of customers and is less reliant on mise en place or pre-cooked meal components. "[Y]ou will see us butchering a saddle of venison, or frying chips, or turning artichokes during service," he says.
• A meal is now $175 and there's a $155 beverage pairing.
• "Momofuku Ko now allows non-flash photography."
• The most important part: Reservations are live. The team overhauled its online bookings system earlier this week, but you should still expect a rush to nab seats, just like it was when Momofuku Ko 1.0 opened in 2008.
[LP]
This post has been updated with new information throughout.