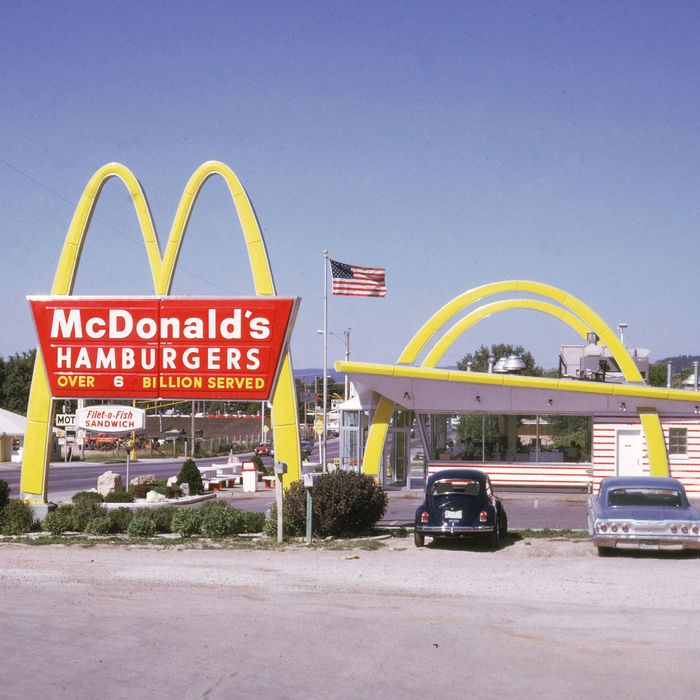 The good old days.
Photo: Hulton Archive/Getty Images
Is McDonald's really going to build an entire ad campaign around the slogan "Lovin' > Hatin'"? It looks likely. Surely they could have come up with something better. In fact, Grub Street has some suggestions:
• Actual Food > Food Sold at McDonald's
• Gray Flavorless Meat Pucks = Our Burger Patties
• Our Bathrooms ≠ Clean
• Drinking McDonald's Coffee = There Was No Starbucks Nearby
• McNuggets < Fried Chicken
• The Kind of Seafood Used to Make Filet-O-Fish = ?
• Us ≥ Burger King
• Egg McMuffins + You = A Morning Spent Re-Evaluating Your Life Choices
• McDonald's Will Make You Feel =(
• Happy Meals —> A Growing Childhood Obesity Epidemic
• Big Macs and Quarter Pounders < Burgers That Actually Taste Good

Related: McDonald's Figures Out That People Sort of Hate Going to McDonald's
Earlier: Watch Real Kids React to McDonald's Terrifying New Mascot