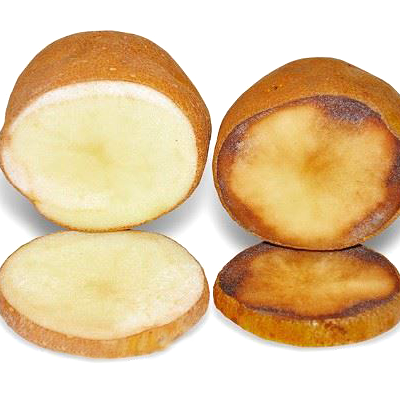 A genetically modified Innate, left, after ten hours of enzymatic browning.
America's first federally approved GMO potato — congrats, America! — is off to a dismal start in the marketplace. The Department of Agriculture gave frozen-French-fry purveyor Simplot the go-ahead a few weeks ago to sell its line of "Innate" tubers (the name winks at the fact that the DNA is still all-potato), but none of the three genetically modified varieties — Russet Burbank, Ranger Russet, or Atlantic — will be going into McDonald's deep-fryers, the company said over the weekend.
Simplot, McDonald's original fry supplier, was presumably counting on interest from lots of food giants: These super-tubers are reportedly next to impossible to bruise and have less acrylamide, a naturally occurring, heat-activated compound that causes cancer in lab rats and may or may not harm people.
Innovation aside, however, the same people who made gum-flavored broccoli are having none of this, no sir. "McDonald's USA does not source GMO potatoes," reads its official statement, "nor do we have current plans to change our sourcing practices." Right now, it seems the lagging company is perfectly fine with its burgers being the only menu items that are slow to biodegrade.