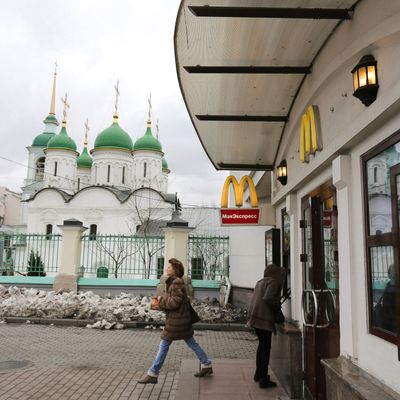 For all your getaway destination dinners.
Photo: Andrey Rudakov/Bloomberg via Getty Images
Kazakhs seeking a hearty dinner hour involving "iconic favorites such as the Big Mac" and free Wi-Fi, which admittedly cinches the deal, will soon reach the end of their search: McDonald's is set to invade Kazakhstan and roll out an unspecified number of locations there in 2015, with help from a Quarter Pounder-loving billionaire oil tycoon, of course. In another head-scratcher, the chain also just announced that 40 new stores are headed to Siberia, of all places.
By no means is McDonald's having a banner year: October brought the sixth consecutive month of declining sales, and in response, the chain even tapped a Mythbusters guy to debunk the grossness of McRibs, a strategy that sort of backfired. Elsewhere, the chain discovered that some of its kids' toys are apparently hazardous and nobody gets that new "Lovin' > Hatin'" slogan.
About half of the chain's 424 locations in Russia have warranted investigation so far by Rospotrebnadzor, the Russian government's consumer protection agency. There's something of a Kremlin–Big Mac armistice right now, so expect this expansion strategy to work. It may at least be easy for McDonald's to compete: Authorities suspended some of Burger King Siberia's operations over summer after electrical bills.
Related: Russia Declares War on McDonald's Burgers, Filet-O-Fish, and Petty Much Everything Else on the Menu
[WSJ, TASS]