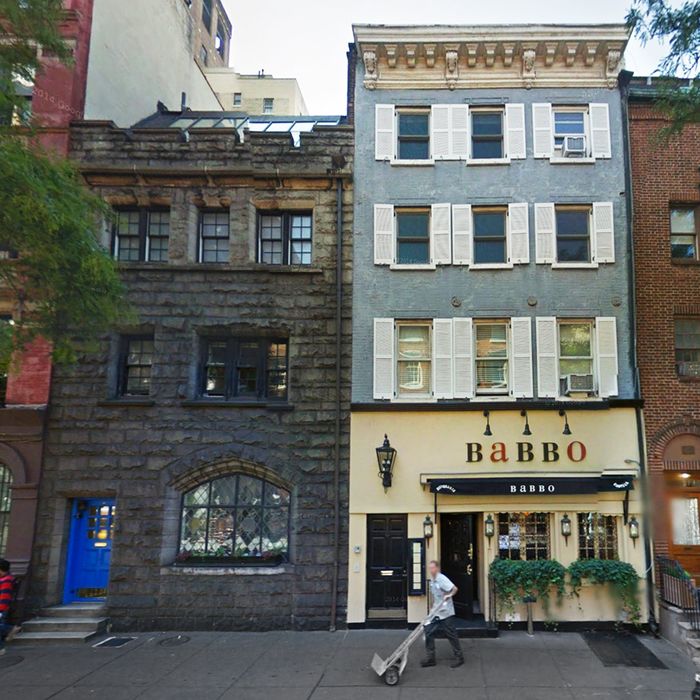 Nurretin Akgul's brownstone (on the left) allegedly offers unparalleled Babbo smells.
Photo: Google Maps
Historically, Babbo's throngs of celebrity clientele and idling stretch limos have never sat well with neighbors on its residentially zoned West Village block — Mario Batali's had to do some intense negotiations with activists in the past over an allegedly noisy exhaust system. This time, the guy on the top floor next door, who's griped "over a period of years," says he's done with all that beef-cheek ravioli. Way, way done, actually, because the lawsuit he's filed asks for $10 million in damages.
Retired oil exec Nurretin Akgul was one of several residents who fought against the renewal of Babbo's special zoning variance last year. He says Batali promised at the time to insulate the air conditioners, vent the garlic and chemical smells that wafted through his windows, and keep staff from hanging out on the roof. The suit argues Batali hasn't complied and that those eight new AC units the restaurant installed this year send "unrelenting vibrations and a chronic hum" through his living-room wall. For their part, Batali's B&B; Hospitality Group says it has no comment.
[NYDN]