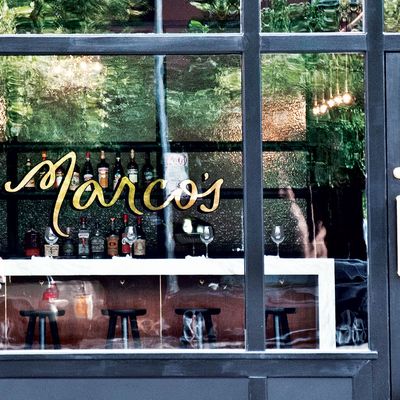 RIP
Photo: Sarah Silberg/New York Magazine
Some disappointing news today out of Brooklyn: Francine Stephens and Andrew Feinberg are closing Marco's, their casual Italian spot that replaced the original Franny's, which moved down Flatbush Avenue last year. In a statement, the restaurateurs say that Marco's simply hasn't been profitable enough, which ultimately led them to the difficult decision to shutter the "labor of love." The restaurant will close on December 13.
Here's the full note:
Ever since opening little more than a year ago, Marco's has been a labor of love. Our vision was to create a trattoria version of franny's - simple and rustic Italian food, the best ingredients from local farms and served in a beautiful and welcoming dining room. Unfortunately, as amazing as the food is and as warm and skilled our service, the business simply hasn't been profitable enough to keep the doors open. So on December 13, our team will cook and serve our last meal there.

We are eternally grateful to our outstanding team, led by Chef Danny Amend and GM Martin Gobbee. We will always be incredibly proud of our collective work at Marco's. We are also immensely appreciative of our guests who have dined with us and made memories here. It has truly been a pleasure cooking for you. While this is not the end we hoped for, we will use this moment as an opportunity to learn, grow and strengthen our company.

As for the space at Marco's, we are considering a few possibilities and will be sure to keep our guests posted on any news. And of course, franny's and Bklyn Larder remain open and continue to thrive in our beloved neighborhood of Park Slope.

Marco's has enjoyed a magnificent run, and over this next month, our hope is that the restaurant is filled with celebration and love for all that it represents, and brimming over with guests savoring their last great meals at this special place. Thank you for your support, and we hope you will join us soon to bid Marco's farewell.

With sincere gratitude,
Francine Stephens and Andrew Feinberg
New York's Adam Platt was a fan of the revamp, giving it a rare three stars just weeks after its opening, praising the restaurant's wood-grilled oysters, precision roasted pork loin, and an impressive rice dish, which became the restaurant's signature side.
It's unclear where Danny Amend, the chef, will land next, or if he'll be involved in whatever the Marco's space transforms into, but we'll keep you posted on what we hear.