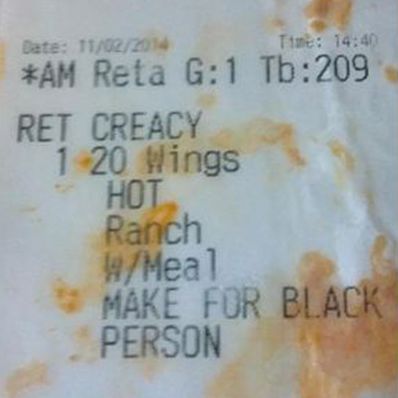 Today's special: Idiocy.
Photo: WSET
At least one employee of a Lynchburg, Virginia, restaurant has been fired after a customer found some uncomfortably specific instructions printed on an order slip mixed in with his chicken wings. For some reason, a worker at Macado's, a mini-chain known for memorabilia-filled dining rooms and famous "overstuffed" sandwiches, entered the words "MAKE FOR BLACK PERSON" into the computer to accompany the customer's order of 20 wings, which were also hot with ranch on the side. Plain wings, in other words.
The customer found the note when he got home, then promptly posted the image of the kitchen check to Facebook, which is unfortunately now standard operating procedure with racist receipts. The employee who'd taken the order did not deny making the notation after the customer returned to Macado's and informed the manager, and she was promptly fired. In the meantime, someone purporting to be the restaurant's cook in the comments section of the news report claims the inexplicable line was merely a note "meant for my eyes and my eyes only to capture my attention" to make sure the wings ordered in were bone-in and not boneless. How this helps anyone's case isn't clear.
[WSET]