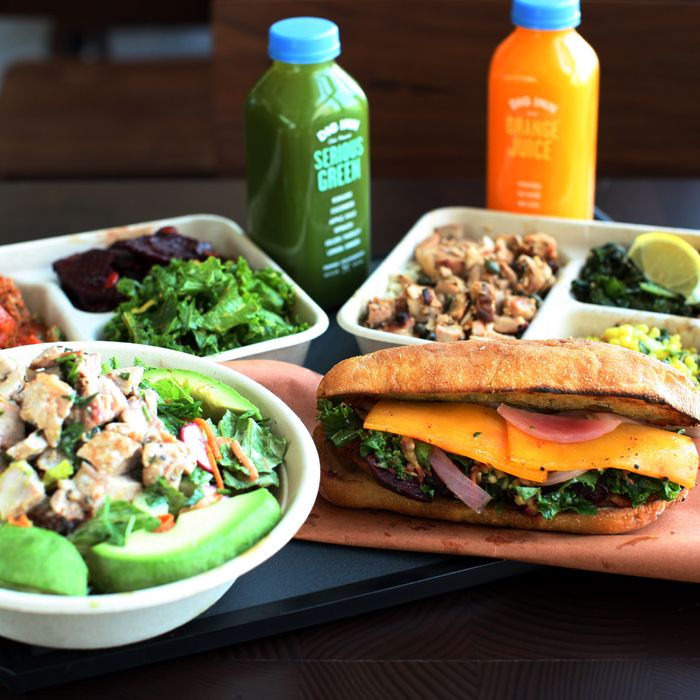 Here's a spread from Hudson Eats.
Photo: Melissa Hom
This week, people started filing in to work at One World Trade Center. Where will the neighborhood's many new employees go to eat lunch? There's Hudson Eats, of course, as well as other great options like Khe-Yo, Blue Smoke, and Mulberry & Vine. We've rounded up Grub's favorites and even let you know the estimated time of the walk.
Hudson Eats
Where: 250 Vesey St.
The Walk: 3 minutes
This 600-seat, 35,000-square-foot food hall — which boasts vendors like Black Seed, Num Pang, Umami Burger, and Mighty Quinn's — was essentially built to serve One World Trade Center staffers.
Kaffe 1668
Where: 275 Greenwich St.
The Walk: 6 minutes
This isn't just a great coffee shop: The lunch menu includes hot, healthy meals like turkey chili and spaghetti squash with kale pesto, plus made-to-order sandwiches.
Shake Shack
Where: 215 Murray St.
The Walk: 5 minutes
You can't go wrong with a c157 Duane Street heeseburger, a milkshake, and the recently reinstated crinkle fries.
Khe-Yo
Where: 157 Duane St.
The Walk: 11 minutes
The $15 market bowls are a great deal — your choice of protein (like grilled ginger prawns, Bell & Evans lemongrass chicken, or black-pepper pork chop) plus sticky rice, fresh-rice noodles, jasmine rice, or romaine hearts.
Sweetgreen
Where: 413 Greenwich St.
The Walk: 15 minutes
There are lines out the door during prime times, but the freshly made salads — with local, seasonal ingredients — have a cult following for a reason.
North End Grill
Where: 104 North End Ave.
The Walk: 6 minutes
Why not take an important meeting over burrata toast, charcoal-grilled octopus, and a short-rib beef burger?
Kitchenette
Where: 156 Chambers St.
The Walk: 9 minutes
This Tribeca mainstay serves comforting classics like chicken potpie and a variety of BLT sandwiches.
Mulberry & Vine
Where: 73 Warren St.
The Walk: 8 minutes
This health-minded fast-casual restaurant serves seasonal vegetables (like roasted cauliflower with house-made green sriracha), juice, and a selection of hearty stews.
Blue Smoke
Where: 255 Vesey St.
The Walk: 6 minutes
Treat yourself to beef brisket, spare ribs, and a side of buttery Anson Mills grits on a particularly stressful day.
El Vez
Where: 259 Vesey St.
The Walk: 4 minutes
The vibe isn't as scene-y during the daytime — and chips, guacamole, and nachos are always a hit for a team meeting.
Bouley
Where: 163 Duane St.
The Walk: 11 minutes
Trying to impress a key client? Treat them to oysters, foie gras, and lobster — or the five-course tasting menu, which costs $55.