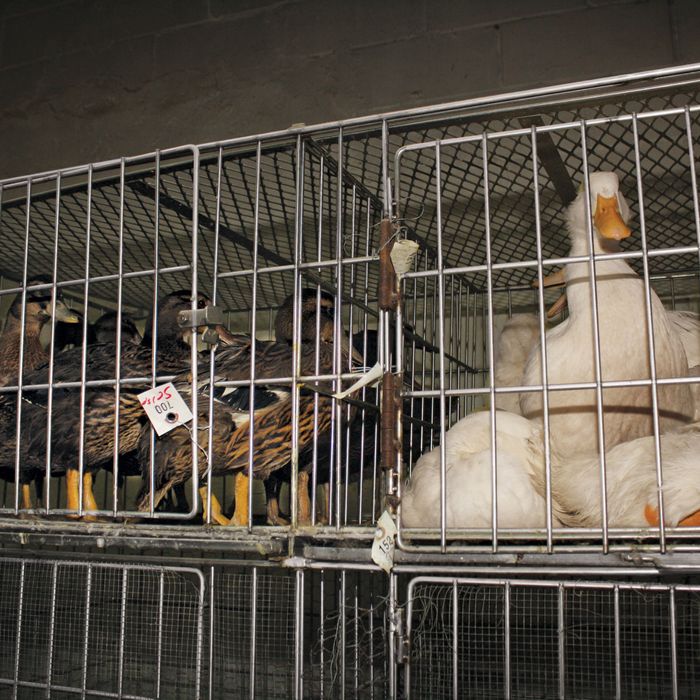 Khaki Campell (left) and Peking ducks
Photo: Tirzah Brott
Most of us buy our meat and poultry hermetically sealed in Styrofoam packs. Of course, this wasn't always the case—and even today, in certain pockets outside densely populated Manhattan, shoppers select their supper while it's still kicking. Live-seafood counters in several Asian groceries stock delicacies like shrimp, eels, and frogs. Live-animal markets, called viveros in Spanish, carry everything from goats to guinea hens, which are chosen by shoppers, weighed, and butchered on-site. Often these markets conform to specific cultural and religious strictures: Halal describes Islamic dietary guidelines, while "Buddhist" is a Department of Agriculture classification in which the head and feet of the poultry are left on. (For a small fee, many viveros will singe the skin with a blowtorch, a practice popular in the West Indies.) "There is nothing that can compare to fresh kill," says Imran Uddin, who runs Madani Halal, an Ozone Park live market that sells its goats, lambs, and birds to restaurants like Fedora and the Breslin. "Not only the flavor and taste, but also the ethical part of it. You know where your food came from. When you go to the grocery store, you buy a package of chicken, and you cook the recipe. If it doesn't come out right, you throw it away. You come here and see this chicken was walking around half an hour ago, you are going to make sure you don't mess it up. It resensitizes people." Viveros proliferated until 2008, when a state law—extended through 2016—prohibited markets within 1,500 feet of residences. More than 80 live markets are still in operation citywide, supplying everyone from recent immigrants to chefs and butcher shops. Which is to say, if you'd like to get to know your turkey, lamb, goat, spider crab, or lobster this holiday season, here's how.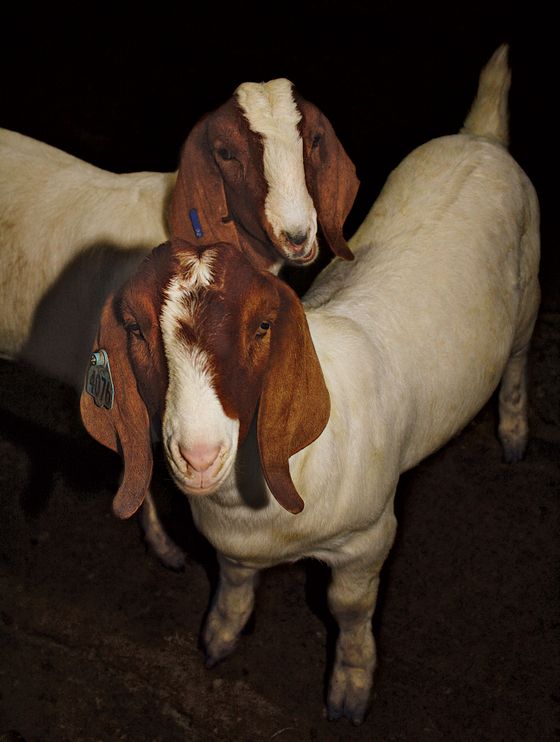 Madani Halal, 100-15 94th Ave., Ozone Park; 718-323-9732
There's a bit of the barnyard to this Queens halal establishment, where children pet friendly goats and feed squawking chickens—restocked on a daily basis—while fathers select birds for dinner and wait as they're butchered in the back of the shop. Madani caters to a largely West Indian, African, Latin, and South Asian clientele, in addition to chefs and retail butchers who prize the quality and freshness of the meat.
The Goods: All manner of poultry from quail ($3.50 each) to black turkeys ($5 a pound), and everything in between including partridges, geese, and Khaki Campbell ducks, plus Dorset lambs and South African Boer goats.
*******************
K.K Live Poultry,
6221 Sixth Ave., nr. 63rd St., Sunset Park; 718-439-3838
Situated in the commercial heart of the neighborhood, this small tile-covered shop is strewn with feathers and stacked with cages of birds marked with signs in Chinese. The owners cater to the local fans of the popular silkie chicken, known for its black skin, fluffy plumage, and grayish, gamy meat; it's often used for broths and medicinal soups.
The Goods: Silkie chicken ($3 per pound), along with Rhode Island red chicken, guinea hens, rabbits, pigeons, Muscovy ducks, and quail.
*******************
Fei Long Market

6301 Eighth Ave., nr. 63rd St., Sunset Park; 718-680-0118
This Chinese supermarket is lined with tanks of finfish and shellfish. Note: Little English is spoken.
The Goods: Nearly every type of clam known to man including geoduck ($34 a pound), plus striped bass ($6.49 a pound), spider crabs ($39 a pound),rainbow trout ($6.49 a pound), frogs ($4.79 a pound), and yellow eels ($8 a pound). If it swims, they probably have it.
*******************
Assi Plaza,
131-01 39th Ave., nr. College Point Blvd., Flushing; 718-321-8000
At this behemoth Korean market on the outskirts of downtown Flushing, you can stock up on seafood, visit the food court, or have your car steam-cleaned in view of Citi Field. Here, too, little English is spoken.
The Goods: Black fish ($16 a pound), Korean fluke ($14 a pound), blue crab ($2 a pound), snails ($3 a pound), and lobster ($7 a pound).
*This article appears in the November 17, 2014 issue of New York Magazine.