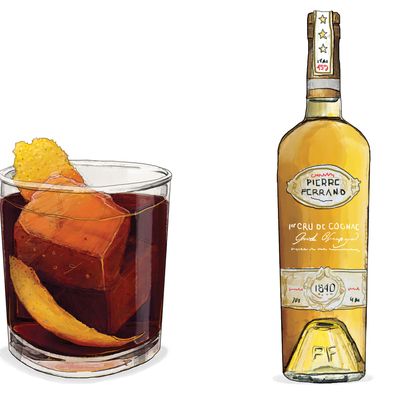 Photo: Illustrations by the Ellaphant in the Room
Here, liquors that are (yet again) having a moment, from high-quality cognac to American-made whiskey.



Cognac
For a long time, finding a high-quality cognac at a relatively affordable price point—that is, suitable for mixing in drinks instead of sipping—was tough. Now, it's hard to find a cocktail bar around town without at least one Pierre Ferrand-spiked drink; the craft-produced spirit (with a high ABV of 45 percent) has almost single-handedly pushed cognac out of the world of musty bars and dusty bottles and earned it a regular slot in the local cocktail bartender's speed rack.

In Your Bar Cart: Pierre Ferrand 1840
This small French producer modeled this bottle after a 19th-century cognac, paying more attention to production values than brand recognition. $40 at Dry Dock Wine + Spirits (424 Van Brunt St., at Van Dyke St., Red Hook; 718-852-3625), a neighborhood-favorite wine-and-spirits shop that hosts tastings and even full-on parties.
In a Cocktail: Orange, Wind, and Fire
From Kyle Hunter-Bailey, ­bartender at Nitecap. Your basic Old-Fashioned this is not. But you'll be rewarded for tracking down the ingredients; this cocktail is complex, smoky, and strong—plus it's showy, perfect for impressing dinner guests.

Lemon-wood chips
1 bottle Lemonhart 151 rum
¾ oz. Grand Marnier
¾ oz. Pierre Ferrand Ambre cognac
¾ oz. Scarlet Ibis rum
¾ oz. Cocchi di Torino sweet vermouth
Toast wood chips, then add to a bottle of Lemon­hart. Rest for a day, then strain out liquid. Rinse a rocks glass with this, à la a Sazerac.
Stir bottom four ingredients with ice; strain into glass.
For garnish, pour Lemonhart into an atomizer (you can buy inexpensive ones at Muji). Light a match, and spray alcohol through the flame onto the drink. Your cocktail will catch fire briefly.
On the Town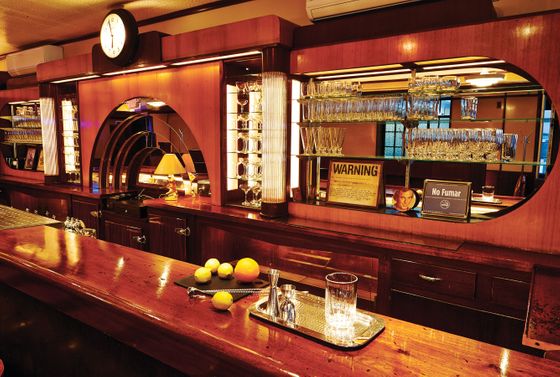 Copper & Oak, 157 Allen St., nr. Stanton St.; no phone. The sister to venerated spirits temple the Brandy Library is notably smaller and feels immersive—bottles line the walls to serve as décor.
Front Toward Enemy, 40-11 30th Ave., Astoria; 718-545-2269. Big, open space where bartenders gleefully serve up cocktails that are either labeled "fresh" (i.e., easy drinkers) or "boozy" (marked by grenade). Try the "fresh" Trump Card, made with cognac, rum, lime, and orgeat.
Sunshine Co, 780 Washington Ave., nr. Sterling Pl., Prospect Heights; 347-750-5275. The Counter Culture cocktail here is made with Four Roses bourbon and Pierre Ferrand—then stirred with coffee beans.
The Long Island Bar, 110 Atlantic Ave., at Henry St., Cobble Hill; 718-625-8908. A classy, old-timey atmosphere lends itself well to cognac-sipping. Try the Caronnade, with rum, cognac, cream sherry, and plum wine.
*******************
Vodka
Rejecting vodka was a pivotal moment in the local cocktail revolution—many bars wouldn't offer it. But after a brief backlash to the backlash, when you'd find drinks on menus around town given defiant names like "Great Vodka Cocktail," it seems the cocktail world has learned to accept this spirit as just another part of its liquor arsenal.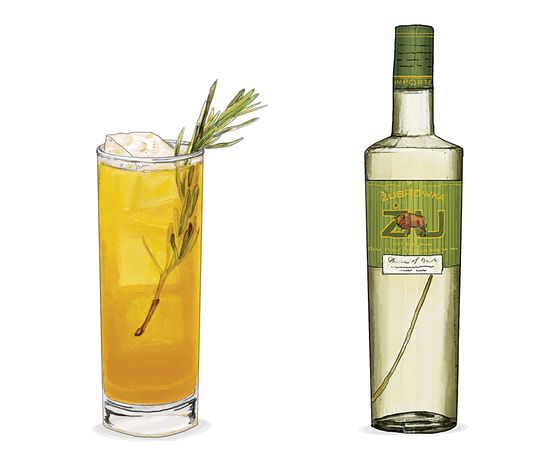 In Your Bar Cart: Zubrowka
This bottle was banned from import to the U.S. from Poland for years; happily, you can easily pick up a bottle at Astor now. Unlike many vodkas, it's flavorful, thanks to the bison grass it's spiked with and the rye, not potatoes, it's distilled from. $27 at Astor Wines (399 Lafayette St., at 4th St.; 212-674-7500), which carries all manner of vodka—from standards like Absolut, and its many variations, to rarer ones like fair-trade quinoa vodka.
In a Cocktail: Khurma Cocktail
From Daniel Carrillo, bartender at Ariana.
5 persimmons
1 ½ oz. persimmon vodka
½ oz. apple cider
½ oz. 1889 Geijer Glögg
½ oz. agave nectar
¾ oz. lime juice
Club soda
1 sprig rosemary
Chop 5 persimmons; place in bottle and cover with vodka. Allow to infuse for three days.
Mix all ingredients and shake with ice. Strain over ice; top with a splash of soda.
On the Town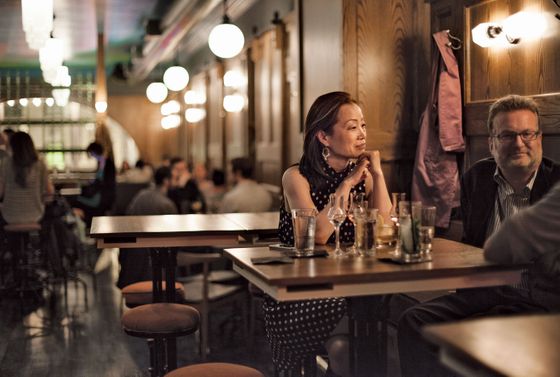 Moscow 57, 168½ Delancey St., nr. Clinton St.; 212-260-5775. What you'll find here: vodkas infused with horseradish, Moscow Mules, live music, and Russian cuisine from a woman whose family owned the Russian Tea Room in its heyday.
Ariana, 138-140 W. Houston St., nr. Sullivan St.; 646-678-4334. An all-vodka drinks list includes aged-vodka martinis and one pricey tipple with Beluga Gold and a caviar "lollipop."
The Happiest Hour, 121 W. 10th St., nr. Greenwich Ave.; 212-243-2827. "Happy to substitute vodka in any cocktail," declares this just-opened old-school-style bar's menu. The customize-your-cocktail trend isn't new; for a high-end cocktail bar not to be snobbish about swapping whiskey for vodka is.
Pouring Ribbons, 225 Ave. B, nr. 14th St.; 917-656-6788. At this cocktail parlor, try the Montgomery Burns, with Aylesbury Duck vodka as its base spirit.
*******************
American-Made Whiskey
Although the Great American Spirit languished in the wake of less aggressive liqueurs and gins in the '70s and '80s, whiskey's been back with a vengeance for a decade (and so are the makers: See the explosion of New York distillers in the past five years) and shows no signs of slowing.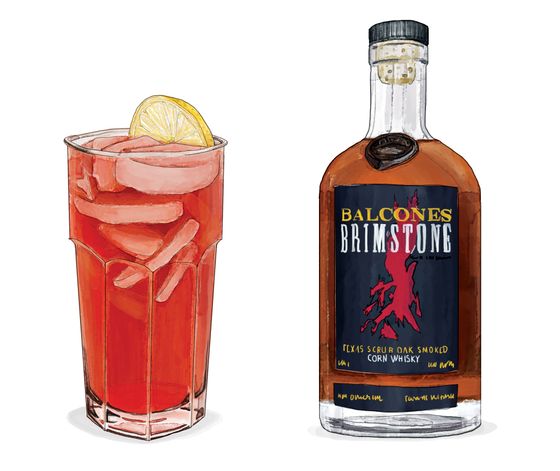 In Your Bar Cart: Balcones Brimstone
If you're already well versed in New York City whiskeys—Kings County, Breuckelen Distilling—try a bottle like Texas distiller Balcones's Brimstone, an oak-smoked corn variety (perfect for pairing with your brisket). $63 at Bowery and Vine (269 Bowery, nr. Houston St.; 212-941-7943), a tidy shop with smart clerks who can discuss Balcones with you or help navigate its hearty selection of locally produced whiskeys.
In a Cocktail: Kentucky Buck
From Erick Castro, managing partner at Boilermaker.
2 oz. Old Grand-Dad bourbon
¾ oz. lemon juice
½ oz. simple syrup
1 medium-size strawberry, muddled
2 dashes Angostura bitters
Ginger beer, to top
Lemon, for garnish
Shake ingredients and strain into glass over ice. Top with ginger beer and garnish with lemon wheel.
On the Town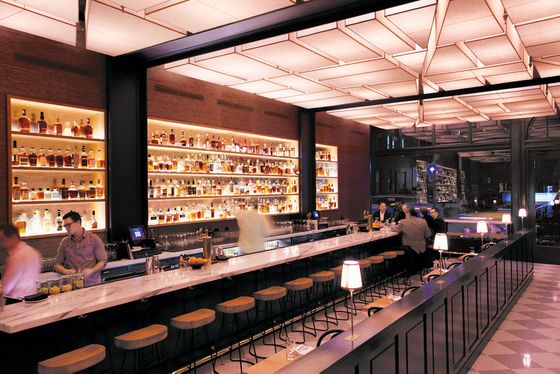 The Moonlight Mile, 200 Franklin St., at India St., Greenpoint; 718-389-3904. Two hundred whiskeys, and bartenders skilled enough to know how to mix them well, plus a free jukebox.
Maysville, 17 W. 26th St., nr. Broadway; 646-490-8240. Named for the birthplace of bourbon, this American restaurant has a list that runs the gamut from a $4 glass of Bellows to a $430 one of Michter's Sour Mash Celebration.
Bondurants, 303 E. 85th St., nr. Second Ave.; 212-249-1509. In the land of the bros, a respite: This bar focuses on bourbon alongside craft beers. Taste hard-to-finds like Rough Rider's straight bourbon.
The Copper Still, 151 Second Ave., nr. 10th St.; 212-510-8469. An impressive selection, at a spot where you're free to watch the Giants instead of discussing complexities of corn; try bottles as varied as Warwick's Black Dirt and James E. Pepper 1776 bourbons.
*******************
Mezcal
Although "mezcal" is a broad term that includes any spirit distilled from the Mexican agave plant (like tequila), it generally refers to the smoky spirit typically made using a process that still involves a donkey or horse crushing the agave hearts. Five years ago, mezcal was something for hobbyists; now every other brunch restaurant serves it in a Bloody Maria—perhaps thanks to bars like agave temple Mayahuel, which opened in 2009.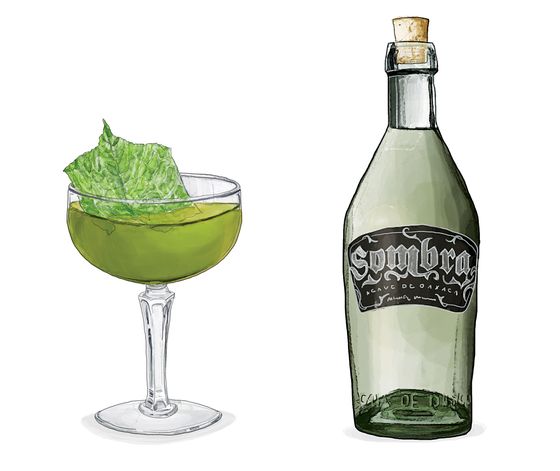 In Your Bar Cart: Sombra
When you've grown adjusted to the flavor profile of "starter mezcals" like Del Maguey Vida, graduate to Sombra, perhaps the most intensely smoky mezcal on the market, which uses agave hearts from a single village; is sold in recycled, hand-blown-glass bottles; and is relatively affordable. $38 at Astor Wines, which unsurprisingly has a hard-to-beat selection of around 100 mezcals, including tequilas.
In a Cocktail: La Santa Hormiga
From Enrique Tapia, bartender at the Black Ant.
1 ½ oz. unaged mezcal
½ oz. Cointreau
½ oz. cucumber purée
2 hoja-santa leaves
½ oz. lime juice
½ oz. simple syrup
2 dashes grapefruit bitters
Shake ingredients together with ice. Double-strain into a coupe and serve up, garnished with more hoja santa.
On the Town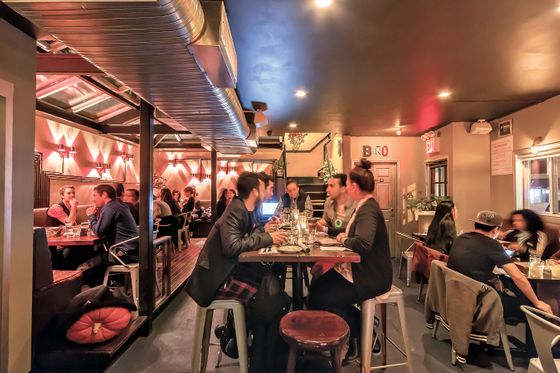 Sembrado, 432 E. 13th St., nr. Ave. A; 212-729-4206. On Mondays, the mezcals are two for one; Danny Mena's restaurant carries mezcals from more than 15 ­producers, plus other agave spirits: sotol, bacanora.
Sunrise/Sunset, 351 Evergreen Ave., nr. Bleecker St., Bushwick; 347-442-5880. This new Bushwick café-bar hybrid pours bottles like the Fidencio Pechuga: A chicken breast is suspended in the still during production.
Zona Rosa, 571 Lorimer St., nr. Metropolitan Ave., Williamsburg; 917-324-7423. Go high-low at this laid-back indoor-outdoor Mexican spot. Pair sipping mezcals like the creamy Los Nahuales reposado with a glass of Modelo Especial.
Empellón Al Pastor, 132 St. Marks Pl., at Ave. A; 646-833-7039. Bartenders can guide you through a mile-long list of mezcals from producers small and large.
*******************
Rum
Rhum agricoles (the super-pure cane-juice rum, usually made in the West Indies) have seen their popularity surge of late. Plus: There are now a number of distilleries producing rum right here in the city, like Brooklyn-based Van Brunt Stillhouse, which makes its Due North from organic sugar. Basically, it's never been easier to head to your local and go on a rum-tasting tour of the world—or just enjoy a perfectly crafted mai tai.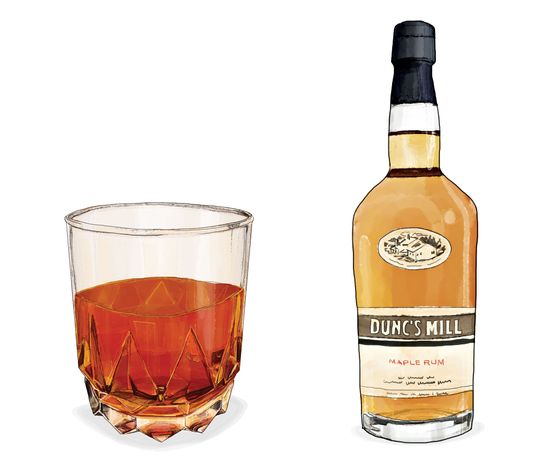 In Your Bar Cart: Dunc's Mill Maple Rum
Dunc's Mill maple rum's just been introduced in New York; buy a bottle to try a spirit actually distilled from maple syrup instead of simply flavored with it like most rums. $43 at Ambassador Wines and Spirits (1020 Second Ave., at 54th St.; 212-421-5078), a friendly shop that majors in wines but excels at its spirits minor.
In a Cocktail: Barbarossa
Shannon Mustipher, beverage director at Glady's, shares her recipe for the Caribbean favorite, mixed with the bar's own spiced rum.
2 oz. spiced rum, like the Kraken, similar to Glady's house liquor
½ oz. crème de cacao
¼ oz. Pür.likör blood-orange liqueur
Shake all ingredients; serve over fresh ice in a rocks glass.
On the Town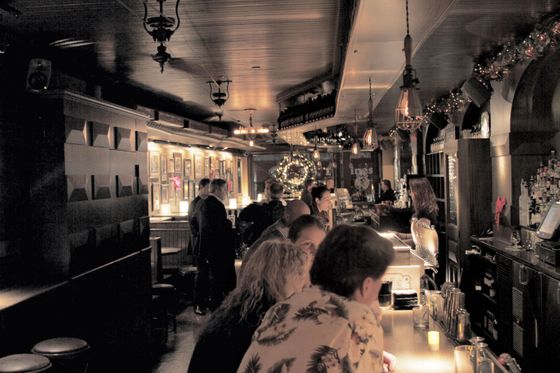 Underdog, 55 Stone St., nr. Mill Ln.; 917-409-0251. Tucked below the lively Stone Street tavern the Growler is this cocktail bar managed by Derek Brown (late of Momofuku); there are both classics and newfangled tiki drinks, like the Bal-Boa, with amaro, white rum, and Philadelphia Fish House Punch.
The Noble Experiment NYC, 23 Meadow St., nr. Bogart St., Williamsburg; 718-381-3693. This distillery opens its doors for tours and tastings each Saturday; book ahead on the website.
Botanica, 220 Conover St., at Coffey St., Red Hook; 347-225-0147. After taking a tour at Cacao Prieto next door, sip a full glass of the distillery's terrific cacao rum at the pretty cocktail bar.
The Sunken Harbor Club at Fort Defiance, 365 Van Brunt St., at Dikeman St., Red Hook; 347-453-6672. In the tradition of Tiki Mondays hosted by Brian Miller, this is an every-Thursday tiki night at Fort Defiance with an ever-changing menu created by Zac Overman.
*This article appears in the November 10, 2014 issue of New York Magazine.
Related: The Latest Booze Trend: Just Mixing Two Liquors in the Same Bottle