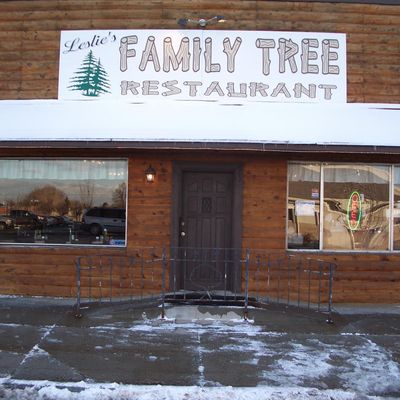 They'll just keep on chicken-frying steak and mashing potatoes.
Photo: Leslie's Family Tree/Facebook
Trouble for Leslie's Family Tree, a small Utah café, began last week when now ex-cook Shawn Peterson decided to treat Facebook to his musings on police brutality by posting a gruesome photo depicting an officer shot in the forehead. The accompanying text read: "This what a good cop looks like." Plenty of people thought this was inappropriate and offensive — an online association of police officers among them — and immediately went after the restaurant in its reviews section. Worst of all is the fact that Peterson now tells the Salt Lake Tribune that he "never meant" to involve the restaurant, you know, by posting the graphic content on its Facebook page.
Things went downhill as quickly as one might expect whenever images of violence against law enforcement individuals are posted on the social media pages of small family diners. Jody Dansie, the daughter of owner Leslie Broadhead, says their decent ratings quickly devolved into "a political war zone." Since the incident it's been more or less nothing but warring one- and five-star entries that have nothing to do with omelettes.
After firing Peterson, the restaurant posted a statement that read "We are disgusted to hear the opinions of our FORMER employee. Fortunately we live in a country that gives us the freedom of speech. Unfortunately it can also hurt people who are innocent" — surely a subtle reference to Leslie's. Broadhead has invited law enforcement to stop by and enjoy some of Grandma Nana's home-cooking on the house, but even that bit of good will backfired, eliciting several critical messages demanding the rehiring of Peterson, who doesn't even want his job back. The café's owners are now contemplating shutting down their Facebook account. "It's destroying our business," says Dansie.
[Tribune]