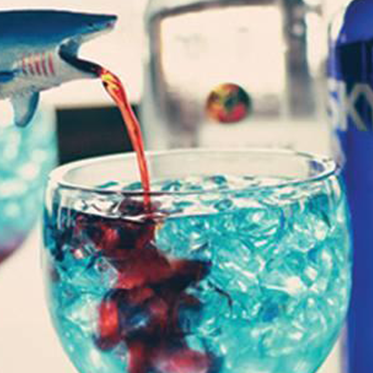 The Shark Bite, an adult beverage Joe's promises delivers "a dangerous dose."
Photo: Joe's Crab Shack/Twitter
A family took six kids — a group of cousins who range in age from 2 to 8 — to a Joe's Crab Shack in Colorado Springs, where all the minors were served hard liquor by mistake. The entire table ordered Shark Nibbles off the kids' menu, which are bluish, "sweet & fruity" concoctions served with grenadine and a toy shark, but got ultraboozy Shark Bites. Those are made with rum, vodka, blue curaçao, "a dangerous dose" of grenadine, and (because why not?) also a toy shark.
Trista and Omar Montoya say the kids had knocked back a good amount of their booze — the 2-year-old even finished — when the server came by and frantically retrieved the drinks, saying they were "made with the wrong ingredients." A manager came by, and, well, eventually the paramedics were called in.
Local police say they're investigating, and the Joe's corporate office issued a statement that its workers "do not condone underage service of any kind. Our guests can rest assured that our processes are continuously examined so that incidents like this are avoided." There's a good chance they may nix the toy sharks altogether.
[KKTV]