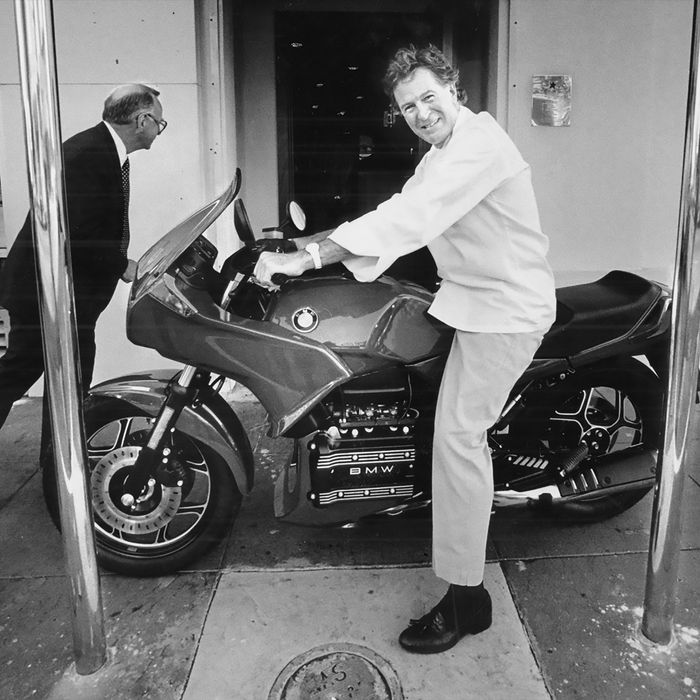 Notice he's not wearing a helmet, or carrying any bunches of baby kale.
Photo: Brant Ward/San Francisco Chronicle/Corbis
Yesterday we learned the legendary chef Jeremiah Tower is now behind the line at Tavern on the Green. The 71-year-old is, of course, a legend — among hundreds of others, Bobby Flay derived inspiration from Tower and even named Bar Americain after seeing a random photo of the chef eating out in Paris — but Tower is as famous for his cooking skills as he is for the string of salacious industry tales about him, in which sex, drugs, and a brazen sense of self-confidence all play a central role.
The list below is no doubt just the tip of the iceberg — figure for every story that made it into Tower's own memoir, or the awesome Chez Panisse chapter of David Kamp's The United States of Arugula, there are at least a dozen crazier ones that just aren't fit for print.
1. At Harvard, where he scored undergraduate and graduate degrees, Tower was known for marrying illicit substances and haute cooking technique. This delighted many. His particularly famous marijuana consommé called for "chicken stock, fresh basil, sea salt, pepper, and '1 packed cup marijuana stems and seeds.'"
2. His cooking career began pretty much because he'd gotten into some weird subject material and had run out of cash. "I only started working at Chez Panisse because I wanted to earn money to get to Hawaii to sort out a theory I had about Atlantis," he said in 2010. He was hired after a call for cooks requested they provide a week's worth of sample menus; Tower submitted an entire month's. "We all just looked at one another and said, Well, if he really can do what he says he can do, then this is our guy," Chez Panisse's Jerry Budrick said.
3. Less than two years into his tenure at Chez Panisse, Jeremiah Tower took to treating hangovers by downing glasses of crème anglaise straight out of a Brandy snifter at the start of each morning shift.
4. Menus for themed dinners got more and more unhinged as the drugs and free love took hold at Chez Panisse. One of the best: a "drugged and sodomized" leg of lamb injected with a syringe of Madeira and tangerine juice. Tower reportedly refused to address one customer's complaint over another leg of lamb, which resulted in an intimidated waiter returning to the dining room and delivering this line: "The chef says to tell you, 'Tough shit.'"
5. A 1978 dinner cooked by Tower, celebrating James Beard, "was simply a big, black truffle presented to every diner on a white plate. Dessert was tangerine sorbet served in hollowed out tangerines that hung from a live tree."
6. After he opened Stars in 1984, Tower once flew a restaurant employee to go eat in Paris to make a point about the superiority of French chicken.
7. Stars made an impression on a young Mario Batali in 1985, who called it "much of the inspiration for everything I have done since." The first interaction between the two chefs was a little less inspired. "What about a hand job in my Mercedes out back," Tower reportedly said to Batali by way of a greeting.
8. In his 2004 memoir, California Dish: What I Saw (and Cooked) at the American Culinary Revolution, Tower recalls a romantic vacation to Venice he took in 1980 with Waters. The pair had an "on and off again affair," and Tower claims Waters spent a moment composing a food-themed telegram to her "beautiful boyfriend back in Berkeley for his twenty-first birthday." The chef says he deliberately omitted this detail when speaking with a reporter, nor did he mention the other vacation he took with Waters's boyfriend to Hawaii.
9. Several decades after their falling out, Tower dared to challenge Alice Waters's locavore supremacy. "She never knew a little vegetable from a rotten vegetable," he said in 2001. ("That's a pretty nasty thing to say," Waters fired back. "And not at all true.")
10. It may not be salacious or rank up there with snorting huge mounds of coke from the top of the chest freezer in the Chez Panisse prep kitchen, but Tower has never been afraid to tell the truth about vegetables. "What is the most disgusting thing you can eat? It's a baby kale leaf. I mean, even cows hate it," he told the Times in 2001.
Related: Tavern on the Green's New Head Chef Is Jeremiah Tower