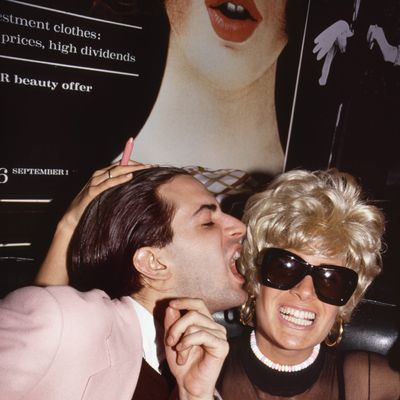 Few restaurants represent the enduring power of New York nightlife like Indochine. The Lafayette Street dining room has been perpetually crowded everyone from debutantes to mystery billionaires to fashion-industry types and movie stars since 1984, when the place opened with a vaguely Southeast Asian menu of things like tamarind-shrimp and roomy-enough banquettes to facilitate a maximum of buzzy table-hopping. Over the weekend, Jean-Marc Houmard, who has co-owned the restaurant since 1992, threw a huge party for the place.
To give you a sense of the fabulosity, MAC, which hosted the party, even released a 30th-anniversary Indochine lipstick, and while many of its craziest scenes and stories were packed into a 25th anniversary book, the restaurant's PR was kind enough to invite Grub in to get a few more. Here are John Varvatos, Michael Musto, Jenna Lyons, and others on the appeal of Indochine and its legacy.
Mickey Boardman, Paper: I have my birthday here every year. I'm just the type of person — I've lived in the same apartment for 20 years, had the same job for over 20 years, and so I kind of like to find my favorite place and really stick with it. I'm not one who's like, okay, this one's over and we're on to the next. You know, to me, it's like if it ain't broke, don't fix it. And especially in New York, as more and more — you know, we just read that Café Edison is closing, one of my other favorites, which I go to always, between and after shows, and I love the people you see there. There are fewer and fewer of those places, so to stay alive for 30 years, and to still be as fabulous now as you were when you started, is amazing. And a big reason I come, too, is the people who work here, like Veronica Moore, who is an amazing jewelry designer, but still works once in a while as a waitress, is the most glamorous. It's just the people.
Jean-Marc Houmard, owner: It's almost a little bit scary that 30 years went by since the first time I came here as a customer, and now it's been [22] years that I've been involved with this place. It's amazing, but it is one of those moments where it doesn't seem very real, actually.
John Demsey, MAC, Estée Lauder: I literally came here from the first weekend that Indochine opened — you know, this was a McNally restaurant. So I've been coming here for 30 years. This and the Odeon were sort of the fixtures of downtown life, and it's probably one of the only places in New York that never lost its cool. In every era, '80s, '90s, millennial, the place has always kept its cool. It's always had a great crowd, always had the best-looking waitresses. You know, I think the list of alumni, just who have been waitresses and coat-check girls here, could fill an entire red carpet in Hollywood.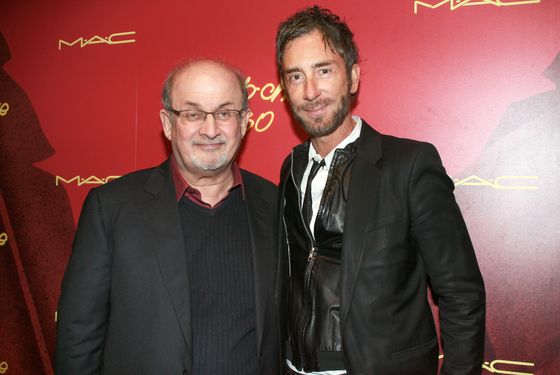 Sherry Vine, actor and musican: I have a very memorable evening one New Year's Eve, I believe, with Joey Arias. I was performing, and Joey was hanging out, and there was this really cute 24-year-old boy from Iran, or something like that, and, well, you can imagine how the story ends. [Laughs.] But that was a very crazy, crazy night, where I thought Jean-Marc was going to kill us. But he didn't care. It was scandalous!
Boardman: I personally was not there this night, but I'm told, a legendary night here that people still talk about is Elizabeth Hurley was having dinner with Hugh Grant in a group, while they were going out. And then a waitress walked in the back, and there's an old-fashioned phone booth, and she was making out with a different guy in the phone booth. I wasn't there that night, but, you know, when they do parties like this, that's where some crazy debauchery and stuff happens. Anytime Joey Arias is in the house, debauchery ensues. Otherwise, they keep it pretty low key.
John Varvatos, designer: I don't know about any crazy evenings, but [I've had] so many good nights here, and they always turn into something. You know, like, you're always running into someone that you haven't seen for a while. And sometimes when we would bring people here that haven't been here for years, and then it ignites all these stories that happened here at one time or another, and then they get reconnected, right?
Houmard: I speak French, so I grew up with French celebrities, so when Catherine Deneuve came in, I was in awe. I mean, so many, Mick Jagger, Warhol, but Catherine Deneuve was really someone very special, because I grew up, you know, like, knowing more about her than other American celebrities. And also Johnny Hallyday, a huge French pop star. That was a very special moment, too.
Susanne Bartsch, Queen of the Night: I came here when they opened, and it was like my regular home. And you always know you're going to meet somebody you know, there are always cool people here. And I love that Jean-Marc took it over and kept it cool. You know, it's very rare that you can take over something that's so in your face, and he kept it going.
Boardman: And Jean-Marc, hello, the owner, who is one of the most handsome, eligible, bachelors in New York City and the world. It just feels right. It just feels like home, but is so glamorous, and Fashion Week is always, really, the best time to come, because it's one of Carine Roitfeld's favorite places, and Mario Testino's, and Stephen Gan's and Riccardo Tisci's, and all those people are people who you see. Bethann Hardison, Iman, all are people who love it and come here all the time.
Robert Verdi, television host: I feel like this is an iconic destination, and I remember coming here and seeing Isaac with Linda and Naomi, and maybe Stephanie, and Yasmeen Ghauri. I feel like I got kicked out. I feel like I might not have been on the list, which is the metaphor for my life.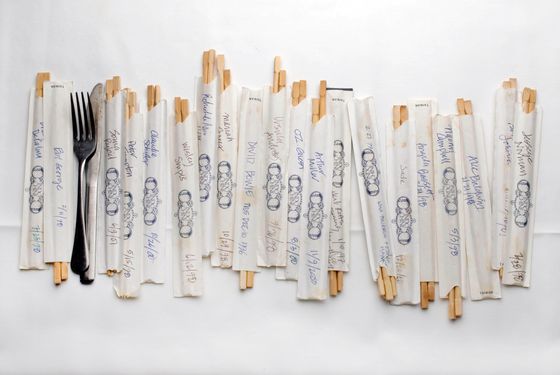 David Blond, designer: We count Indochine as one of our date-night places. We like to come here; we can always relax; we always know we're going to get a great table and the food's going to be perfect.
Phillipe Blond, designer: And the lychee martinis are amazing, and David's favorite thing is the ribs.
Michael Musto, legend: I resent the name "Indogestion," which has been dogging this place. I actually think the food is fabulous, and it's the only restaurant that's like a party because you're actually allowed to table-hop. I mean, they don't officially condone that, but you'll spot someone you know at the next table, and it becomes a big party. It's not just sitting and being trapped at your table.

Salman Rushdie, author: The first time I came here was in the mid '80s. I came to New York to a literary festival, when Norman Mailer was president of PEN, and he had this big literary festival, and kind of every writer in the world was here. And what I remember about it was it was a really bad-tempered festival, where everybody was really arguing with everybody, and kind of fighting with everybody. And there was a certain point where I thought, you know what, I need to get away from here. And I had some friends who brought me down to Indochine, and I've been coming every week ever since.

Jenna Lyons, J.Crew: I came here probably three weeks after I moved to New York. I was going to Parsons, and, you know, I had never seen the New York scene like this before. It was incredible. I remember coming here, and there was Calvin Klein in one corner, and Giorgio di Sant' Angelo in another corner. It was, like, the fashion stardom, and I thought, okay, I'm here. I was so excited. And I still come. I love this place.
Brian Atwood, designer: When I first moved to New York in '89, and being overwhelmed with Debbie Harry, and having these New York personalities in one room, and having this fabulous space. This wonderful wallpaper [from Indochine's walls] is in my apartment in Milan. I loved the feeling of this restaurant, so I brought it all to Milan. It's still there, right in the living room. I love it.