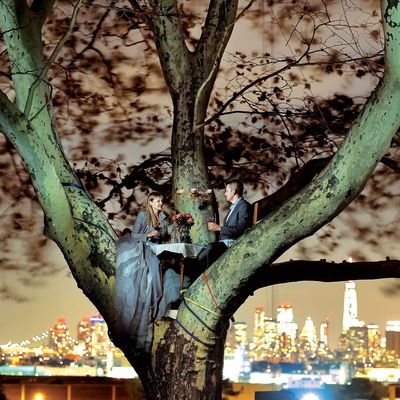 Kristin Sloan and Doug Jaeger, who were married seven hours earlier.
Photo: Alejandro Chaskielberg
On a Friday evening in mid-October, several hours after Doug Jaeger and Kristin Sloan got married at City Hall, they made their way to Queens's First Calvary cemetery and, with Band-Aids on their hands (they'd had "wedding rings" tattooed on their fingers earlier in the day), climbed a tree. N. D. Austin, of the Night Heron Speakeasy (an "underground bar" that has taken over water towers and abandoned hotels for past parties), had searched extensively for the city's most gorgeous tree, with the most spectacular view, and ultimately settled on this one. Austin then set about creating a platform, two chairs, a table, and a dumbwaiter made out of an old wooden soda box, all secured with straps and ropes. "Their feet were resting on the branches of the tree," he says.

We provided the chef: Ignacio Mattos, from one of the couple's favorite restaurants, Estela. After cooking most of the food that afternoon, and doing last-minute prep in a nearby RV, Mattos hoisted up their dinner (yuzu-kosho scallops and hanger steak). Mattos, it turned out, actually recognized the couple as restaurant regulars. "I said to them, 'I saw you there two days ago, and now I'm serving you dinner in a tree!' " Mattos (who had hosted the president and First Lady a few weeks prior) says that cooking dinner in an RV was easier than he had imagined. "As long as you have running water and a source of heat, you can make dinner just about anywhere." There were a few logistical snags. "Doug used the light from his phone to light up my steak so I could cut it because it was too dark to see," recalls Sloan, who wore a Vera Wang gown for the occasion. But for the most part, their meal was relatively normal. "We would have these moments," Jaeger says, "where we were talking like we were at a regular dinner, and then all of a sudden we'd look around and it was like, this is so surreal and amazing." At first, Sloan was mildly creeped out about spending her wedding night in a cemetery, but, she says, "it actually felt really special and precious, and it was all positive vibes. I suppose it is 'until death do us part' after all." Mattos's goal for the meal was to create something festive and romantic, but not too heavy: "I didn't want them to feel terrible after eating it. I made it so they could do something exciting afterward, like have sex!"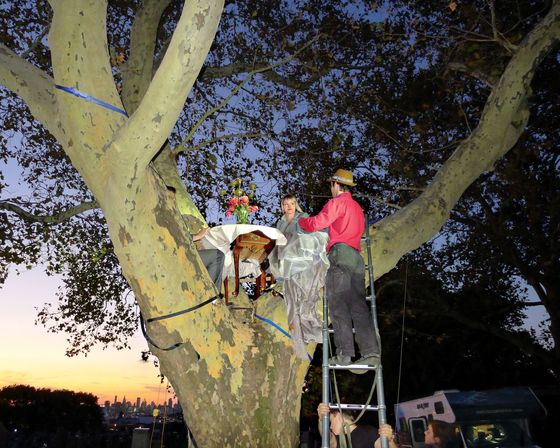 The Menu:
Scallop crudo with fennel, apple, and yuzu kosho
Wine pairing: Vollenweider "Felsenfest" 2012, Mosel, Germany
Hanger steak with charred carrots, leeks, and taleggio sauce
Wine pairing: Hervé Souhaut "Les Cessieux" 2013, Rhone Valley
Chocolate cake with sesame ganache and whipped cream
Wine pairing: Equipo Navazos Casa del Inca Pedro Ximénez 2011, Montilla-Moriles, Spain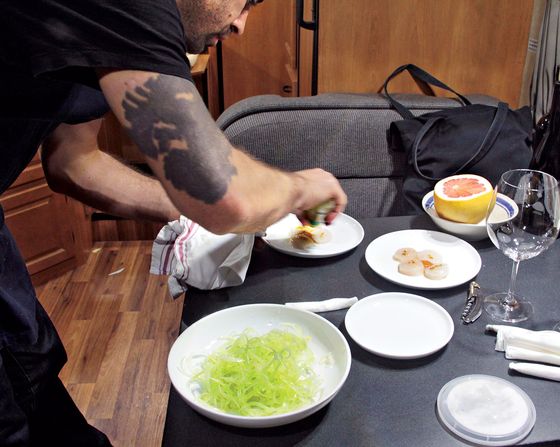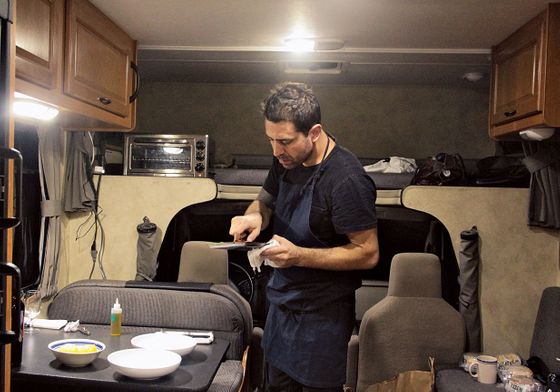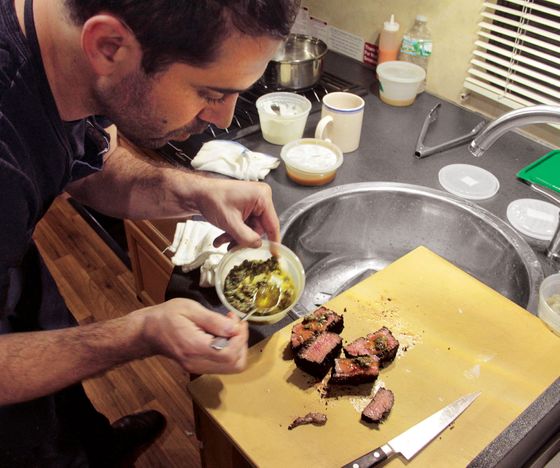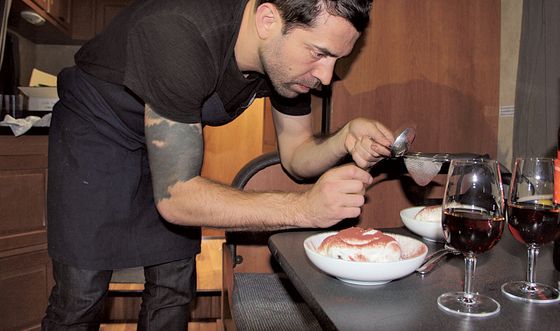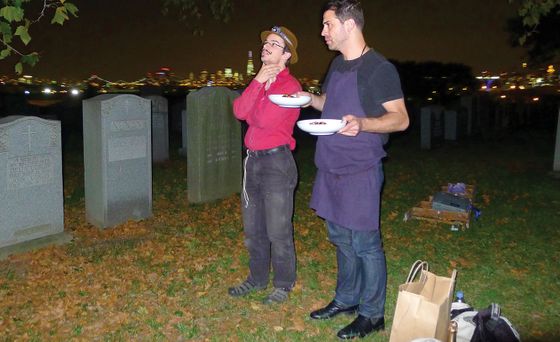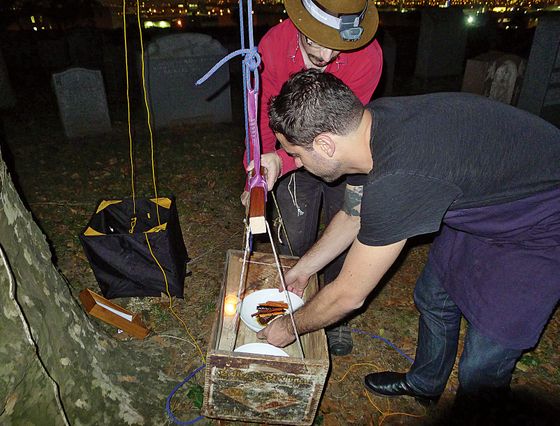 *This article appears in the November 10, 2014 issue of New York Magazine.
Related: The Obamas Ate Burrata and Croquettes at Estela Last Night