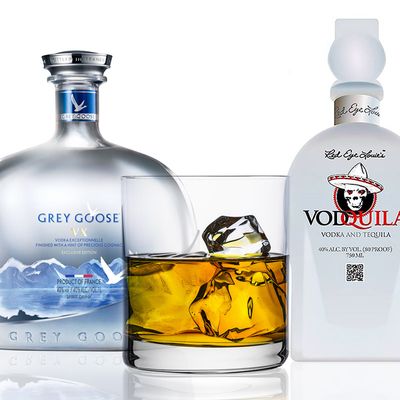 Scotch-infused bourbon joins tequila-vodka and Cognac-infused Grey Goose.
Photo: Vodquila; Grey Goose; Shutterstock
Our heady, exciting age of Cronuts and Dorito-fied everything has now seemingly spilled over into the liquor cabinet: Last week, the Suntory-owned distiller Jim Beam announced it will next year roll out what it's named Jim Beam Kentucky Dram, described as "premium Bourbon infused with Highland Scotch whisky." Of course, whiskys made in Japan are right now making quite a showing, but because it's already possible to buy a tequila-vodka mash-up and Cognac-infused premium vodka, it seems there are other forces at work here beyond the basic mash-up novelty of it all.
Recent booze flavor experiments include port-finished whiskies, a pinot noir-finished bourbon, and Riesling-infused and oak-aged gins. But because they are angling for their own permanent share of the bar cart, these new top-shelf products are different: Vodquila, a "blend of premium vodka and Mexican blue agave tequila" that happens when the two are "infused together at a high temperature," may sound like something concocted during a particularly grim frat party lull, but it apparently so wowed the judges at an International Wine and Spirit Competition event this year — where it won a gold medal — that they are said to be considering adding a "hybrid drinks" category for the future.
Elsewhere, Grey Goose this fall rolled out VX, which is vodka "finished with a hint of precious Cognac." Like the vodka itself, the spirit is bottled in Cognac and touts a familial connection of a sort to Francois Thibault, the blender who came up with the original Goose recipe. ("It is not a hybrid," says the vodka's brand ambassador, who prefers the term "love story.") And there are yet others: a tropical-flavored vodka plus moscato, Kahlua plus rum. Piedre Almas +9, a mezcal gin hybrid made as a small-batch craft liquor in Oaxaca, also joins the roster.
Why is this happening? Other than the now practically knee-jerk tendency to smash together two (or more) road-tested products and combine them into something new and intensely Frankensteinian, it's good business sense: Grey Goose sales abruptly dropped 5 percent in 2013, and the world can only have so many Cinnabon vodkas, which don't exactly scream luxury. We've also arrived at a time when one of America's most revered brands is newly Japanese-owned, and court battles are fighting over the technical details of what is and isn't Tennessee whiskey. All of this is to say there's suddenly a lot more wiggle room to revise the origin stories of our most revered brands. "This is the first of a new range," Beam's marketing manager tells the Spirits Business, "so each year we look forward to introducing something related to the legends that Jim Beam was created with."
Related: Japanese Whisky Wins 'World's Best' Title
[The Spirits Business]