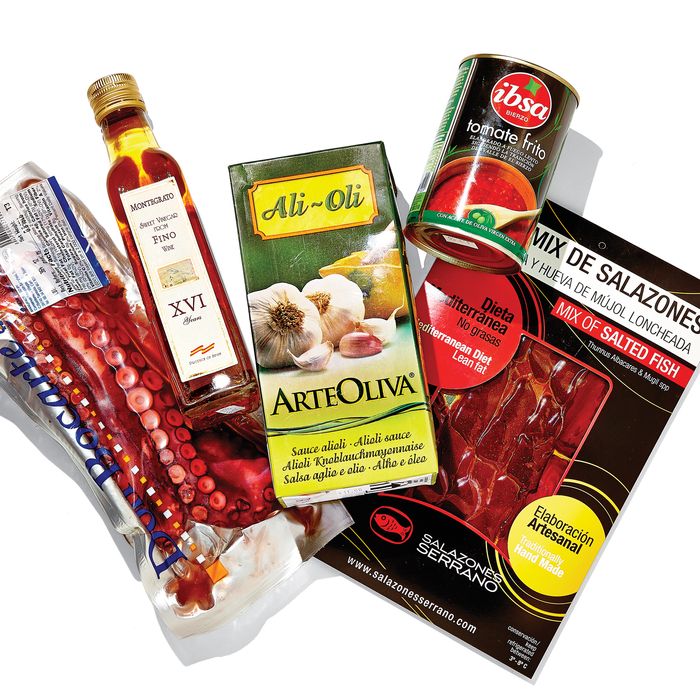 Photo: Bobby Doherty/New York Magazine
 Even the experts pay retail sometimes. We tagged along to their favorite food stores to learn what they buy and how they cook it.
The chef: Hooni Kim
Chef-owner, Hanjan and Danji
The shop: HanYang Market, a Korean superstore spanning nearly two blocks in Queens (150-51 Northern Blvd., nr. Murray Ln., Flushing; 718-461-1911).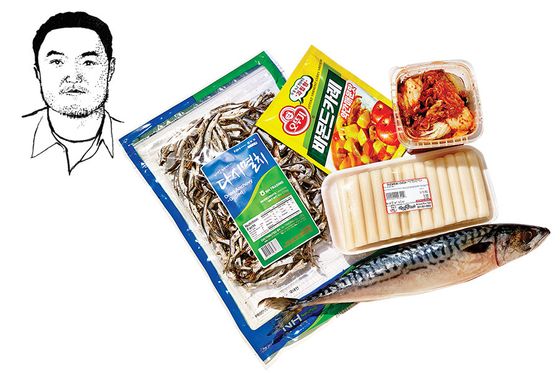 Goshen Kimchee:
"Kimchee is such a pain," says Kim. So while he makes his own for his restaurants, he buys premade versions of the fermented condiment to use at home. He recommends opening the jar every few days to let the kimchee breathe and allowing it to keep fermenting for up to a week before eating.
Norway Mackerel:
Kim prefers the stronger-flavored Norway mackerel to other varieties. He salts and grills it, then eats it with a bowl of rice.
NH Trading Dried Anchovies:
Using a dashilike anchovy stock made from simmering the dried fish, shiitake mushrooms, and kombu (seaweed) is an easy way to boost the flavors of dishes like miso soup.
HanYang Market Rice Cakes:
Instead of serving a beef-and-broccoli stir-fry with rice, Kim recommends rice cakes, a traditional Korean party food. Cook the cakes along with the other ingredients until they are crunchy and caramelized outside but soft within.
Ottogi Vermont Curry:
This microwavable curry is a favorite late-night snack. Kim stocks up on the stuff during twice-monthly shopping trips with his wife and mother-in-law. "I feel nervous when I run out."
*******************
The chef: Alex Raij
Co-chef-partner, La Vara, Txikito, and El Quinto Pino
The shop: Despaña, the sleek Soho retail outpost of a Queens-born Spanish-food importer (408 Broome St., nr. Lafayette St.; 212-219-5050).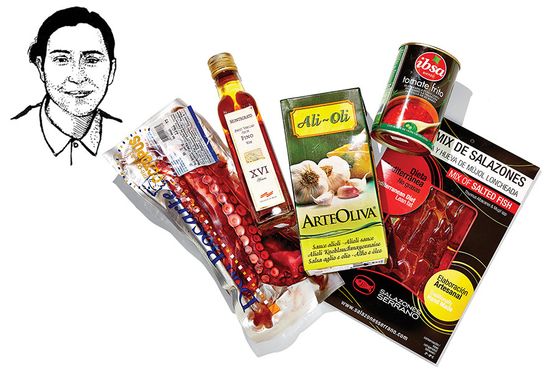 Salazones Serrano's Mix de Salazones:
As a budget-friendly alternative to bottarga (cured tuna or mullet roe), Raij likes Salazones Serrano's cured-fish sampler pack, which includes salted tuna, mullet, and ling-fish roe. "I shave these on buttery pasta," she says. "The bitter notes balance beautifully with the butter."
Don Bocarte Octopus:
Raij is a big fan of this precooked octopus in a bag. She microwaves it for ten seconds "just to get the chill off," then serves it with boiled Yukon Gold potatoes brushed with olive oil and paprika. Her two young children, and husband and co-chef, Eder Montero, love it.
Arteoliva Ali-oli:
Raij likes using this ready-made aïoli as a quick flavor enhancer. "You can use it with tuna fish, instead of Hellmann's, or finish a soup with it, which is what we like to do at home."
Ibsa Bierzo Tomate Frito:
This olive-oil-fried tomato product is like a particularly flavorful tomato paste and good for making sauces. Raij recommends it as a time-saving substitute for sofrito, a building block of the cuisine.
Montegrato XVI Sherry Vinegar:
To expand your vinegar horizons beyond balsamic and red wine, Raij touts this fino-sherry vinegar. "I like to make a Cobb-y salad, splitting romaine lettuce hearts in half, sprinkling XVI on them, and then crumbling some bonito or tuna on top."
*******************
The chef: Ivan Orkin
Chef-owner, Ivan Ramen New York and Slurp Shop.
The shop: Mitsuwa Marketplace, a California-based Japanese chain that operates its own private shuttle bus from Port Authority to its mini-mall-style New Jersey branch (595 River Rd., at Archer St., Edgewater; 201-941-9113).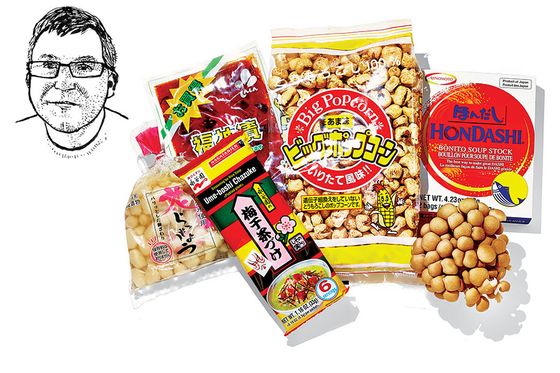 Nagatanien's Ume-Boshi Chazuke:
The packet, which includes nori strips and dried pickled plums, is used to make
a tea-flavored rice soup. When Orkin is under the weather, he sprinkles the seasoning over a bowl of rice, then douses it with boiling water. "It's my comfort food," he says.
Nangoku's Big Popcorn:
Orkin likes old-school Japanese snacks like this semi-sweetened popcorn that tastes similar to Corn Pops cereal.
Mushrooms:
"I add enokis to my vegetarian ramen," says Orkin, "and just press them down in the broth to take some rawness off." He recommends sautéing shimeji varieties. "Rather than pay $40 for chanterelles and oysters," he says, "you can spend $10 on enough mushrooms for a giant sauté."
Shinshin Fukujinzuke and Tokai Hana Rakkyo:
Orkin likes to top Japanese curry with these pickled radishes and shallots. "Sometimes I want to have curry just so I can eat the fukujinzuke and the rakkyo."
Ajinomoto's Hondashi:
This powdered dashi, which is made by the inventors of MSG, can be found in pantries throughout Japan. "It takes five minutes to make," says Orkin. "I use it at home in a pinch."
*******************
The chefs: Matt Danzer and Ann Redding
Co-chefs-owners, Uncle Boons
The shop: Bangkok Center Grocery, a Chinatown Thai specialist that carries everything from fresh lemongrass to frozen taro dumplings (104 Mosco St., nr. Mulberry St.; 212-349-1979).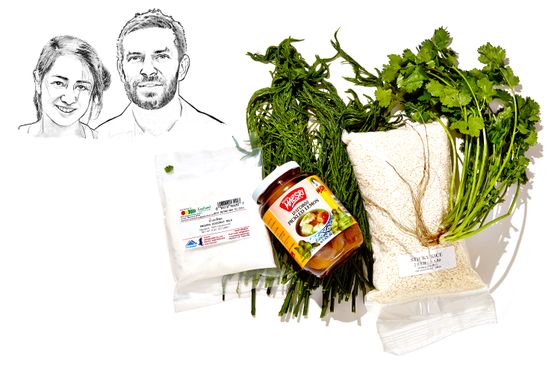 Cha-Om:
Thai curry stands typically sell cha om, an herby vegetable with feathery shoots, chopped up and mixed with egg like an omelette. The plant has a distinctive smell, "like asparagus times ten," says Redding. She likes to make her own version of the street food staple at home and serve it with nam prik and boiled vegetables.
Eastland Frozen Coconut Milk:
If you really want to take your curries to the next level, Danzer and Redding suggest using frozen coconut milk as opposed to canned. "The milk is frozen fresh," says Danzer, "which makes a big difference in terms of flavor."
Sticky Rice:
To make sticky rice without a rice steamer, Redding offers this instruction: Soak the rice overnight in water. Put the rice in a colander, then place the colander in a pot with a thin layer of water underneath. Cover the pot and steam the rice on the stovetop.
Cilantro Root:
"The big three for all Thai flavoring is garlic, black pepper, and cilantro root," says Redding. "The root is what is specifically needed to make good curry paste from scratch."
Maesri Pickled Lemon:
Redding recommends adding pickled lemon or lime to soups to give them a piquant, sour flavor boost.
*This article appears in the November 10, 2014 issue of New York Magazine