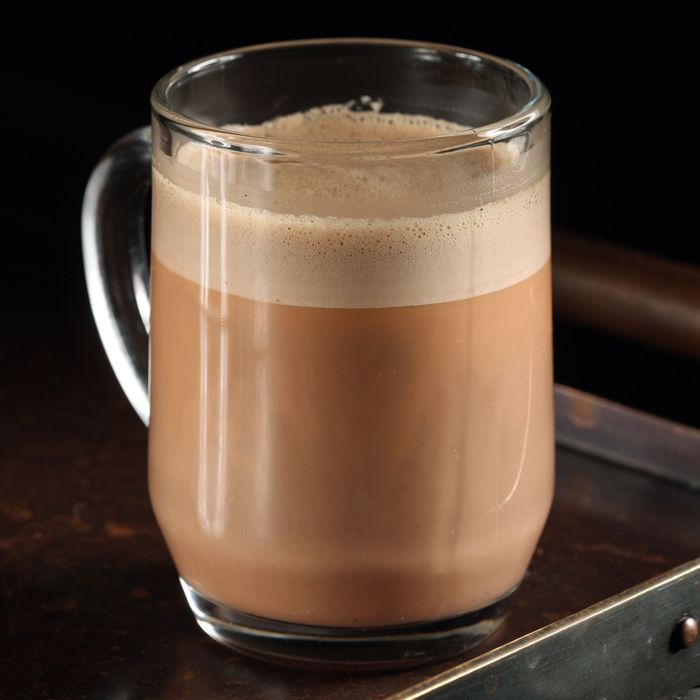 This boozy hot chocolate is on the NoMad Bar's new brunch menu.
Photo: Melissa Hom
Like just about everywhere else, New York City is in the grip of a cold spell that's starting to wear on everyone. And yet, that also means it's finally time for Grub Street to survey all of the amazing hot chocolate that's currently out there. This being New York, chocolate-mad chefs, bartenders, baristas, and even bakers are stepping up their game to offer exotic versions — spiked with ingredients like lavender, salted caramel, brownie batter, and, of course, actual booze. Here are a dozen options sure to leave you feeling warm and fuzzy. (And, in some cases, a little buzzed.)
The NoMad Bar
Price: $16
Secret Weapon: Fernet Branca
Hot cocktails are part of the NoMad Bar's brand-new brunch program, and this one includes Fernet Branca, green Chartreuse, salted hot chocolate, and cream. (NB: It's also available at the hotel's Library Bar.)
El Rey Coffee Bar & Luncheonette
Price: $4
Secret Weapon: Brownie batter
Chef Gerardo Gonzalez adds the same mix that he uses in El Rey's pastry, but without the egg and with a sprinkling of sea salt on top. (The mixture also happens to be gluten-free.)
Maman
Price: $3.50
Secret Weapon: Lavender
It's no surprise that the bakery with the most amazing new chocolate-chip cookie in town also makes a solid hot chocolate. The milk is infused with dried lavender, then strained, steamed, and combined with melted dark chocolate. Plus: Maman also sells prepackaged spoons made of chocolate, which melt beautifully into a mug of warm milk.
Blue Bottle Coffee at Gotham West Market
Price: $5
Secret Weapon: Coffee
Of course, there's coffee in this hot chocolate — making it a mocha, technically. Mast Brothers supply the chocolate ganache.
Victory Garden
Price: $4.50
Secret Weapon: Cajeta
Sophia Brittan makes a salted-caramel hot chocolate, using traditional chocolate from Oaxaca, Mexico. It's hand-frothed with a Mexican molinillo whisk and topped with homemade cajeta and sea salt.
Choza Taqueria in Gotham West Market
Price: $4
Secret Weapon: Peppers
Eat a taco while sipping on some Mexican hot chocolate, made with cinnamon, guajillo peppers, vanilla bean, whole milk, and Abuelita Mexican chocolate.
Gran Electrica
Price: $10
Secret Weapon: Tequila
Over in Dumbo, there's a boozy Mexican hot chocolate called Chocolate Caliente. It's a rich drink infused with spicy dried pequin chiles and spiked with añejo tequila.
Meadowsweet
Price: $9
Secret Weapon: Green Chartreuse gelato
Pastry chef Jared Rubin makes a classic French drink, Green Chaud (which typically includes hot chocolate and green Chartreuse). His version is composed of a shot of super-rich hot chocolate served alongside a few vehicles for dipping: green Chartreuse gelato, vanilla marshmallows, and a chocolate-chip cookie.
Shake Shack
Price: $3.50
Secret Weapon: Salted caramel
This year, Shake Shack's hot chocolate includes a blend of bittersweet dark chocolates, caramel sauce, sea salt, and milk. It's exactly what you need after waiting in line, in the freezing cold, just for a perfect burger.
Acme
Price: $12
Secret Weapon: Bourbon
You can't go wrong with bourbon, Mast Brothers chocolate, and salted-caramel ice cream.
Pasar Malam
Price: Free!
Secret Weapon: Condensed chocolate milk
A wise business strategy at this relatively new version of a Malaysian night market: Give customers a hot drink as soon as they arrive. To make this "Pulled Hot Chocolate Tea": orange-Pekoe tea infused with warm spices, and then drizzled in condensed chocolate milk.
Momofuku Milk Bar
Price: $4
Secret Weapon: Charred marshmallows
You can count on Christina Tosi to make hot chocolate extra rich: She steams classic fudge sauce with organic milk and then blends in charred marshmallows. It's available at all Milk Bar locations — including the brand-new window on Wooster Street.
Related: 22 Comforting New Dishes to Get You Through the Season's First Cold Snap