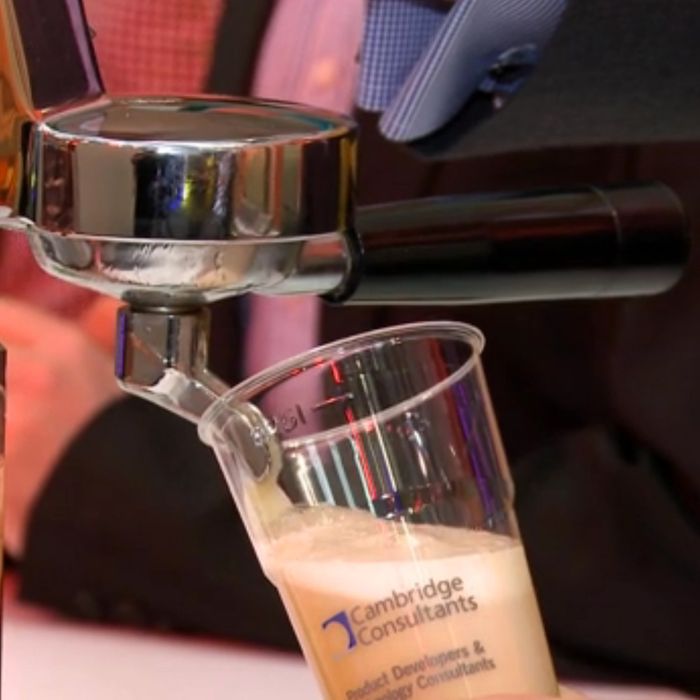 Your young Miller High Life gets one step closer to Pliny the Elder.
Photo: Cambridge Consultants/Vimeo
Clever engineers at a U.K. firm called Cambridge Consultants have invented something called Hoppier, which basically runs a jet of pressurized beer through a tamped-down chamber filled with fresh hops, barista-style. The result allows anyone to make a more complex "espresso of a beer" with the addition of extra hops in a matter of seconds.
The apparatus is not yet on the market, though it's likely anticipated by bartenders who like to add extra flavors to drinks that arguably are fine enough as they are: Though the machine is designed to take advantage of the vast varieties of hops and lead to all kinds of new and ultrahoppy drinks, its creators say it could also be loaded up with stuff like cinnamon or fruit. This, of course, basically means pumpkin-spice beer will no longer be limited to anyone's narrowminded definition of a season.
The Hoppier also presents a novel, if not painfully slow, method for rendering something bland and watery like Natty Light into something resembling a rare, cellar-worthy craft beer; brewers be warned. Now, if someone would invent a way to turn bottom-shelf whiskey into a shockingly sophisticated drink in a matter of hours — oh wait, never mind.
Related: Here's a Start-up That Promises to 'Age' Whiskey Instantly
[Drinks Business]