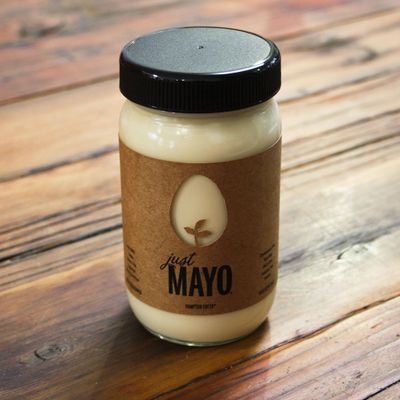 This is sure to egg them on.
Photo: Courtesy of Hampton Foods
Unilever, the multinational company that counts Hellman's (a.k.a. Best Foods) among its brands, is now suing trendy vegan-mayonnaise-maker Hampton Creek. They say the company's eggless Just Mayo needs a less "deceptive" name, maybe something like "Just Vegan Canadian Yellow Pea Sandwich Spread." The company also contends that Just Mayo "falsely communicates" it is the same condiment as Hellmann's, and now that you can buy the stuff everywhere from Walmart to Dollar Tree, the deception is ruining the "entire product category" and has already caused "serious irreparable harm to Unilever."
The FDA defines mayonnaise as an "emulsified semisolid food" that has "egg yolk–containing ingredients," which is why something like Miracle Whip is considered dressing. Unilever argues Just Mayo, which even has an egg on the label, "does not taste or perform like 'real' mayonnaise." That's false advertising, the company says, so it wants the product yanked from shelves, plus condiment-related damages.
Hampton Creek has defenders: A Change.org petition started by booster Andrew Zimmern already has 10,000 signatures. He accuses Unilever of bullying and writes, "it's attempting to rely on an archaic standard of identity regulation that was created before World War II." Just Mayo founder Josh Tetrick says that legally they believe they're "on the straight and narrow," adding "mayo" — as opposed to "mayonnaise" — is used by other vegan spreads, too. There's that, he adds, plus the fact that Unilever once made its own eggless mayo in 2006.