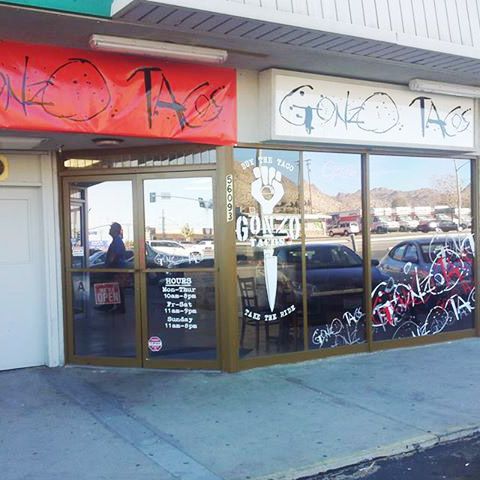 Talk about fear and loathing in Yucca Valley.
Photo: Gonzo Tacos/Facebook
While the handmade-tortilla approach is thriving in NYC, it appears that the owner of a Yucca Valley, California, taqueria where everything is made from scratch isn't having the best time out there in the scorching desert. On Friday, the proprietor of Gonzo Tacos apparently took to Facebook to announce the demise of his restaurant. "Well, it's been an interesting trip," he wrote, "but it's become clear to me that Yucca Valley would prefer to eat shit and die. Tomorrow will be our last day. Farewell, you bunch of inbred, meth snorting hicks!!!!"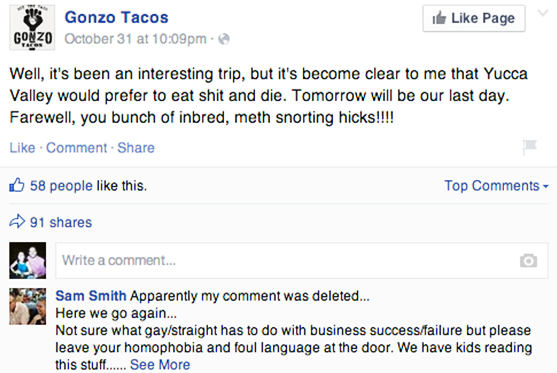 Maybe this is par for the course from a place that sports a Hunter S. Thompson-esque name and a Ralph Steadman font on its awning, but strangely, all signs point to Gonzo Tacos being well liked. Its Yelp page is filled with four- and five-star superlatives, plus some attention for its "non-traditional" menu and service. There's no indication of what prompted the flame-out Facebook post, which now has more than 300 responses, but there were a few warning signs.
An online review from August started off with praise for the food, but then shifted to an accusation that the owners were adhering to the Hunter S. Thompson lifestyle a little too closely. In short, Gonzo Tacos was perhaps too gonzo.
"Yeah, well, that's just, like, your opinion, man," one replied on Yelp.