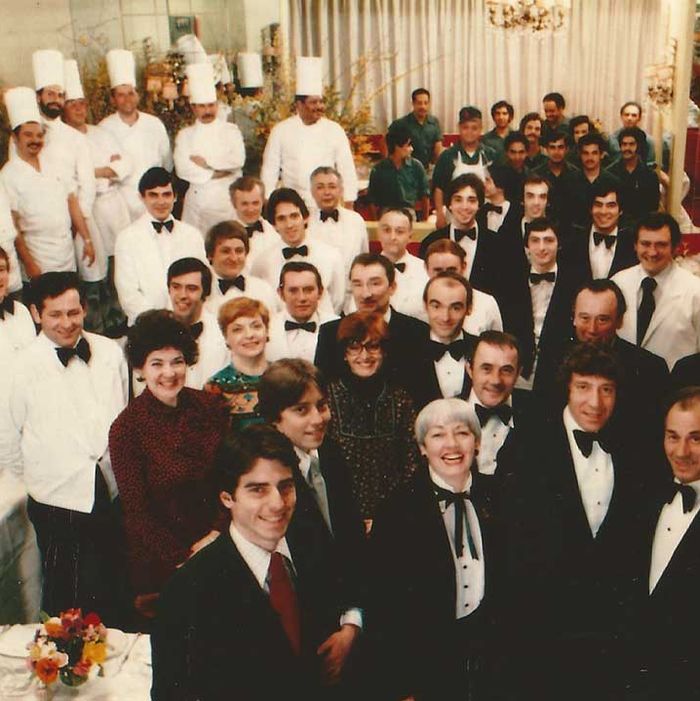 Gisele Masson, front, with her sons.
Photo: Courtesy of La Grenouille
In 1962, Charles Masson Sr. ran dining rooms on ocean liners. He had a reputation for smuggling Sternos into cabins after hours to cook for passengers, putting together French classics like skate grenobloise with croutons, Armagnac-spiked bisques, or bowls of mushroom risotto. He had worked in restaurants in France and Manhattan, but had at some point decided he'd never run one again. However, upon docking in Capri during one particular voyage, he received a telegram from his wife Gisèle, who was still living in New York: "CHARLES, COME BACK QUICKLY. JUST SIGNED A LEASE ON 3 E 52ND STREET. NEED NAME."

Charles did return to America, of course, and the restaurant that he ran with his wife, La Grenouille, became one of New York's grandest, and most enduring, temples of French gastronomy.
Gisèle Masson passed away last week in Paris, on November 5, at the age of 89. The restaurant remains legendary: Diplomats, stars, and tycoons have all been faithful customers of La Grenouille. Politicians made pilgrimages — and in fact, Mme Masson once delivered a lecture about vichyssoise to a belligerent Robert Kennedy. Salvador Dalí essentially lived there, coming in for three meals a day, and yet the contagious joie de vivre of Masson's late husband Charles often edged out the power scene with a bohemian spirit.
The future restaurateur grew up just outside Paris, where she was still a teenager in August, 1944, when the American infantry marched their victory parade on La Grande Armée. She shared a tiny flat with her mother and sister Monique; the family was poor, but Gisèle fashioned impromptu dresses, with red and white stripes and stars painted on the fabric. "She was so stylish that she could take a burlap bag and turn it into something," says her son, Charles Jr. (who of course played his own role in La Grenouille's storied history).
Gisèle's path to America began when she spotted a gum-chewing G.I. with a sunflower tucked into his helmet and knew she wanted to move to the States. Meanwhile, Charles Sr. — not yet Gisèle's husband — was already in America himself, arriving to work on Le Restaurant du Pavillon de France, which debuted a the 1939 New York World's Fair before eventually becoming a citizen, being drafted into the army, and becoming Henri Soulé's maître d'hôtel at the ground-breakingly sophisticated Le Pavillon, the white-tablecloth successor to the World's Fair attraction.
Gisèle arrived Stateside in 1949 with $35 in her pocket. She married Charles shortly thereafter, and together they opened a place called the Pyrénées in the Berkshires. It closed after three years and Charles began his ocean-liner gigs. Depsite the fact that Charles Jr. says his father at some point decided "he had never ever" again wanted to run another restaurant, his wife's telegram was enough to change his mind.
Charles had long-referred to his wife as "ma petite grenouille," so it stuck, and the restaurant opened December 19, 1962, in the middle of a blizzard. But while Charles Sr. worked the floor, Gisele preferred to do payroll or cut checks for vendors during service in La Grenouille's cramped office. "My mother was very shy," Charles Jr. says of the early days.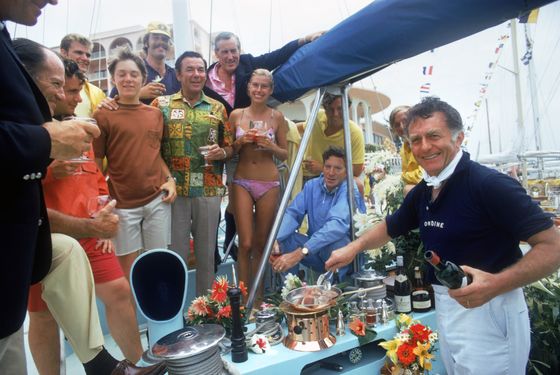 Competitors tried to replicate the pike quenelles, that haute cuisine common denominator, by topping them with truffles, and Pierre Franey, the French master chef and prolific cookbook writer, confessed that the house's poulet rôti aux aromates bested his own. This all threatened to change in early 1975, when Charles Masson Sr. was diagnosed with a melanoma, 13 years into La Grenouille's run. In February, he died, and in a transition tale known well by regulars, Charles Jr. promptly abandoned Carnegie Mellon to run the place. He was 19 at the time. "My mother and I understood each other. We nurtured each other through the work," he says.
From the mid-'70s to the '90s, the restaurant received glowing reviews. The kitchen's brown-buttered and deboned Dover sole with mustard sauce and green beans became canonical, as did its clams Corsini and Grand Marnier soufflés. Charles Jr. became an expert with the restaurant's sweeping flower arrangements: Thousands of cobalt delphiniums, bright buttercups, wispy almond blossoms, wild asters, frost-tipped vinca, orange roses (which eventually garnered their very own book). "They were just an oasis of beauty," says New York's Wendy Goodman, who helped Masson on the 1994 title. "It's entirely possible you've never been to gardens with flowers like La Grenouille's," Vanity Fair once wrote.
Gisele's eventual return to France happened three years ago, after a fall, when she chose to recover in Brittany. In March, a family disagreement between Charles Jr. and his brother Philippe, who ran the restaurant from 1993 to 1998, led to Charles's departure. Most of the staff remained, but the changes rocked the clientele. "Charles and La Grenouille are interchangeable," Ken Taylor, a former Canadian consul general, told the Times. Another customer created a Kickstarter campaign to reinstate Charles. It was unsuccessful, and Philippe has since hired chef Jean-Christophe Guiony to run the kitchen.
The family's arguments aside, the restaurant remains an American institution, and Charles Jr., who will open at the Baccarat Hotel in February, has become an inspiration for a younger generation of restaurateurs looking to add panache back to their dining rooms.
"People who do not know La Grenouille think of it as the last of its kind, or in terms of being a bastion of haute cuisine," Charles Jr. says, adding that he does not readily identify with TV chefs or the maître d' who bounces between Beijing and Las Vegas. His mother taught him and Philippe that the only real accolade was if the customer came back to dine over and over. This, Charles says, is the real legacy of La Grenouille: "It was a home to many."
Related: La Grenouille's Charles Masson on His Resignation: It Became 'Impossible' to Run the Restaurant