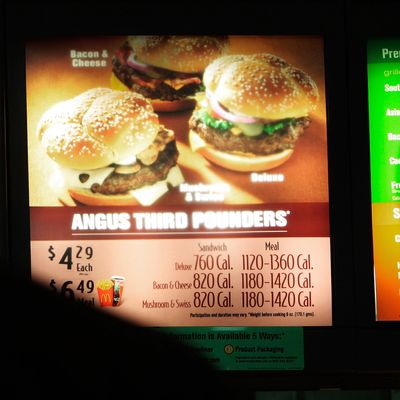 "Scratch that order. I'll just have an apple."
Photo: Chris Hondros/Getty Images
The Food and Drug Administration says it's finally ready to go with a bunch of broad and unprecedented menu-labeling rules. They've been under development since the Affordable Care Act passed, and the underlying idea is that in-your-face reminders that certain foods are not healthy will inspire everyone to drop a few pounds.
Of course, there's some reason to doubt how effective this ploy actually is, but going forward, all restaurants with at least 20 locations will have to post calorie counts "clearly and conspicuously" as of November of 2015. Fat, carbs, and other nutritional info have to be available on request. The rules also apply to grocery stores, convenience stores, coffee shops, bakeries, movie theaters, amusement parks, ice-cream parlors, and vending-machine operators — though they get two years to comply. Airlines, trains, and multi-unit food trucks are exempt.
The agency left some wiggle room for complaint chains: The FDA will allow companies like Pizza Hut, which disconcertingly just expanded its menu to "over 2 billion possible combinations," to dole out calories by the slice instead of the entire pie; others will be able to post calorie counts by the range, like the information is presented at Chipotle. Seasonal menu items and daily specials are exempt; condiments, too. The rules cover alcohol, though not mixed drinks served at the bar.
While the National Restaurant Association preemptively gave the measure a thumbs-up, the FDA's plan has already amassed a significant opposition.
Grocery stores will be required to post calories for prepared food items meant to serve one person, the AP notes, but not deli meats or bulk amounts that "require more preparation." Stores argue this rule is onerous, and industry trade groups like National Grocers Association and Food Marketing Institute say it's going to cost them $1 billion for what's effectively a tiny slice of overall sales. "You're penalizing any kind of freshness," said Rob Rosado, the director at Food Marketing Institute tells the Washington Post. This, in turn, may lead to counterproductive marketing. "It's going to be replaced with prepackaged food," Rosado said.