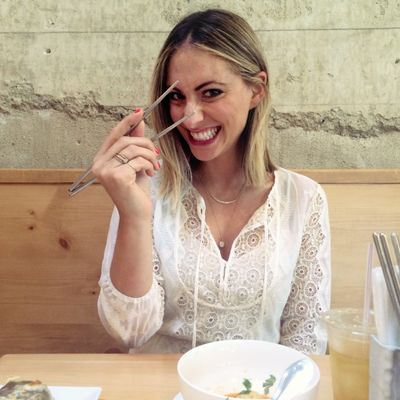 "I have the palate of a 5-year-old."
Photo: Geoffrey Fuller
Emily Schuman started Cupcakes and Cashmere back in 2008, and since then has transformed her little lifestyle blog — which now counts about 6 million page views a month — into a media empire. Schuman, who's based in Los Angeles, is already at work on her second book (the first, of course, was a best seller), and she's collaborated with names like Estée Lauder and Coach. If you're part of Schuman's cult following, you also know that she's an avid home cook — and despite what some critics say — she's serious about food.
Thursday, October 30
Every morning for me starts the same way: I leave the house around six-thirty to go for my morning walk, and I make sure not to bring my wallet, because on that walk I go by Larchmont Boulevard, where my favorite coffee shop, Go Get 'Em Tiger, is located. It's the best. And Sam's Bagels is right there, too, and between the two of those, I would get a bagel and a latte every single morning. So, I leave my wallet at home, go for that walk, return, and have my super-boring old-lady breakfast, which is Kashi Go Lean cereal with dried sour cherries and a cup of decaf coffee. This is a new routine that I've adopted since becoming pregnant.
I oftentimes will eat at home for lunch, and that day, it was half of a Vicolo sausage pizza. It's this frozen pizza that we buy that has a cornmeal crust. I think it's based in San Francisco, but we pick it up at Whole Foods. We're not huge on having a ton of frozen food in the freezer, just because we'll resort to that every single night. But having a couple of basics in there does save us from time to time.
Then, I had peppermint ice cream. I had wanted a pint of McConnell's peppermint ice cream. It's a Santa Barbara-based ice-cream place. They were out of it at Whole Foods, so I was like, "All right, I'm going to make my own." So I made peppermint ice cream, and in addition, ate some sugar cookies by a brand called Gianna's. They're ridiculously good.
That night, I had dinner with a friend at Hinoki & the Bird, which is one of my favorite dinner spots in L.A. Everything there is just unique enough — not unrecognizable, but special. We got a lobster roll and chili-crab toast. They have a kale salad that is great, and I'm trying to embrace kale just because I don't have any other vegetables in my diet, and they do a fun thing where they top their raw kale salad with crunchy roasted kale. And then their miso cod, which is is what they're known for, and their ice-cream sandwich, which is something that should not be missed.
I have the palate of a 5-year-old. Like, I would much rather have white bread and carbs than vegetables. And, clearly, I have a crazy sweet tooth.
Friday, October 31
Halloween is pretty much my favorite day of the year. I look forward to it starting in mid-summer. I love scary movies. I love carving pumpkins. I obviously love candy. Dressing up is really nice. We didn't have a big party this year, but we did have a few friends over that evening, just for a low-key gathering. I debated whether I should pick up something fun for breakfast, like thematic doughnuts or something, but I was like, "The rest of the day is going to be bananas, so you should just maintain your old lady cereal." So I did. And topped it off with Halloween cookie dough. So I found that balance. Halloween cookie dough with the decaf coffee is a really stellar combination.
Then, around midday, my girlfriend came over bearing McDonald's fries and sweet-and-sour sauce. That's my all-time favorite combination. I don't mess around with ketchup or barbecue sauce. Their sweet-and-sour with the fries is everything.
And then my husband, who works with me, was very sweet and offered to go grab lunch and bring it back home. So he went over to Joan's on Third, which is a weekly haunt for us. We split their meatloaf sandwich, which is amazing, and then their Chinese chicken salad. And then we had our friends over for dinner that night, and we served a big pot of chicken-tortilla soup. And, of course, Joan's homemade potato chips, and this dip that's like a fancy version of a Lipton onion dip. It's unreal, so I ate my body weight in that. And then, of course, cupcakes and lots of candy.
Kids are actually bused in from all over the city to come trick-or-treating in this neighborhood, so our neighbors warned us to get a ton of candy. We ran out to Costco and got 40 pounds of candy, and of course broke into one of the bags about three weeks ago. It's horrifying to look, because we'd nearly polished off the bag. Cool, in three weeks, we ate ten pounds of candy. That's absolutely absurd.
My diet hasn't changed much since getting pregnant. It was absurd how much I ate before, and now that I'm pregnant I feel like I have a little bit more leeway. I've always been a big eater, but I am good with my portion sizes … That "You Did Not Eat That" is pretty much the funniest thing. My friends said, "People would be horrified if they knew that you are only posting, like, an eighth of what you are really eating." I get most excited about food. All of my favorite memories are encapsulated around food. And then that came out and I was like, "Dude, you suck." Girls shame other girls by making false accusations. It's like, what's the point?
Saturday, November 1
I had my normal breakfast of Kashi Go Lean cereal with sour dried cherries and a cup of decaf coffee with 2 percent milk. We had also worked on a post about how to create a really beautiful crudité plate, and so we had a ton of leftover vegetables and dip. I had that as a snack, and then the chicken tortilla soup we had as leftovers.
I'm not someone who thinks of soup as a meal, so then I had cheese and an apple. That's one of my go-to snacks, and I've gotten better about the amount of cheese I keep in the house. I can go through a massive block of cheese really, really quickly. And my husband doesn't eat cheese, so when it is gone, I can't blame anyone else but myself. Now I buy these pre-sliced aged white Cheddar slices.
For dinner, we had some Bolognese that we had frozen the week before. We're trying to get better about freezing meals, and being able to create meals at home without doing too much work, so we had that and some pappardelle. And then, for dessert, pumpkin pie with whipped cream. I've been on a pumpkin-pie kick because we're hosting Thanksgiving for the first time this year, so I have literally been making a pumpkin pie once a week for the past month — just trying out a ton of different recipes. This one was the best one. The one before it had the best crust, but the filling was a bit too molasses-y. I think I came up with truly the best pumpkin pie recipe out there.
Sunday, November 2
I started out with my cereal. I don't know if it's TMI, but I was six and a half months pregnant to the day on that day, and I was feeling good — and then I got morning sickness after I had my sad cereal. I felt so sad for myself that I decided to whip up some pumpkin pancakes with chocolate chips. I'm not a girl who goes and gets pumpkin-spice lattes, but I'm down with a pumpkin pancake.
And then, because I had that kind of mid-morning, I just had a smaller peanut butter banana smoothie, and then some almonds and cheese for a snack later on. For dinner, we had a pancetta and porcini risotto. I'm not big into mushrooms, but I really don't like being a girl who has things that she doesn't eat. And because that's kind of the only thing that I'm not a huge fan of, I've been trying to get behind mushrooms. Anytime it's involved with a carb, I can potentially get more behind it. And then of course, finished it off with the pumpkin pie.
Monday, November 3
Monday, I had my typical breakfast, and then for lunch, it was all about leftovers. I had the risotto and then the pumpkin pie. I have to eat every couple of hours, especially now that I'm pregnant. It actually takes up a lot of time. I'll be with friends for a whole day and they'll be like, "You have eaten so many meals and snacks in the time that I've had, like, one." I made my own trail mix with almonds and dried cherries and chocolate chips.
For dinner, I had a baked potato and skirt steak. Baked potatoes are pretty much my happy place. I make them fully loaded: I used to use sour cream, but I found that the amount of sour cream needed for me to enjoy myself was pretty much an entire tub. So now I substitute 2 percent Fage Greek yogurt. And it does the trick. It's not quite as fun, but if I put a little butter on it beforehand, I don't feel as sad about it. And then plenty of salt and pepper, plus some cheese and chives. My husband snuck in some roasted asparagus. That's the one vegetable I enjoy.
As of recently, I've been craving red meat more. For the most part, I like ribs or a burger, but if you give me a beautiful filet mignon or something, it's totally lost on me. If we go to a steakhouse, all I care about are the sides.
Tuesday, November 4
Yesterday, I had my regular breakfast. And then lunch snuck up on me. It was just a really crazy day. I'm finishing up my second book, so I'm in crazy edit mode. I just whipped together an egg burrito. This is one of my go-to meals: We buy these not really fully cooked tortillas at Whole Foods, and then heat them over a skillet for 45 seconds on each side. And all of a sudden, they feel really fresh and amazing. I'll scramble up some eggs and put them inside with aged white Cheddar — the aforementioned cheese that I like — chives, and hot sauce. It gets the job done.
I had at least consciously tried not to have any sugar yesterday, but then one of my co-workers went out to an event and brought back something, so obviously it would have been horrific not to have it. She went to Republique, which is a new restaurant, and came back with a loaf of crumb cake with strawberries. For the most part, with dessert, I usually don't waste my time with things that aren't chocolate or caramel. But with this one, I was willing to look past that.
For dinner last night, I went out with two girlfriends to South Beverly Grill. It's nothing fancy, but it's really good, consistent American food. I convinced one of my friends to split both their cheeseburger with me and their French dip. I actually find their cheeseburger to be one of my top three in the city, and I feel like I take my cheeseburgers really seriously. One of us got French fries and one of us got coleslaw. And I was like, "All right, this is a nice compromise again — a little green in me!" Even though it's a touch of mayonnaise with a ton of cabbage in it. But, you know, you take what you can get. It was a nice, indulgent evening.