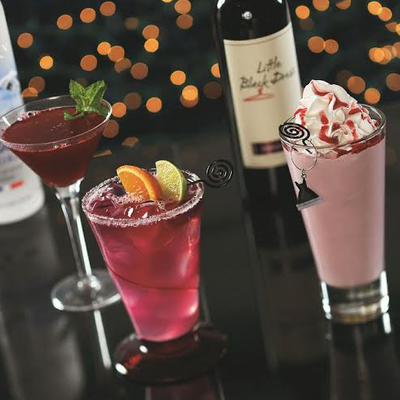 The Skinnygirl Wine Shake idea fell through.
Photo: Courtesy of Red Robin
After their whopping success frappéing mangoes and moscato, Red Robin has decided it's high time to move on to wine shakes. Known as the Divalicious, for Little Black Dress's California red, it's a Pepto-pink, hand-spun mixture that also includes vanilla soft-serve, raspberry purée, and Pinnacle whipped cream–flavored vodka, obligatorily topped with whip and raspberry drizzle, and it comes "while supplies last" with a free dangly charm.
The item is out now, and it's part of the chain's holiday lineup available through January 4. The rest of the roll-out includes items like the Giggling Goose (a "merry martini" comprised of Grey Goose, blackberry-and-blood-orange syrup, lemon juice, and mint) and the seasonal focal point: a brand-new Big Sky Burger. Because "The sky's the limit at Red Robin this holiday season," they say, and presumably because the chain needed something wild and free-sounding to put sriracha on.