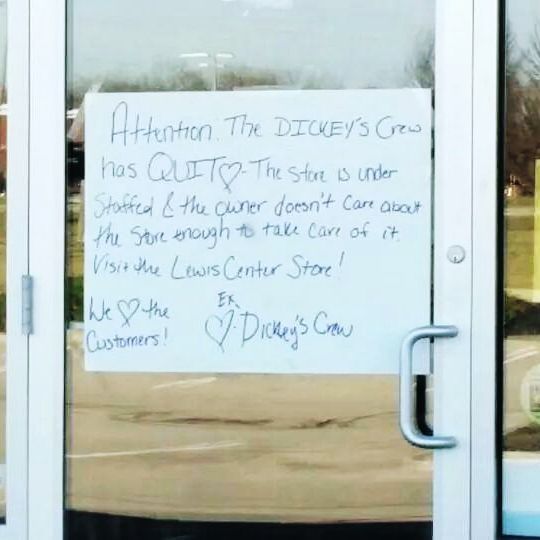 Some people don't know when to quit; others know and write it on huge signs.
Photo: JeremyChrist/Reddit
Apparently after working one too many shifts while shorthanded, the team at an Ohio location of Dickey's Barbecue Pit — a chain you may recall from a ">recent, far-more-horrible event — quit in the most conspicuous way possible. "Attention: The DICKEY'S crew has QUIT," their large door sign explained. "The store is under staffed & the owner doesn't care about the store enough to take care of it. Visit the Lewis Center Store! We ♥ the customers!"
Besides the "Helped wanted" sign immediately adjacent, this is actually the second sudden closure in six months, grumbles one Redditor, so maybe it's time Dickey's corporate had a heart-to-heart with the people who run this location. Hopefully the new employees "♥ the customers" as much as those who departed.