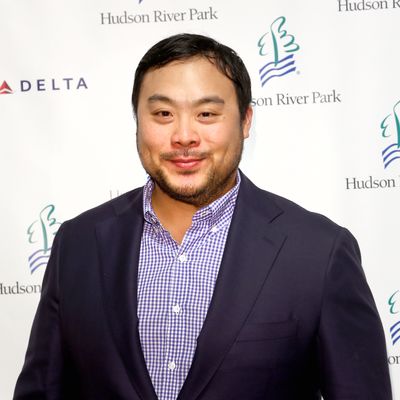 It might include pork buns.
Photo: Anna Webber/Getty Images
The Momofuku chef, restaurateur, and all-around empire builder is now also the chief culinary officer at a start-up called Maple, which will begin delivering meals to Manhattanites in around 15 minutes' time beginning early next year. The food may be piping hot when it reaches you, but it won't be Momofuku-branded, a representative says. The company aims to charge $12-15 per meal, with tax, delivery, and tip included. All recipes will be exclusive to the service, and what's more, David Chang will bring more chefs into the fold to diversify the menus, which will change all the time.
Unlike, say, Caviar, which now sherpas everything from Han Dynasty's dan dan noodles to Oddfellows pints directly from the establishments to your doorstep, Maple will deploy the kind of algorithms used by FedEx to centrally locate its commissary kitchens based on user data. and sign-ups. The idea is that the computational approach will vastly reduce delivery times.
Despite various advances, New York still contends with logistical failures when it comes to delivery of some its most eternally popular foods: Ramen noodles get all mushy in transit, French fries immediately become un-crispy, and despite all sorts of cardboard flaps and vents and pizza-box technology, our pies almost never get to the door without suffering some kind of mozzarella-related mishap. It's obviously too early to tell, but the combination of Chang's food I.Q. and Maple's brainiac approach to delivery parameters might change all that. The company closed on a $4 million seed round earlier this year, so there may even be some pork buns involved.