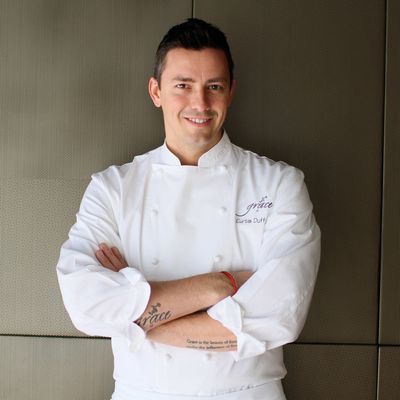 "I always say Grace is a sense of freedom for me."
Photo: Michael Muser
Regardless of the criticism that's often thrown at the Michelin Guide, receiving a three-star rating remains a huge honor for any restaurant — not just a unique achievement by a talented kitchen staff, but one that has a real, tangible effect on business. This week, Grace, Curtis Duffy's restaurant in Chicago's West Loop, became only the second restaurant in that city to receive this accolade (Alinea, of course, is the other), and just the twelfth restaurant in the entire country to do so.
Grub took the opportunity to call up the world's newest Michelin three-star chef not only to congratulate him, but to hear his thoughts on expansion, why Chicago is in the spotlight as a food city, and to see if he has any advice on actually getting a reservation at Grace now that the restaurant's phones never stop ringing.
Congratulations! How did you exactly find out?
We gathered all the staff in the restaurant for the call on Tuesday morning, because we knew it was coming, so I wanted my team to be around me and to receive the call. We got there around 8:30 in the morning, and we waited most of the morning, until about 1:30, when they finally called.

Wow. Was it a total surprise?
Yes — it was a total surprise for us. Of course, we were anticipating the call, but you just don't know. You work so hard to push and make everything better every single day, so it's amazing that came through like that.

And how did you celebrate?
Lots and lots of Champagne! Of course I spoke with the staff and let them know how thankful I was for their dedication and hard work.

Have the phones been ringing off the hook with reservation requests?
The phone was ringing quite a bit on Tuesday afternoon, once the news was out. And then all day yesterday and today, it's been ringing. So it definitely helps with the business side of things.

Do you feel like you can accommodate all the people who want to come in?
As long as people are flexible — because those hours around 5:30 to 6 p.m., when we open the doors, those are sometimes the trickier ones to fill, especially through the week. People are coming from work, so 5:30 is early. But then around 9 p.m., people aren't that interested in sitting down for a two-and-a-half-hour experience. We take reservations all the way until 10:30, so if people are flexible and they really want to come in, they can always get a table around 9:30 or 10:30.

Chicago's in the spotlight right now, especially with the James Beard Awards moving there. How do you think your city fits into the national food scene at this specific moment?
Chicago, for me, has always been a great food city, and I would say within the last 10 to 12 years, we've seen big change in the way that Chicago eats. It's always been known for hot dogs and hamburgers and all these fun things, but it's also much greater than that. And I think in the last ten years, with Alinea popping on the scene, a lot of other great restaurants are doing things a little differently.
What makes Chicago such a great food city is all of the guests that come into the restaurant and support it, because they embrace change. They embrace what we do on a daily basis, and they keep coming back. And they love the change. They love something new. Whereas, a lot of other food cities, I don't think, embrace it so much. We have educated diners that are world travelers. You know, O'Hare Airport is a huge international hub, so we get a lot of international travelers through the city. To have Grace on that level in the city, just to add another great restaurant to the city, is — I'm completely honored to be in that position.

People in Chicago are particularly receptive to ambitious, experimental food, too. Right now, in New York, we see many chefs going back to basics, like pizza and burgers. Everything seems to be getting more and more casual, and less gourmet. It's very difficult to open a fine-dining restaurant here.
When we decided to open Grace — we had talked about it in late 2009, and we started really putting all the pieces together to really make this happen — we all looked at each other going, "We've got to be crazy. In 2008, when the economy hit the downward spiral, we're building this amazing restaurant and spending all this money." But you have to take risks and believe in what you do — because we could have easily walked away and opened four or five hamburger places and hot dog stands and been very successful that way. But we all looked at each other and said, "No, let's do what we do best, and take that risk."
But sometimes, even the most critically acclaimed restaurants suffer when it comes to the bottom line, because they have few regular or returning customers. Has that been an issue for you?
We have a lot of great return guests. We're not even two years old, and we have guests that have been there well into the 20s. That's a couple of times a month, on average, that some of them will come back. And it's not just one or two guests. We're talking a couple dozen that are always at the restaurant. It's tremendous.

One of the biggest compliments that we receive is — at least what I think is the biggest compliment I can get — is having somebody come back to my restaurant. And multiple times. That really says something to what we're doing. Because our price point is obviously not a cheap one. So to have somebody come back like that is truly amazing.

The Alinea team has said that in regards to the "50 Best" list, Chicago is at a disadvantage because the judges don't travel there. Do you think that's still an issue?
I think so. It's funny, because when I was working at Avenues, before I opened Grace, we would do media tours to New York, and our question was, "When was the last time you were in Chicago?" And every one of the editors would be like, "Oh, I haven't been there for like nine years." So yeah, I can imagine it's hard to get people, especially internationally, to get to Chicago to eat at these restaurants.

Do you think the new Michelin rating will at all change the way you cook or do business? Does it give you a platform to try something new?
No, actually. I always say Grace is a sense of freedom for me. A lot of people ask, "Well, what does the name mean?" I'm able to spread my wings and do exactly what I want to do without having to ask anybody. That is a complete creative freedom for me. So having three Michelin stars … of course it puts a lot of pressure on the restaurant to do what we do well, but we do that already. So I don't think it changes the way we cook or think about food. I think now it's — and it has been since we've opened — it's constantly trying to refine things and make them better from a guest standpoint. Are we answering the phones correctly? Do we greet the guests properly? Are they walked to the table the right way? Is there a better way?
Have you thought at all about opening a second place? Even if it's not in the planning stage, is it a dream of yours?
It's not in the planning stages, but I always have ideas of things that I would love to do. I think until we really feel 100 percent confident and comfortable doing Grace and running Grace on a daily basis, then we'll start looking at the second restaurant. But nothing immediately. Absolutely nothing immediately.

So chefs are launching fast-casual spinoffs. I suppose it's the Shake Shack effect: You can take food seriously, but also make it super accessible. Does that kind of concept appeal to you at all?
Absolutely. To go around and say that my second restaurant would be another high-end restaurant … I don't know if I would want to do that, and be that ambitious with another restaurant. Because I know what it takes to run Grace every single day, and how demanding it is. I don't know if that's what I want to do. I think something a little bit more casual and accessible for everybody — something a little bit more fun, where people can come to two or three times a week, as opposed to once every six months. So we'll see. I have lots of ideas that I want to pursue. It's just a matter of when I feel it's the right time.
Earlier: Here Are the 2015 Michelin Stars for Chicago; Grace Joins Alinea With Three