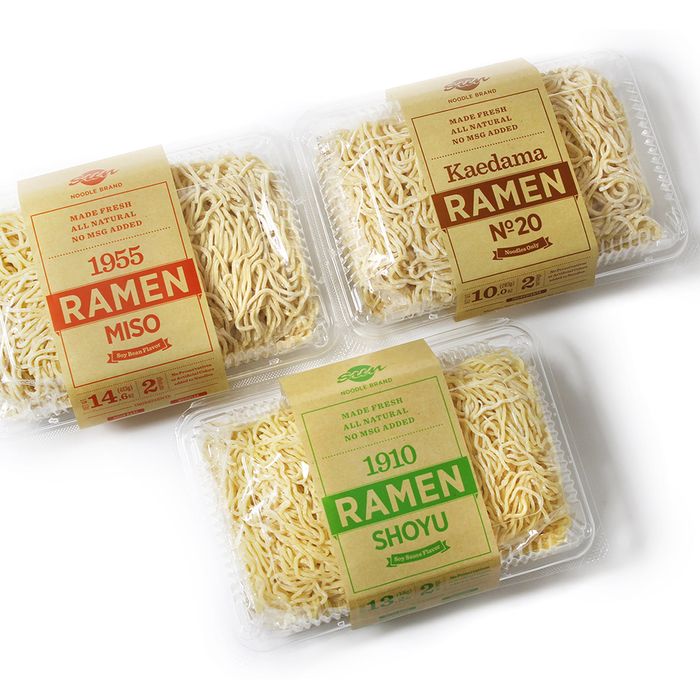 Flavor packet not included.
Photo: Konstantin Sergeyev
There is some very big news in the world of make-at-home ramen: Whole Foods recently announced they'll carry a small line of at-home ramen kits in their New York stores that are made by none other than the famed Sun Noodle company. Sun, of course, also makes the noodles that ramen superstars like Ivan Orkin and David Chang sell at their restaurants, so the blockbuster potential here is huge.
It's clear from the packaging alone that these kits are a step above the instant cups: They're currently sold for $5.99 each in two flavors — Shoyu (soy) and miso, as well as a $2.99 Kaedama noodle pack that doesn't come with flavoring — and, because they're made at Sun's facility in New Jersey, should be stored in the refrigerator for no longer than 14 days.
But Grub wanted to know one important thing: Do these premium ramen kits have what it takes to impress college kids, arguably the most important ramen-making demographic? To find out, we gave packs to three NYU students — office interns Stephanie Eckardt, Layla Ilchi, and Marcus Jones — and asked them what they thought.
First off, what kinds of kitchens were you working with?
Marcus Jones: I have a kitchenette, so it's super small. I kept my ramen in a mini-fridge. I have a stove, but there's not a full kitchen area, so I was kind of stuck in a corner.
Stephanie Eckardt: I have a stove, limited counter space.
Layla Ilchi: It's an apartment kitchen, small.
What was it like actually cooking the kits?
SE: My pot only holds four cups of water, so I used that to boil the noodles. I already felt bad for wasting four cups of water, so I used the water I boiled the noodles in to make the broth.
LI: I just filled a pot with water and put the noodles in. The instructions called for seven cups of water, but I didn't really pay attention to it because I didn't think that was necessary. Then I boiled water to make the sauce separately. I put them both in a bowl and added veggies because it didn't have anything.
MJ: I borrowed my roommate's pot because my pot wasn't big enough to hold the seven cups. I did not have a measuring cup, so I just filled up a mug seven times and threw it in. Then, once the noodles finished cooking, I took my mug, dipped it in the boiling noodle water, and added it to the bowl with the broth base. I mixed that up and then spooned the ramen into the bowl — just scooped it out, like, up and over.
SE: It was so funny how the package told you to add ham, boiled eggs, and green onion. We're college kids!
LI: Yeah, where am I gonna get that from?
MJ: My microwave takes up most of the countertop we have in the kitchenette. It's like a microwave in front and a dish rack in the back, so if I had to chop anything it would either be on my dresser or on top of my microwave.
Was it worth the extra effort? Did you like how this ramen turned out?
SE: It tasted so weird. Eeeuuuugghh. It was sort of floury and eggy-tasting, the noodles, everything. I don't know if it was because I used that water and I should have used fresh water. I took out half of the ramen and left the other half in the pot, and it ended up absorbing all the water and became this big clump. It was really gross, so I decided to throw it out. The oil and miso in the packet had separated, and it tasted really gross. It was so salty. The package said that a serving has 130 percent of your daily sodium, so I only used half of it, but it was still overpoweringly salty — and I really like salt and miso. And then I was going to put in veggies also, but I didn't want to after I tried it. I didn't want to put that broth flavor on my veggies.
LI: Veggies helped it for me. But I used the soy package and it was too salty. Halfway through, I didn't really want to eat anymore. I felt really sick afterwards.
MJ: It definitely felt like a lot more food, since the noodles are thicker than instant. But I liked the noodles a lot. They were comparable to the trendy ramen places I've been to, Momofuku and Ippudo. It's definitely restaurant-quality noodles. But the broth was just okay.
So you go to a lot of ramen shops?
MJ: I definitely do. I really like ramen so I was excited to try it, but then the ramen you buy from M2M or something is super convenient because it's quick and it's basically boil water, throw the noodles in, throw the seasoning in — whereas this is, like, pour an ocean into your pot.
Were you aware that Sun Noodle supplies some of the best ramen shops in the city? Places like Momofuku and Ivan Ramen.
LI: They need to step up their game.
Would any of you ever make this again?
SE: Absolutely not.
LI: No. I wasn't a fan of it, no.
SE: It was too much work.
MJ: It's less work than I thought it was, but I still felt like, do I care about the noodle quality that much? If I wanted that type of noodle, I could just walk over to Momofuku or Ippudo and eat it. As far as eating ramen at home, I'm fine with instant.
So how would you improve the product?
LI: It should have come with more stuff, maybe veggies or something.
SE: I think they should be displayed with those items in the refrigerated case.
LI: Make it less salty. That would help.
MJ: I really hope Sun Noodles doesn't ban me from Momofuku. [Laughter.] I still want to eat the noodles there! I just don't want their flavoring packets. Or lack thereof.
You might be blacklisted from the ramen shops now.
MJ: Change my name to Martin in the article.