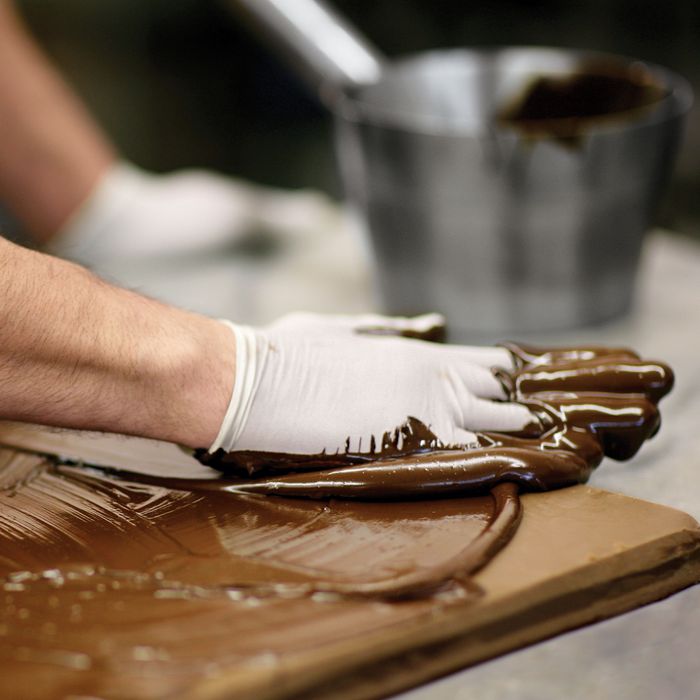 Photo: Courtesy of Li-Lac Chocolates
Chocolate, unlike sausage, is one of those things that devotees will happily watch being made and even aspire to make themselves. These new plants and workshops are throwing their doors open to the public for tours, classes, and, presumably, robust impulse-purchase sales.
Li-Lac Chocolates
68 35th St., nr. Third Ave., Sunset Park 212-924-2280
"We don't get into trendy chocolates with bacon," says co-owner Anthony Cirone, a longtime regular at Li-Lac's West Village shop who bought the near-century-old company three years ago. He recently moved the manufacturing plant into Industry City, a burgeoning hub of small-scale food-making that already houses fellow chocolatiers Tumbador, Nunu, and Liddabit Sweets. (The complex's developers are hoping to repeat their Manhattan success, Chelsea Market.) Cirone says he's proud to embrace old-school practices, mixing chocolate in small batches in copper kettles and pouring out slabs of butter crunch onto marble tables to be hand-cut. All of this mouthwatering activity is on view behind glass walls to visitors who are stocking up on peanut-butter fudge and almond bark in the retail shop.
Cacao Market by MarieBelle
67 Guernsey St., nr. Nassau Ave., Greenpoint; 718-559-5595
When founder Maribel Lieberman opened her factory in Greenpoint in 2008, she never envisioned a shop there (instead, she kept her Soho shop and, in 2012, expanded to Kyoto). But the locals' fondness for all things artisanal boomed in the time since, and when the store below her factory became available, she took a chance. At the new place, set to open early next year, Lieberman will offer hot and cold chocolate drinks—some 15 of them flavored with coffee, cardamom, and hard stuff like tequila and Grand Marnier, pending liquor-license approval. Guests will sip the drinks in the 24-seat café (which Lieberman, a Parsons alum, hopes will recall "a Harry Potter kind of candy store") and watch chocolate-bar production happen in back. Lieberman's particularly excited to be selling bars made from the fruity indio rojo cacao beans of her native Honduras.
Raaka Chocolate
64 Seabring St., nr. Van Brunt St., Red Hook; 855-255-3354
After this four-year-old chocolate company outgrew its Clinton Hill premises, the owners moved to a former metalworking factory in Red Hook that offered four times the space—and the ability to open to the public. Since September, Raaka's been selling its Bourbon Cask Aged and Vanilla Rooibos bars at a discounted factory price to curious passersby. And it's joined the circuit of distilleries and desserteries opening their doors to food lovers on a Red Hook foodie day trip. On Raaka's tours, which last 45 minutes and happen three times per week, learn how bars are made from unroasted beans—rather unusual in chocolate-making—to better preserve the distinctive flavor of raw cacao (which you'll be offered a taste of). Especially enthusiastic chocolate lovers can take a $50 two-hour class, which includes a tour and hands-on lessons in bean-to-bar chocolate.
Voilà Chocolat
221 W. 79th St., nr. Broadway 212-920-8799
The team here—including a master chocolatier who cut his teeth at Jacques Torres and a former Hershey's chocolate scientist—will open an "experiential" shop this month where visitors can make their own treats, dipping and molding confections and crafting truffles using Guittard chocolate. Groups can rent the space (for team-building exercises, birthday parties, etc.) for events led by a chocolatier-instructor who helps guide students through the chocolate-making process at modular workstation pods. Voilà will also sell its own newfangled sweets—think s'mores truffles, which were a recent experiment for a City Harvest event.
*This article appears in the December 1, 2014 issue of New York Magazine.